Taverns allow us to recruit additional pirates for our crew, drink alcohol to get a bit tipsy and try out some gambling-based mini- games to earn a bit of extra money. There are nine taverns in the game and all except the tavern at Nassau start as locked locations.
Taverns can be unlocked by approaching the icon on the map and interacting with the bartender. As you do a small bar fight will break out and you will have to fight off four men in hand-to-hand combat. Once you have beaten them all up, the tavern will now be usable.
Unlocking all eight taverns will unlock the achievement/trophy ' Barfly '.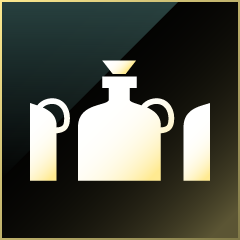 Barfly
Unlock all taverns.
30
The taverns are marked by a jug icon on the area maps and can be found in the following areas:
Andreas Island:
Arroyos
Corozal
Crooked Island
Grand Cayman
Ile a Vache
Kingston – this marker does not always seem to appear on the map. The tavern is located just to the northeast of the southern warehouse marker.
Salt Key bank