Once we hit the start of Sequence 05, we'll have a base of operations at the cove at Great Inagua. Here we can invest in various properties to make the area a more useful location complete with General Store, Tavern and Harbourmaster shops.
Once we have been given the all clear to check it out, you can look around the area for square icons with upward arrows on them. These indicate cove upgrades that can be purchased.
The upgrades include the following:
500 Reales – Unlocks Harbourmaster shop.
700 Reales – Unlocks General Store.
3,500 Reales – Unlocks Tavern.
6,000 Reales – Manor Façade, no effect.
7,000 Reales – Campfire – Allows you to hire drunken pirate groups for free.
15,000 Reales – Brothel – Allows you to hire groups of dancers for free.
18,000 Reales – Manor Tower and Gardens, no effect.
40,000 Reales – Manor Guest House, no effect.
Once you have purchased all of the upgrades you will earn the achievement/trophy ' FTFY '.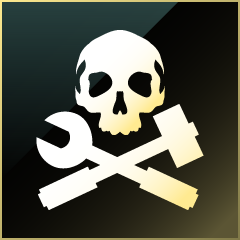 FTFY
Fully upgrade your hideout.
10