As you enter Guadosalam, in the introductory scene, Rikku will give you a brief tutorial on customizing weapons. You've probably noticed how some of the weapons' and armors' abilities have"[no slot]" or a "Blank Slot" or something else. These represent the slots for abilities (or a lack thereof); if there is a slot that is blank, you can put an ability there so long as you have the right items. Under the right circumstances, this can be more easily abused than the Celestial Weapons themselves (the ultimate weapons of FFX), although the effort going into that is extraordinary. In any case, yeah, it helps to put some abilities on. If you've got plenty of spare items, feel free to check out the weapon/armor shop in Guadosalam: all equipment there has one blank slot for customization, conveniently enough.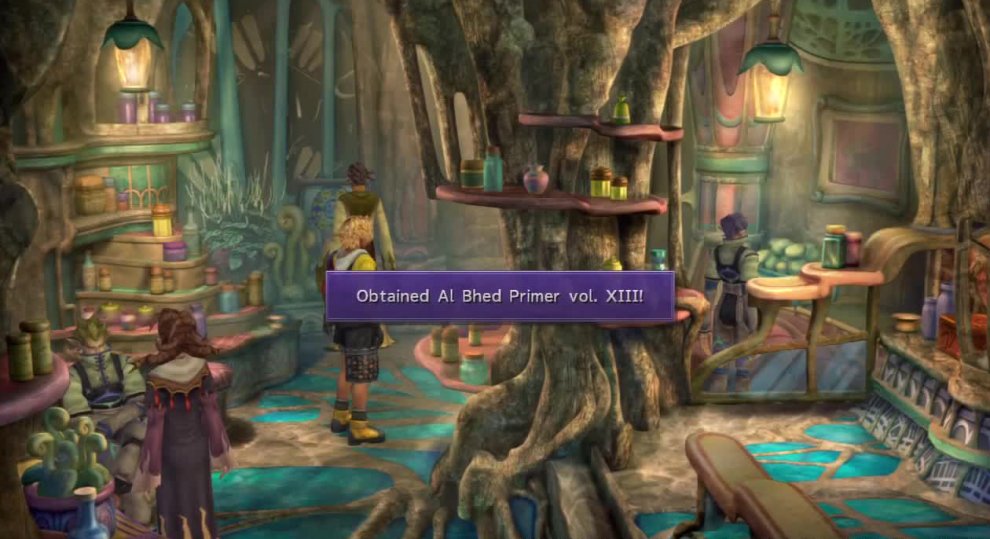 Anyhow, once you regain control, go into the place on your right to find the inn. Speak with Shelinda there if you wish, but the main point is to save and heal up. Head towards the red door you can see (Maester Seymour's residence), but ignore it because to the east of it, there's a Mega-Potion to grab. Then head inside the house to the west and grab the Al Bhed Primer Vol. XIII within, then go to the back and open the semi-visible chest for 3,000 Gil . Go upstairs and grab the t wo Hi-Potions , then go downstairs and through the door for a scene.
Afterwards, speak with everyone back outside. After the party regroups, go east and up the ramp to the south. At the second building you can access, you'll find O'aka. He'll serve the normal shop duties of Guadosalam, but why there's a 50% price gouge is beyond me. Go west and south to the southwest corner of Guadosalam. Speak with the two people blocking the way to the Thunder Plains; if you pass by the hooded one, you can snatch up an Elixir . Go back east and towards the incline up to the Farplane. On the winding road there, hug the left side to find eight Lightning Marbles in a hidden chest.
In the next area, speak with the party, then go into the Farplane proper. Speak with Wakka, Lulu, and Yuna for some conversations before returning to Seymour's house and speaking with Lulu, then everyone else in the party. After this set of scenes, approach the entrance to Guadosalam; if you try to leave to the Thunder Plains (southwest from the main entrance you came through), Shelinda will speak with you. After that scene, speak with the party again, then leave for the Thunder Plains.