Note : To unlock the ability to find nuclear waste, you must first purchase the Sonar Collections Dock for $250,000. You will then get the use of a submersible, diving gear and the Trackify app to aid in your underwater searches. The Dock is in Paleto Cove on the northwest side of the map. Each nuclear waste recovered is worth $23,000.
There are times when you must dive down to crushing depths. This damages the submersible if it is subjected to these pressures for too long so just go back to the Dock for another!
Waste 1
Feet Below Sea Level: 83
On the seabed, North East from the docks where you start. Look amongst the seaweed.

Waste 2
Feet Below Sea Level: 96
A bit further north from barrel 1. On the seabed near some coral that can block the view.

Waste 3
Feet Below Sea Level: 85
North East from barrel 2. Near the mouth of a tunnel that the sub can just about fit through.

Waste 4
Feet Below Sea Level: 443
This one is close to crushing depths. It is among a tight ravine on the seabed surrounded by rocks.

Waste 5
Feet Below Sea Level: 122
The barrel is underneath an archway of rock.

Waste 6
Feet Below Sea Level: 432
It is quite close to a drop into crushing depths so be careful when diving down here. It is better to line the blip up on Trackify before diving too deep.

Waste 7
Feet Below Sea Level: 462
From barrel 6, head East. It is on a ledge in a deep ravine.

Waste 8
Feet Below Sea Level: 496
Keep following the ravine from barrel 7 to find barrel 8 on another ledge. It is on the left side of the ravine. This depth is crushing so just get the barrel and get out.

Waste 9
Feet Below Sea Level: 70
9 and 10 are very close to each other. There are a couple of rock spires near this barrel.

Waste 10
Feet Below Sea Level: 97
Move a few metres further on to find a big archway and the next barrel.

Waste 11
Feet Below Sea Level: 113
There is a lot of coral and seaweed near this barrel so search around.

Waste 12
Feet Below Sea Level: 68
The next two barrels are in a bay off the coast of Blaine County. The first one is on the sea floor in relatively shallow water.

Waste 13
Feet Below Sea Level: 32
A bit further inland from barrel 12, this one is on a rock ledge hidden by some seaweed. Make sure to move the camera around to find the exact location.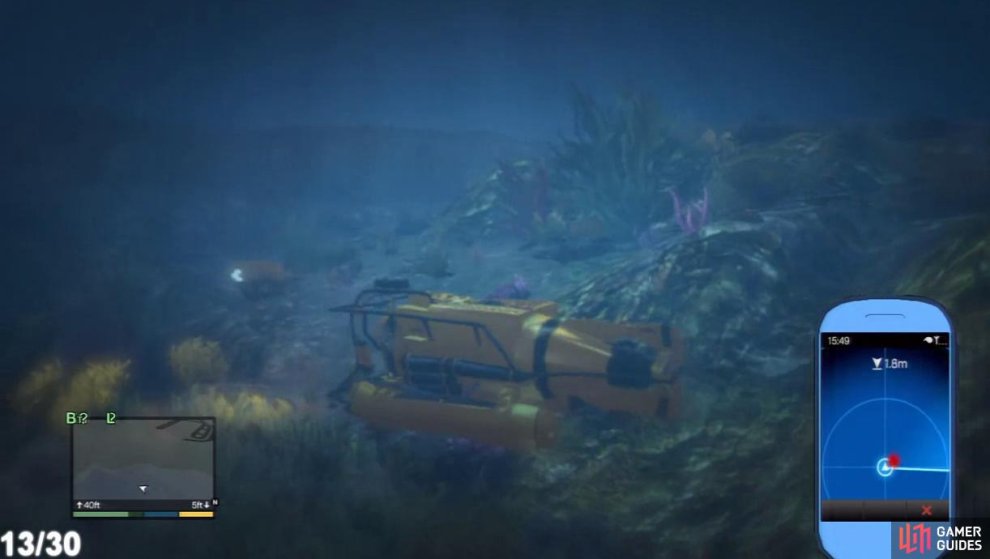 Waste 14
Feet Below Sea Level: 55
A bit south of your last position, barrel 14 is found in quite murky waters.

Waste 15
Feet Below Sea Level: 465
Head south east from barrel 14 and head deep into a ravine to find it. Keep an eye on Trackify to make sure.