Run to the waypoint marker and the Gurangatch will spawn. Kick its ass and loot the crux of its corpse. Lightning will use it to stop the sandstorm. Follow Adonis using the shortcut he took back to the camp. No more trekking around half of the Dead Dunes to reach Ruffian
When you get back to camp, speak to Tobias at the General Store to start the quest " Old Rivals ". Next, head up the stairs inside the main building and speak with the strange boy Elmer to begin " Tools of the Trade ," a useful side quest that, upon completion, allows you to appraise any items you find from Lizards or Skeletons.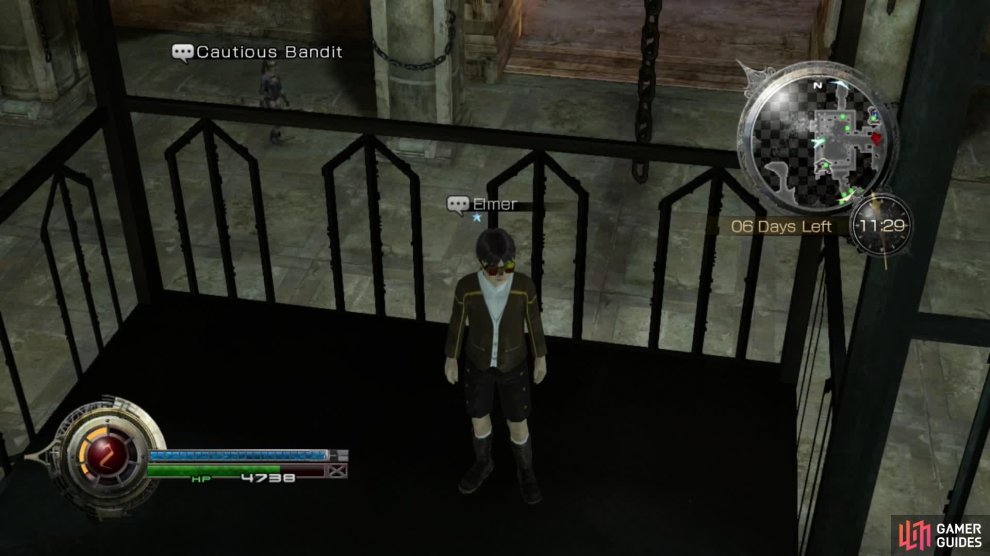 Follow the walkway around to collect the sphere containing the Gurangatch Notes then jump down and head towards Adonis and speak to him to receive 1500 Gil, Monoculus Mask, HP +100, Strength +4 and Magic +8 . Adonis will finally take you to meet the boss, an old friend you should recognise immediately. She will now become a member of your party, helping you fight. You won't have to fear any monsters in the desert now (except Earth Eaters of course).