We can now scour the desert for every last treasure and Crux. Start from Atomos's Sands and work your way in a counter-clockwise direction, picking up all treasures and Cruxs. Be diligent and make sure to touch any Cactuar Stones you see because you will need them a bit later on. Make sure to use Chronostasis liberally throughout this section until the appointed time or you may find you do not have enough time to complete everything.
Pick up the Crux in Atomos's Sands and be very careful of Earth Eaters in that area. There is also a Chaos Infusion nearby that could catch you out and you can find the Loupe (Elmer's tool) in this area too. Look out for Tobias's General Store branches around the Dunes and replenish any items you need.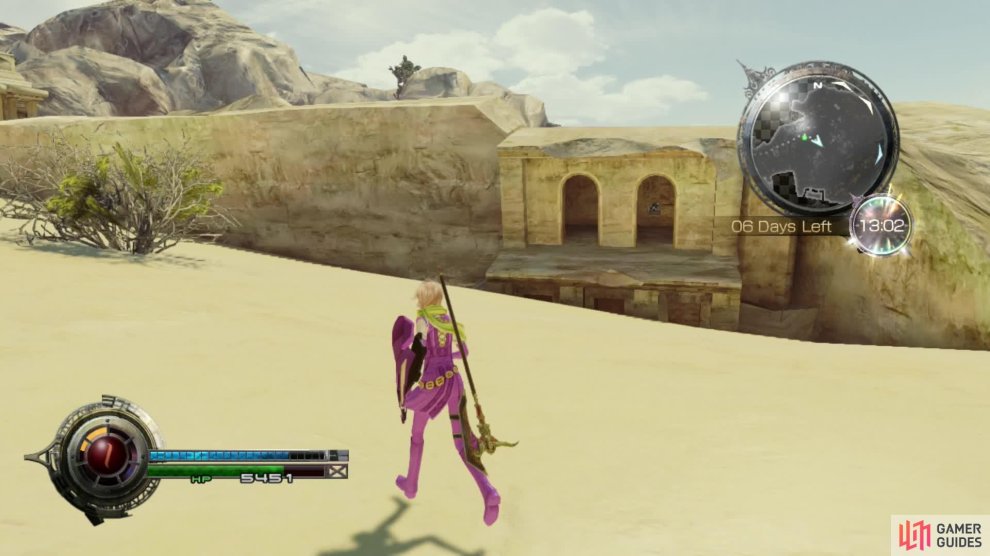 There is Libra information for the Cactair (a monster you will be fighting shortly) inside a ruined building just southeast of the sandstorm and Cactair spawn area. Head towards the sandstorm and the Cactair will appear. This is the monster you need to kill to receive the final fragment of Dajh's soul.
Approach the monument and use a Crux to remove the storm and then attack the Cactair. This is possibly the best designed monster in the entire series and one of the funniest ones to fight. As with most Cactuars, it is highly resistant to all elemental damage and status ailments. Thankfully it only has 200 HP though you will only be doing 1 damage at a time. Its strongest attack is 1000 Needles though a lot of the time, it will get its needles stuck in its 'fro.
You can stagger it by guarding its attacks and pounding it with spells to drive up its Wave. It has a habit of using Aeroga a lot which can hurt a bit if you aren't prepared. Guard the attack with a strong guard. Fire attacks generate the most towards the Wave so focus on those. Keep plugging away and you'll eventually emerge with the Fragment of Kindess . You have now collected all the soul fragments needed for Dajh.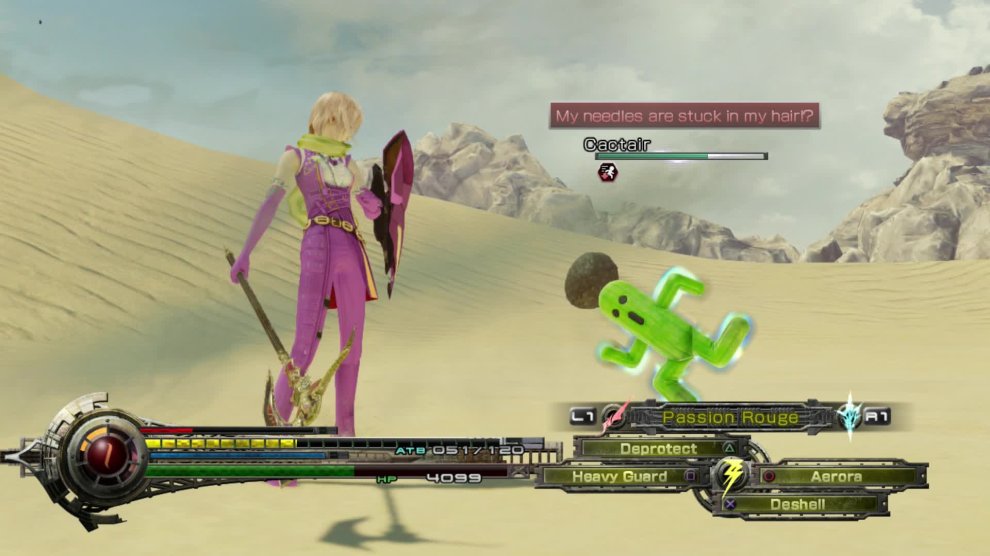 Pay a visit to the Oasis Lighthouse and collect the Angel's Headband , three lots of Bhakti's Oil , the Key to the Sandgate and the Silver Barrette (4 EP needed). If you don't have enough EP, return for it later. Speak to Zanford to begin " Last One Standing ", an incredibly long quest that requires a lot of effort to complete.
Head through the Dry Floodlands, picking up the Crux along the way. Collect all treasure and Cruxs in the Giant's Sandbox and then head to the Temple Ruins North Gate entrance. Speak to Ramon who is sat in a tent just outside. This is the guy who lost his wife and his business. Give him the Arithmometer you found from the Goblots earlier to immediately start and complete " His Wife's Dream ".
Purchase all the Libra information from Ramon before you head off again. Finally, clear out the Grave of the Colossi for items and then return to Ruffian to complete "Old Rivals" and "Tool of the Trade". Tobias will now sell more items and Elmer can appraise any unappraised items you find. Always make sure to use his service whenever you need to.