Whenever you come here, either late on Day 6 or first thing on Day 7, you should head to the Ruins and finish off all of the Skeletons. When the Last One appears, slay it and you'll be able to complete " Skeletons in the Closet ". You will also gain the Bonecracker sword, an excellent and very strong weapon at this stage.
When you have defeated all the Skeletons, you can now head to the Sacred Gate and open it. Inside is the final boss of the Dead Dunes.
WARNING : By completing the Main Quest in the Dunes, you will no longer have Fang in your party. If there is anything you wish to undertake in the Dunes before she leaves, then come back to this part later.
Boss Battle: Parandus
Schemata Setup
You will need good status ailment resistance or accessories because Parandus uses a lot of them. Remedies or Mega Remedies will be beneficial and so will physical resistance. An Enaero Potion may also help as it is very weak to Wind attacks.
Dragon's Blood/Physical Schema
| **Weapon** | Chaos's Revenge |
| --- | --- |
| **Shield** | Il Nome Della Rosa or similar |
| **Accessories** | Fighter's Emblem, Giant's Vambrace |
| **Abilities** | Heavy Slash Lv 3, Guard Lv 3, Galestrike Lv 2, Attack Lv 2 |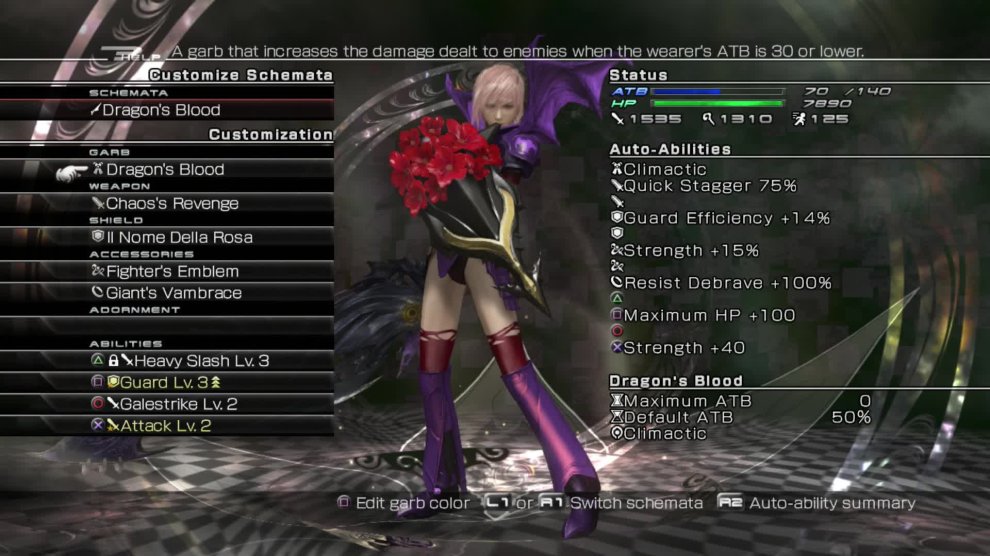 As usual, this will be your damage dealer. You don't have to use Dragon's Blood, you can substitute it for something with Beat Down but with Chaos's Revenge equipped, you can achieve a quick stagger anyway. Parandus can inflict a lot of status ailments so avoiding Debrave with the Giant's Vambrace is useful.
Passion Rouge
| **Weapon** | Femme Fatale |
| --- | --- |
| **Shield** | Dame du Lac |
| **Accessories** | Ghostly Hood, Collector Catalog |
| **Abilities** | Deprotect Lv 2 (locked), Imperil Lv 3, Slow Lv 3, Deshell Lv 2 (locked) |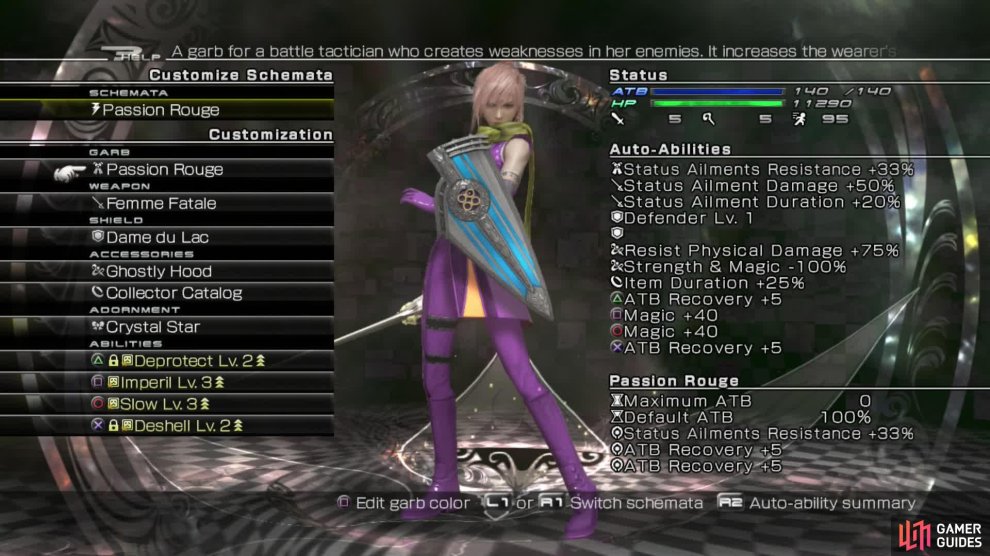 Having status ailment resistance is an absolute must for this fight because Parandus constantly inflicts them on you. You can avoid the worst of them. The Ghostly Hood will avoid most of the physical attacks and Slow and Imperil will stop Parandus from attacking too often.
Midnight Mauve
| **Weapon** | Sickle of the Faithful |
| --- | --- |
| **Shield** | Iseult's Lament |
| **Accessories** | Devil Crest (or other magic boosting accessory), White Strap |
| **Abilities** | Elementa Lv 2, Heavy Guard Lv 3 (or Attack), Fira Lv 3, Aeroga Lv 2 |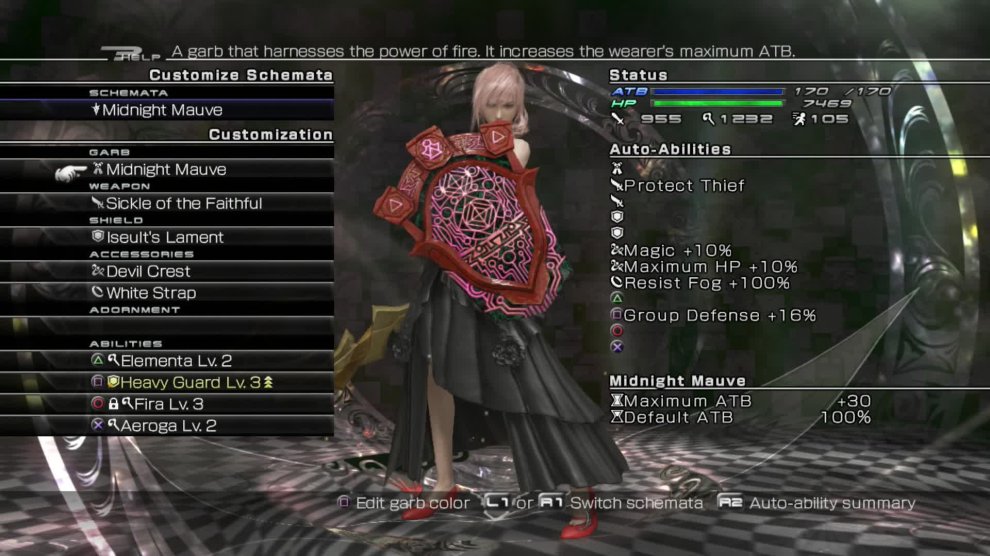 Parandus is very weak to Wind attacks so equipping those abilities will help. A good Stagger builder is also useful. Switching Heavy Guard for Attack will allow you to steal Protect from Parandus when it inevitably buffs itself through the battle.
Note : If you try to defeat the end boss in Quest 4 before today, you will actually fight Grendel instead. Grendel is similar yet about only half as strong. The fight plays out pretty much the same anyway. Make sure to have full EP before you attempt this battle! A Remedy/Mega Remedy and a Warrior's Potion will also help a lot.
Strategy
Parandus will start the battle with Absolute Barrier , a buff that gives both Protect and Shell. You can steal Protect from it if you opted for Attack on the Sickle of the Faithful. If not, simply begin the Stagger buildup in earnest. Don't bother trying to inflict status ailments at this stage because it is highly resistant to them before Stagger.
With Chaos's Revenge equipped, unleash a torrent of Galestrikes and then Elementas or Aeroras with Midnight Mauve and you will be able to Stagger him before he gets a chance to attack properly. Once Parandus is staggered, you can deal some very large damage.
If you continue to press with similar attacks, you can then Stagger him again. This is the time to inflict your status ailments so use the full set and then continue pounding his ugly ass into the ground. Use Overclock after he has the ailments on him and bash away with Galestrike.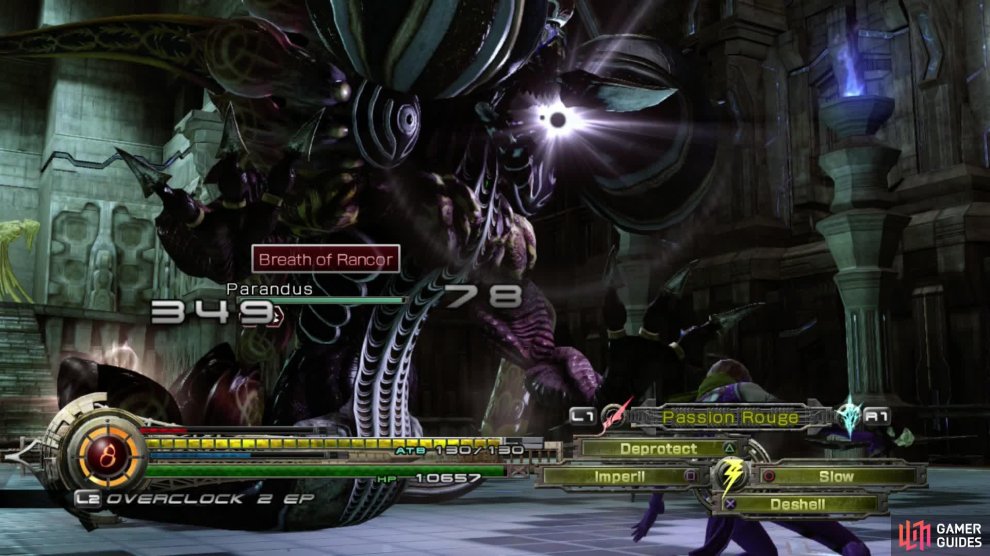 You should be able to induce yet another Stagger during Overclock and get his health down to around 75% afterwards. Refresh any ailments while waiting for your ATB to fill again and then unleash a series of Aerogas while he is still in Stagger. You will get multiple hits and gold numbers as well as multiple interruptions.
Parandus really doesn't have a chance if you interrupt his attacks with Aeroga. You can then go for a second Overclock while he is stunned. After this he will probably use Absolute Barrier again so return to building the Wave up again. Do watch out for Seancé. He will start to charge and when he has finished, he will gain some very strong buffs. You must Stagger him before this time and fortunately, it has a very long charge animation.
If he uses Disaster , make sure to Guard it or at least be in the Passion Rouge schema. If it does hit you, simply use a Remedy/Mega Remedy if you wish. Try to Stagger him quickly again and then do what you've been doing. He may use Hellcraft so block it with Passion Rouge.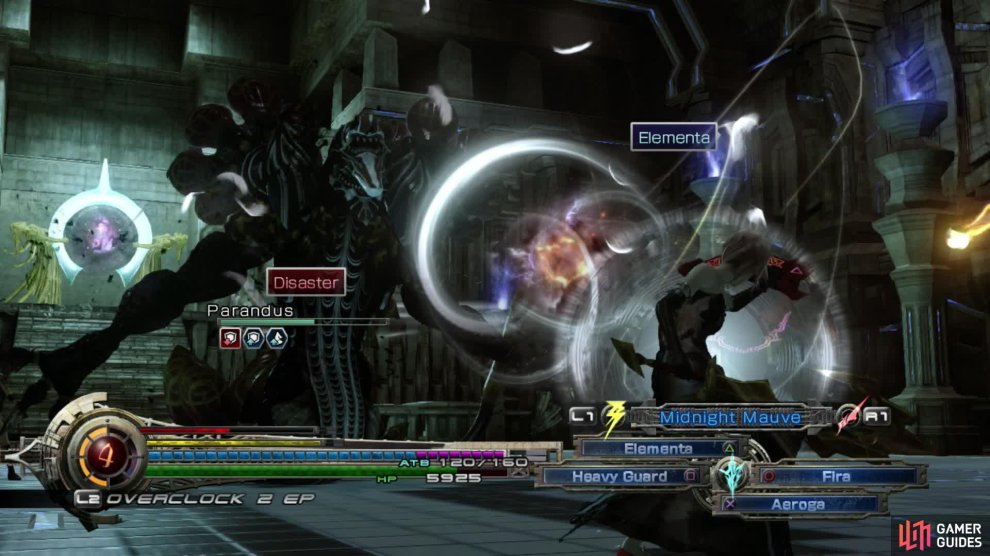 When you have debuffed him again, Overclock and then use a Warrior's Potion or a Bravery Potion/Enaero Potion to boost your damage. He really won't know what's hit him and if you can achieve a second Stagger, he is as good as dead. Press for victory and you'll achieve 5* with very little trouble.
You will receive 1000 Gil, 5 EP, HP +540, Max ATB +10, Strength +28, Magic +56 and Recovery Item Capacity +1. Pick up the Preta Hood before you leave. This greatly reduces magic damage, similar to the Ghostly Hood only magic.
1444
1784
Note : Try to complete this quest before the end of Day 6 or early morning Day 7. With all of the Main Quests out of the way, you can now focus solely on side quests and farming money/abilities until the end.