| Difficulty | 2* |
| --- | --- |
| Availability | Begin "Saving An Angel" then feed Sarala's Gysahl Greens to chocobo or restore chocobo to riding health, Sarala present from 07:00 - 21:00 |
| Location | Canopus Farms and Jagd Woods |
| Gil Obtained | 800 |
| Item(s) Obtained | Girlish Glasses |
| HP | +80 |
| Strength | +4 |
| Magic | +8 |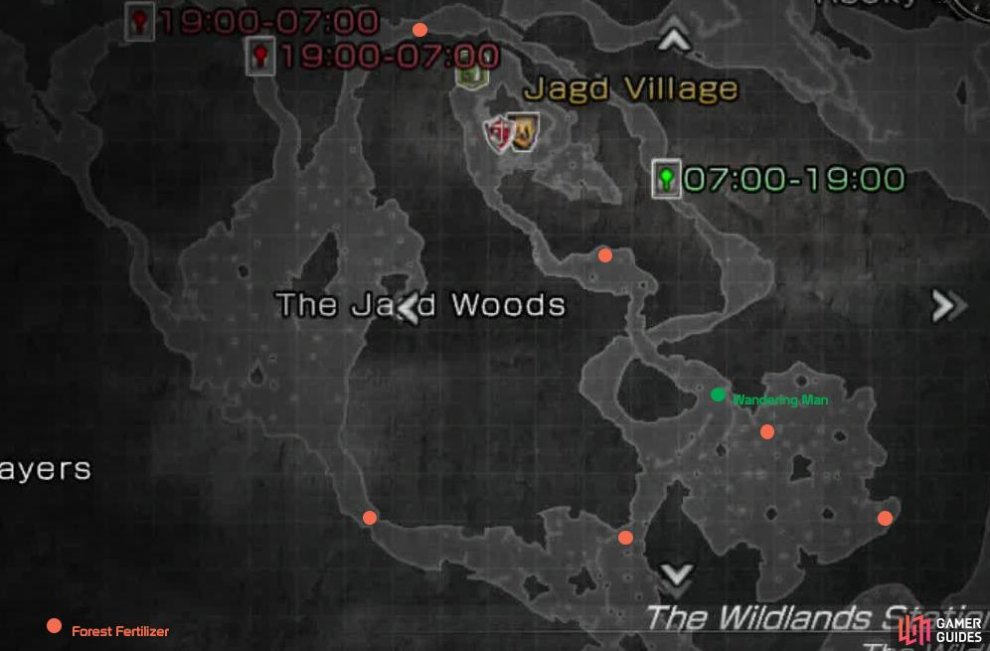 Sarana asks you to bring back the Forest Fertilizer that her father was collecting. There are a possible six to find though you really should only find four so then you have access to the maximum vegetable plots to grow Gysahl Greens. The fertilizer is scattered around Jagd Woods and many are along the way to other destinations anyway so you do not need to go out of your way to complete this quest. Do it along with the other quests to maximise your efficiency. See the map for the locations of the fertilizer.
After you have found enough, talk to the Wandering Man with the bright pink glasses (stylish) near the path leading to the woods about Cole, Sarana's father. Hand them over and he will explain what happened to Sarana's father. Your task is to return to Sarana and explain what happened. In exchange, she will give you some Vegetable Seed to plant in the plots. Your very own Gysahl Greens for the Angel!