| Difficulty | 2* |
| --- | --- |
| Availability | Complete "The Right Stuff" available between 20:00 - 08:00 |
| Location | Jagd Woods |
| Gil Obtained | 1200 |
| Item(s) Obtained | Golden Insignia, Soldier of Peace |
| HP | +80 |
| Strength | +8 |
| Magic | +4 |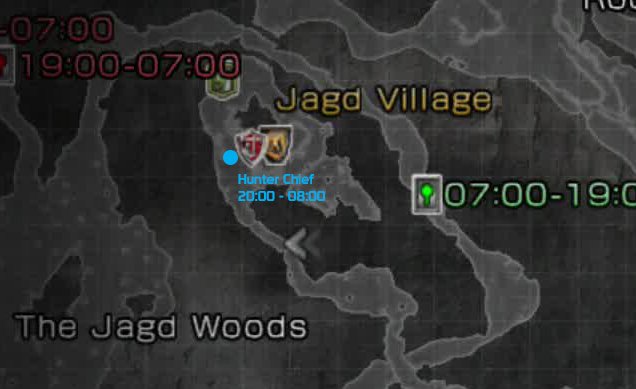 Talk to the Hunter Chief in Jagd Village. Head into Rocky Crag from the village. Be aware of the Chaos Infusion in this area. The Aster Protoflorian resides here, and while you're able to kill a normal one, a Chaos Infused one is an altogether tougher prospect. Stay clear of those and you'll be fine to kill anything else inside. Try and kill a normal Aster Protoflorian for the Hunter's Challenge and garner an AMP Chip .
The Protoflorian changes elemental strengths throughout the battle so you should equip a variety of elements to attack from all angles. High physical resistance can help to block his strongest attacks as well. Do this, and you will easily defeat one.
If you come across any Vali, which you should, kill those for the Monster Mince item that the Chief asked you for. They are sometimes accompanied by their Hanuman brethren which are a lot stronger. Kill the Hanuman first because they can buff the Vali and make life very troublesome. Return to the Chief when you have both items.