| Difficulty | 3* |
| --- | --- |
| Availability | From Day 1 |
| Location | Reveler's Quarter |
| Gil Obtained | 4500 |
| Item(s) Obtained | Summoner's Mask, Blue Mage Garb |
| HP | +140 |
| Strength | +8 |
| Magic | +12 |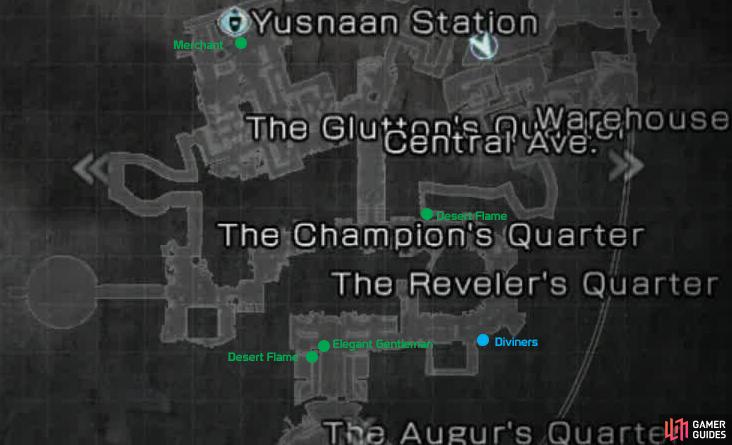 Just past Fountain Square in the Reveler's Quarter is a pair of hooded figures. These are Diviners and they want you to come back to them the following day between 06:00 - 17:59. If you fail to speak to them before then, you will fail the quest.
Return to them on the next day and they will ask you to collect three Desert Flames . You can find one in the Underground Route close to the gate that you unlock at the end of chapter 2-1. Find the Elegant Gentleman opposite the Inn and he will tell you he has lost his Desert Flame. Smash the boxes next to him (how dumb is that guy?) and collect it. He will give you 6000 gil if you return it.
Head to Yusnaan Station and find the Gem Merchant. You can buy up to three of them for 2000 gil each so purchase two and head back to the Diviners. Finally, they will ask you to hunt the Niblet species to extinction. You will need to kill 120 of them in total and the Last One. Completing "Death Safari" will net you a quarter of this number and the frequency that they appear in your travels will make this task fairly simple. Return to them once you have done the task.