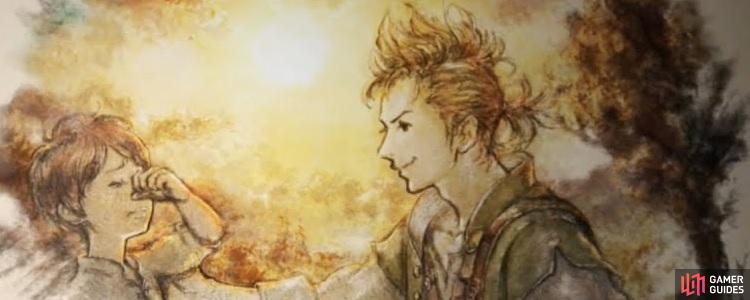 Alfyn is an apothecary, treating the wounded and sick in a small village amid the babbling brooks of the Riverlands. Stricken ill as a child, he was saved by a traveler who asked for nothing in return, inspiring him to follow in his footsteps. Though hesitant to leave the only home he has known, his best friend, a man named Zeph, convinces him to follow his dream, wherever it may lead him...
Path Action
Alfyn's Path Action is called Inquire, which allows him to obtain information from NPCs that they might not otherwise tell you. This information can be useful in uncovering hidden items in the area, as well as being needed for Side Stories and when required, for his main story. Unlike [Cyrus' Path Action], Alfyn's will always succeed, but there are times when he needs to be a certain level in order to perform the action. You'll know that you are too low of a level if the Inquire choice is greyed out on the Path Action list.
Talent
Alfyn's Talent is called Concoct and it is one of the more powerful talents in the game. It allows Alfyn to mix two items together to come up with a new effect, such as healing the entire party or hitting enemies for elemental damage. It is quite versatile and become one of the strongest additions to your party. The only downside to this over the traditional healing is that you need the materials for Concoct, although you will likely find a bunch of them as you kill enemies throughout the game.