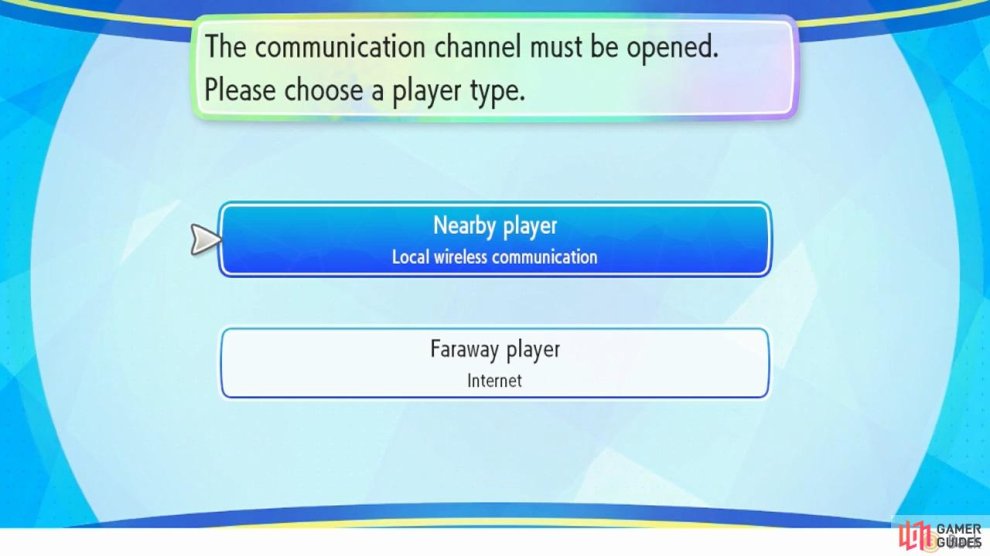 You can't have a proper Pokémon game without trading the battling! In Let's Go, you can trade and battle with other players both locally and online. Whether you're playing with someone near or far, everything pretty much works the same.
To start trading or battling, first go to "Communicate" in the main menu, then select "Play with Others". You can then select whether to play with a nearby player (via Local Wireless) or a faraway player (via the Internet). Make sure Flight Mode isn't switched on and, if applicable, you're connected to the Internet.
Nintendo Switch Online
To play online, you need to have a subscription for "Nintendo Switch Online", Nintendo's paid online service for the Nintendo Switch. You purchase a monthly or year subscription, and there's even a family plan to further save costs.
If you're unsure, there should be a free 7-day trial accessible via the Nintendo eShop. This trial can be used once per Nintendo Account. Beware that when the free trial ends, you'll be automatically subscribed to the monthly plan unless you terminate beforehand.
Next, you can choose one of the three options: Link Trade, Single Battle or Double Battle. These are all pretty self-explanatory. After that, you must select a Link Code, which is a string of 3 Pokémon icons, from 10 possible types. The game will then try to match you with another player with the same Link Code.
Now you might realise there's actually no way to directly play with a specific player. You can't even choose a friend from your friend list. The only thing you can do is try to pick a unique combination for your Link Code, then arrange for your trade/battle partner to quickly pick the same.
Playing with Randoms
On the other hand, if you don't care, you could pick a simple combination, like 3 Pikachu or 3 Eevee, and you might get matched with someone completely random. Hey, sometimes it's nice to be surprised!
Link Trade
If you want to trade Pokémon, this is what you want to choose. You'll be brought to your Pokémon Box, where you can select one Pokémon to trade. Meanwhile, you can see what Pokémon your partner has currently selected near the top. Once you've decided, select "Offer as a trade".
In the next screen, you can confirm the trade by selecting "Trade Pokémon", check your partner's offer by selecting "Check offered Pokémon" and so forth. Note that these options will only appear once your partner has selected a Pokémon to trade; otherwise they're greyed out.
Lack of Communications
By the way, there's no way to communicate with the other player in the game itself. Of course, if that player is nearby, you can just talk to them in person. Or if you're trading with someone you know online, you can message them. But if it's a random stranger, well... good luck.
Single/Double Battle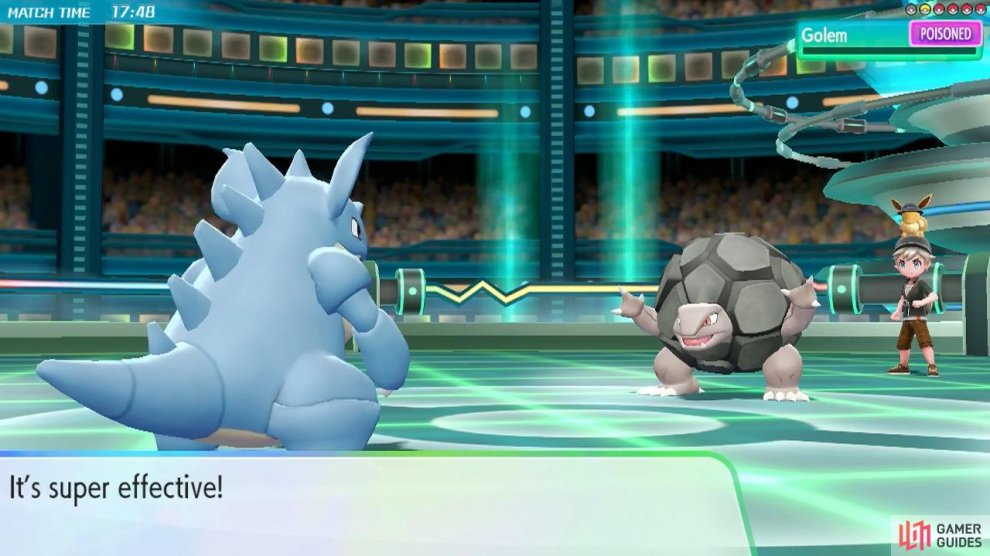 Similarly, if you're up for a Pokémon Battle, you can choose Single Battle for classic 1 vs 1 battles or Double Battles for more strategic 2 vs 2 battles. Besides the battle mechanics themselves, these two modes function identically.
At the beginning, one of the players can set the battle rules.
No restrictions is exactly what it says on the tin. Pokémon will enter the battle at their actual Levels, and will have their increased stats from eating candies.
Normal rules is a bit more sane. All Pokémon are reduced to Level 50, and increased stats from candies are ignored. Besides that, there are no further restrictions. So Mewtwo is still fair game.
Once the rules are decided, you can choose to fight with the Pokémon in your party or choose them from your Box. Next, you'll have 1 minute and 30 seconds to select your team members and order. At this point, you can press the Y button to check your opponent's team.
Then it's battle time! Battles are the same as in single-player, but the "Bag" options is gone, so no items can be used. Instead, there's a "Run" option that you can use to forfeit the match. Also, you'll get 20 mins on the clock, and you have 1 min and 30 seconds to decide each move.
Nothing to Lose
Nothing special happens if you win or lose, so just try your best and--most importantly--try to enjoy yourself! But if you're not enjoying yourself, because your opponent has a Level 100 Mega Mewtwo or something, don't be afraid to give up. You can probably find like-minded opponents elsewhere.