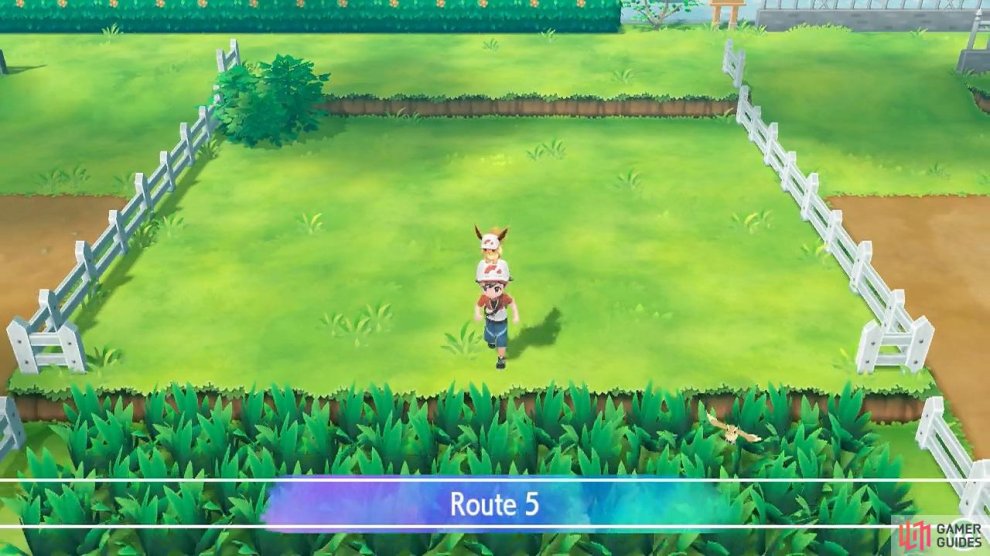 Wild Pokémon
| Pokémon | Type | Location | Chance (%) |
| --- | --- | --- | --- |
| Pidgeotto | Normal/Flying | Tall grass | 10 |
| Abra | Psychic | Tall grass | 5 |
| Jigglypuff | Normal/Fairy | Tall grass | 15 |
| Growlithe | Fire | Tall grass | 20 (Let's Go Pikachu) |
| Vulpix | Fire | Tall grass | 20 (Let's Go Eevee) |
| Rattata | Normal | Tall grass | 30 |
| Pidgey | Normal/Flying | Tall grass | 20 |
| Chansey | Normal | Tall grass | Rare spawn |
This route connects Cerulean City with Saffron City in the centre of the Kanto region. Unfortunately, passage to Saffron City is currently not possible, but there's another road you can take. Anyway, we suggest sticking near the central column of this route to start with. That's where the row of ledges are.
Jump down 4 ledges in succession, then stop. Towards the right, there's a set of 3 Great Balls waiting for a keen eyed trainer to pick up. Once you're ready, jump over the final ledge to reach the back of the Daycare Centre. If you're bored, you can walk around to the front and go inside.
Like in the original games, you can drop off a Pokémon at the Daycare Centre. As you travel, that Pokémon will slowly gain experience. Then you can return and pick them back up for a fee. This could be a decent way to, say, evolve Magikarp. However, unless you're tight for space, you're probably better off leaving it in your party.
Outside the Daycare Centre, search the bush to its left for 3 Razz Berries. Next, head south-west towards the left of the gatehouse entrance. Over in this corner is an Ether that's all yours. Finally, go east past the gatehouse. Pick up the 3 Nanab Berries from the floor, then go over to your rival in front of the underground entrance.
The playful fellow will give you 3 Revives. Afterwards, follow him inside the building. Inside, go down the flight of stairs directly ahead.
Pokémon Checklist
Things are starting to heat up! Here, you can encounter the Fire-type Growlithe (Let's Go Pikachu) or Vulpix (Let's Go Eevee). The Grass-type Gym is coming up soon, so if you don't have a good Fire-type, now's your chance! You may also encounter Jigglypuff and Pidgeotto, an evolved Pidgey.
In terms of rare Pokémon, Abra is a Psychic-type that can eventually evolve into the powerful Alakazam, although you'll need somebody to trade with. Finally, Chansey are known to appear here. If you're finding the area too narrow, you'll find the same Pokémon on Route 6, which is more spacious.