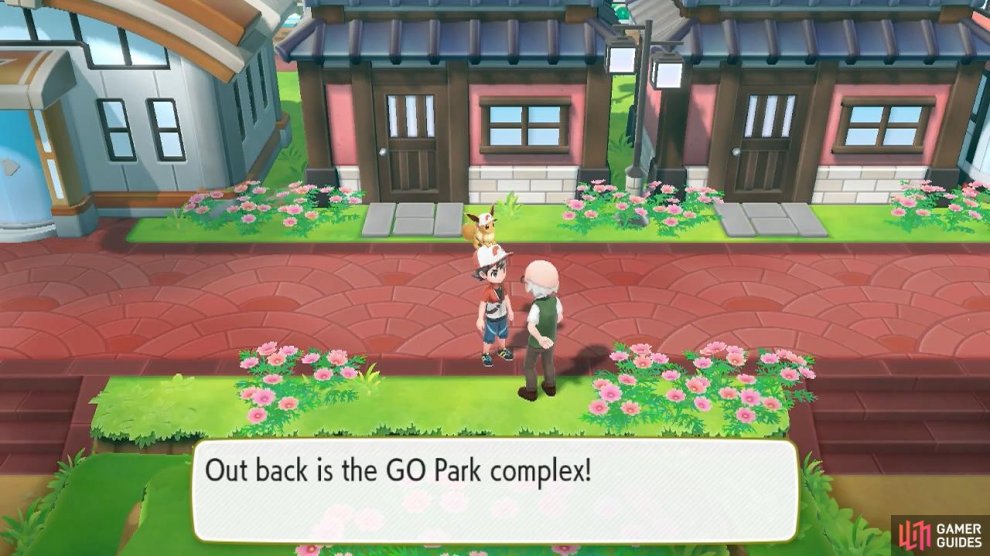 Situated along the southern-most part of the Kanto mainland, this city is often visited for its Safari Zone, as well as the Poison-type Gym. You can reach here via Route 15 from the east or Route 18 from the west. Anyway, we'll just highlight the city's major landmarks, so you can visit them in any order you wish.
After your long journey to travel here, you'll probably want to head over to the far south-west corner first. From there, you can reach the southern part of the city. Towards the left is the Fuchsia City Gym. Meanwhile, in the middle are two residential homes. Finally, towards the right is the Pokémon Centre, which definitely deserves a visit.
Once you've healed your Pokémon or otherwise, there's a man wearing a red tailcoat sitting towards the right side. He'll teach your partner the last of their special moves.
Pikachu
| Move | Type | Category | Description |
| --- | --- | --- | --- |
| Splishy Splash | Water | Physical | An attack that may inflict Paralyse. |
Eevee
| Move | Type | Category | Description |
| --- | --- | --- | --- |
| Sappy Seed | Grass | Physical | Deals damage and slowly drains HP from the opponent each turn. |
| Freezy Frost | Ice | Special | Deals damage and cancels every in-battle Pokémon's stat changes. |
| Sparkly Swirl | Fairy | Special | Deals damage and cures the status conditions of the user's party. |
Partner Moves (3)
Splishy Splash is a better version of Surfing Pikachu, allowing your partner Pikachu to hurt Ground-types and potentially cause Paralyse. Sappy Seed is basically Leech Seed but as an attack. Similarly, Freezy Frost is an offensive version of Haze. Finally, Sparkly Swirl can be useful if you don't want to waste items and/or turns to cure status.
Alola Trade (6)
Also, waiting near the top-left corner is a Gentleman who's hoping to trade his Alolan Marowak for a Marowak caught in Kanto. You can't catch Marowak, so you'll probably have to evolve a Cubone.
By the way, you catch an evolution-ready Cubone from the Pokémon Tower. The Alolan Marowak is Ghost and Fire, but it lacks any good Ghost-type moves in this game.
Outside, if you go south from the middle two houses, you'll reach Route 19. That's the way you want to go to reach Seafoam Islands and eventually Cinnabar Island. Actually, head towards Route 19 right now. Before you get there, you'll run into Jessie and James. They'll forcefully give you a set of Gold Teeth before departing.
Towards the south-east corner of Fuchsia are two houses side by side. You can also get here by jumping over the ledge to the right of the Pokémon Centre. The house on the left is the more important one. Inside, you'll find the Safari Zone warden. Give him the Gold Teeth near Route 19 and he'll reward you with a Safari Set.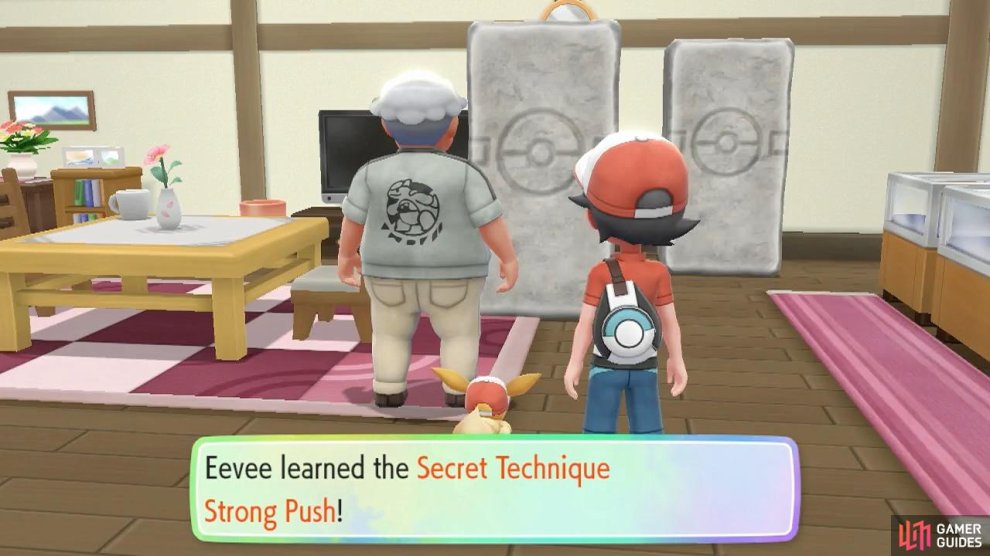 Strong Push
He'll also teach your partner the Strong Push Secret Technique. This functions like Strength in the older games, allowing you to push tall blocks like the one in this house.
The blocks will move in the direction you're facing, but only if there's nothing in the way. After using Strong Push once, you only need to press the A button (or equivalent) to push again.
Once you've learned the technique, try it out on the stone block in the top-right corner. You should reveal a hole in the wall, where a Diglett is hiding. Say "hi" to the Diglett to receive a Nugget. If you come back later, it might have another one. As for the house on the right, you can reach the garden via the back.
There, you can obtain a Super Lure to the left of the pond. Towards the centre of the city is the entrance to the Safari Zone. Before going in, there's a Poké Mart on the left. Anyway, the Safari Zone has changed a lot since the GameBoy days. The Safari Zone itself is merely an attraction and you can only observe the Pokémon, not catch them.
As you step into the Safari Zone, your partner will run off to play around. Aww, it looks like they're having fun! Next, go left, above the Poké Mart. Around here, there's a man standing next to a Lapras.
Sea Skim
Speak to him and he'll teach you the final Secret Technique: Sea Skim. This replaces Surf and lets you traverse bodies of water. While swimming, you can encounter Water-type Pokémon (and maybe some others).
Towards the far north is the entrance to the GO Park Complex. That's where you can go to transfer Pokémon from Pokémon GO. We bet some of you are excited! Meanwhile, in the north-east corner is the wardens' building. However, there's not much to do there. If you've got Pokémon GO, let's check out the GO Park Complex.
Next Destination
In any case, you can now challenge the Fuchsia City Gym. It's the building near the south-west, in case you missed it. But if you feel like doing some more exploring--or if your party needs more experience--you may want to go back and visit the routes that you didn't go through. So either of Routes 12 to 15 or Routes 16 to 18.
In addition, now that you've acquired Sea Skim, you can also grab some items and Water-type Pokémon in earlier routes. We'll cover these aspects in a page called A Bit of Sea Skimming. If you want to skip ahead, you can even venture onto Route 19, south from Fuchsia City. But we'll get there in the Gym 7: Volcano Badge chapter.
Or if you want to be a rebel, you can go south from Pallet Town, onto Route 21. We won't be covering this backwards journey, but we do use this route in our Gym 6: Marsh Badge chapter. Last but not least, extremely bold trainers can consider exploring the Power Plant, by swimming across the east side of Route 10. This will also be covered in Gym 7: Volcano Badge.