Version Requirement
The following content is only available if you've updated the game to at least Version 1.1.0.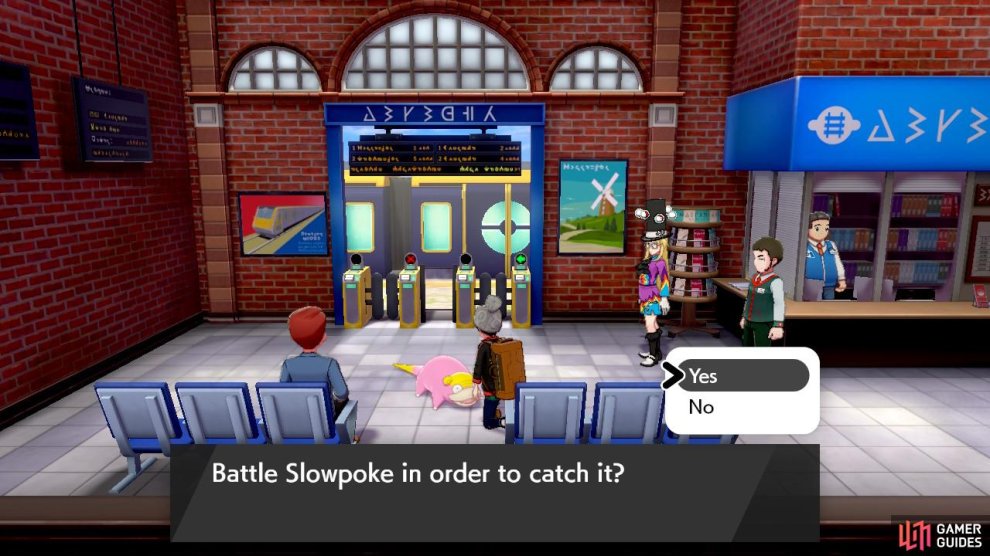 When there's a gap in your busy schedule, make your way to the Wedgehurst Train Station--if you've forgotten, it's directly in front of the town entrance via Route 1. Inside, you'll learn that the train from the Isle of Armor has alighted. Go over to meet a new character: Klara in Sword or Avery in Shield.
A strange-looking Slowpoke will come wandering from the train. This is a Galarian Slowpoke, which is a brand new Pokémon added in Version 1.1.0. Apparently, they're a nuisance at train stations, so you're asked to try and catch it. Well, here goes!
Wild Pokémon
| Pokémon | Level | Type |
| --- | --- | --- |
| Slowpoke (Galarian) | 12 | Psychic |
The Slowpoke will be Level 12; if you just arrived here after defeating the Champion for example (like we did...), you may want to dial your team down. Or just use False Swipe!
Afterwards, Klara or Avery will compliment you on your skills, before departing for the Isle of Armor. At the time of writing, it'll be some time before you can visit this new location yourself.