| Quest Info | Description |
| --- | --- |
| Objective | Investigate a dragon sighting near Whiterun. |
| Quest Giver | Jarl Balgruuf the Greater |
| Location(s): | Dragonsreach, The Western Watchtower outside Whiterun |
| Prerequesite: | Bleak Falls Barrow |
| Next Quest: | The Way of the Voice |
| Reward: | Dragon Shout, Axe of Whiterun, Thaneship Whiterun, Lydia follower. |
Quick Walkthrough
1.Talk to Jarl Balgruuf.
Meet Irileth near the Western Watchtower.

Kill Mirmulnir, a dragon.

(Optional) Use your new Shout power.

Report back to Jarl Balgruuf.
Detailed Walkthrough
This quest starts immediately after Bleak Falls Barrow. Our first objective is to talk to Jarl Balgruuf. Follow everyone up the stairs where the Jarl will be waiting.

He'll hear the report from the guard and then will instruct Irileth to go to the western watchtower. He will then give us our reward from the last main quest: a suit of Iron Armor of Minor Illusion (good for you Illusionists, money for everyone else). He will also ask us to help Irileth take down the dragon, changing our objective to Meet Irileth near the Western Watchtower.
Head outside to Whiterun and follow Irileth as she heads to the main gate. Here she'll rally some guards and lay our task before us. After that, follow her to the main world map and to the western watchtower. It's pretty obvious this place has been hit by something, so go check for survivors until the dragon returns!
You'll have to fight a Dragon now! This Dragon's name is Mirmulnir, and he just loves to circle around and spit out fire. Ranged players are in luck, as their arrows can harm the beast so try to hit it even as it flies (aim where it is going, not where it is..). Every so often it will come down and attack (likely attacking one of the NPC's). What I'd do is equip an ice powered weapon (you got several of them in the last main quest) and attack it with that while it targets the NPC's. It will target you as you lay on the pain, but you can retreat and heal.
Achievement: After Mirmulnir is killed, you will earn: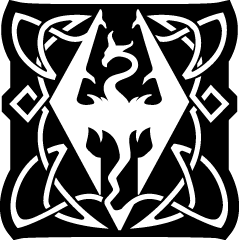 Dragon Soul
Absorb a dragon soul
10
Be sure to examine the corpse afterwards for several goodies. The corpse will soon glow and the dragon's soul will be absorbed by you. This, combined with Unrelenting Force that we found in the last main quest will grant you the ability to use your Dragon Shout power. Go ahead and try it out. The party will talk about you and being "dragonborn" and then your next objective will be to report back to the Jarl.
Head back to Dragonsreach and go see the Jarl. Tell him everything that happened at he'll in turn tell you about the Greybeards, who you heard on your way back to the keep. The Jarl will make you a Thane of Whiterun and reward you with a Axe of Whiterun . You'll have also complete the quest Dragon Rising and you'll be given a new quest: The Way of the Voice.
As a note, you now have your own personal Housecarl (servant) named Lydia. Lydia hangs around Dragonsreach, and you can ask her to accompany you at any time. Check our Companions section for more info on followers.