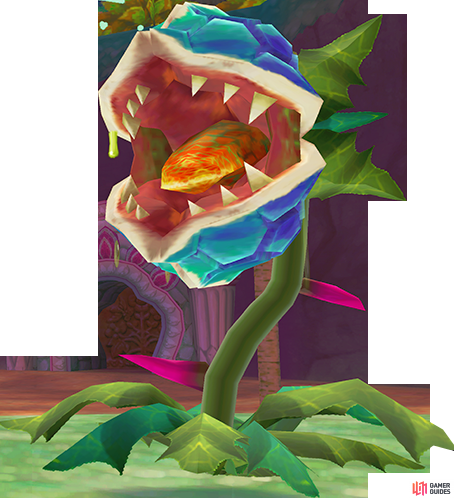 Spoils Gotten: Jelly Blobs, Rupees, Hearts.
Appearance: A blue plant with a bulbous head rising from grass tufts.
Location: Sealed Grounds, Faron Woods, Skyview Temple, Ancient Cistern, Skipper's Retreat
Weaknesses: Goddess Sword - 1 hit
Attacks: Bite
Deku Babas greatly resemble their appearance from previous Zelda titles. They come out from underground and try to bite Link if he gets too close. A new feature is that when battling the Deku Babas, Link must slash in the direction that the enemy's mouth is open. Some Deku Babas need to be sliced vertically while others need to be sliced horizontally. Alternatively, Link can toss or roll a bomb towards a Deku Baba and it will gobble it up before exploding within its mouth.
Some Deku Babas can be seen hanging from walls or the ceiling and they are out of reach from Link's sword. In order to defeat these fellows, Link must use the beetle or arrows. After sending out the beetle, Link can track its direction so that it cuts down the deku babas from their stems, causing them to fall to the floor in defeat. Link can also use his bow and arrow to cut these deku babas from their stem, or shoot them in the mouth to kill them directly.