Animal Crossing: New Horizons Review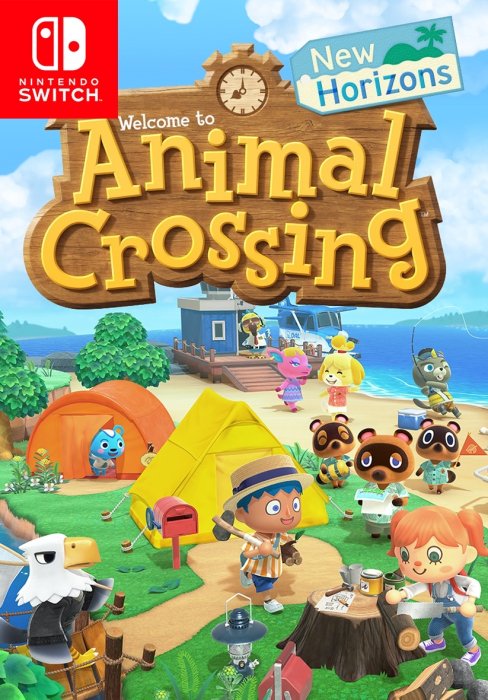 Pros
More customization than ever before!
Gorgeous art style
Regular content updates mean the game stays interesting and exciting
Long-term playability
Cons
The beginning gameplay is a little slow
Lacking in some features found in previous games
Co-op system is frustrating for players who share a console
Animal Crossing: New Horizons is the next instalment in the Animal Crossing franchise, released March 20th 2020. In this game, instead of starting off in a pre-built town, you begin your Animal Crossing journey on a deserted island. This new structure is refreshing to existing Animal Crossing players, but also has the same casual gameplay structure and familiar characters and villagers of the previous games. This game offers you a zen reprieve from real life and a chance to design and build your own island town from scratch, whilst developing friendships with the other island residents.
The game builds upon the classic features of the well-loved Animal Crossing universe. If you're a long-time fan, you'll recognise Tom Nook and the Abel Sisters as well as other special visitors who'll visit your island from time to time. New Horizons also has the same basic structure as previous games: you live peacefully amongst animal villagers, earning bells to pay off your debt, catching critters and finding fossils to donate to Blathers. The simplicity of the structure is what makes it so appealing, as you can put as much or as little effort into paying off debts and donating to the Museum as you like. The games are also incredibly beginner and child-friendly, so you don't need to have been a die-hard Animal Crossing fan to pick up and enjoy any of the games. This structure has been consistent across all Animal Crossing games, but each game brings something new and exciting to gameplay to ensure that existing fans return to the franchise.
New Horizons' unique deserted island start means that you have a lot of choice in how to design the layout of your island town. From choosing infrastructure, to deciding villager home locations to terraforming, New Horizons offers the complete freedom to decorate your island however you like. This is certainly one of the most wonderful aspects of the game, as you can spend as much time as you like perfecting your island with furniture, flowers, and terraforming. It certainly adds to the long-term playability of the game, as it gives players larger projects to complete.
The gameplay at the beginning can feel a little slow, but it gives you the chance to figure out the different features and functions of the game. You're given various tasks that help set the scene and introduce the Nook Miles feature. The Nook Mileage Program is an awesome addition as it gives players achievements to unlock and infinite daily tasks to work towards.
Like the previous games, New Horizons runs in real time, meaning the seasons will be the same as yours and the time of day will also be in sync. Players are encouraged to play at different times in the day because various bugs and fish will be available to catch. There are also many seasonal events that keep the game exciting and interesting all year round.
One of the big differences between this game and its predecessors is the increased freedom to customize. The increased customization impacts a lot of different aspects of the game. From the beginning, you can customize your character's appearance, which has not previously been an option in Animal Crossing games. In addition to this, you'll be able to customize your appearance whenever you like, and even buy new hairstyles and colors to try out. This introduction of appearance customization means the game feels more inclusive, as players can now choose their character's skin color. Your villagers also refer to your character with gender-neutral pronouns, which is another warmly welcomed improvement to the inclusivity of the game.
New Horizons is focused on giving players more freedom to be creative, through customization and crafting.
Customization of style and appearance isn't just limited to your hair color or appearance. New Horizons introduces a new aspect of gameplay to the franchise through DIY recipes and crafting. The Minecraft-style gameplay of gathering resources and crafting furniture is an exciting addition to the Animal Crossing universe, as it offers players even more to do. Some DIY furniture can be altered using your own Custom Designs. Speaking of Custom Designs, New Horizons improves upon previous games' custom design tool by introducing the Pro Tool. With this, you'll be able to design specific clothing pieces like short dresses, ballgown dresses, hoodies and more. It feels as though New Horizons is focused on giving players more freedom to be creative, through customization and crafting.
The terraforming function is also well-thought out and simple to use and allows players to customize the island's natural appearance. Players can create gorgeous natural features like waterfalls and narrow paths through cliffs. You can even level your whole island and start the terraforming from scratch – a choice made by only the bravest and most hardcore Animal Crossing players out there. Although you can't do anything drastic with it, like increase your island's size or create towering mountains, it does give you just the right amount of freedom that you could spend hours tweaking your rivers and adding new cliffs and waterfalls across your island.
Whilst the increased freedom and ability to customize almost all aspects of the game is something to be applauded, there are some parts of the game that feel lacking in comparison to previous Animal Crossing games. For example, upgrading Nook's Cranny takes at least 30 active days and isn't reliant on how much grinding a player wants to put in, like in previous games. There are also no more shop upgrades at this time, which is a little disappointing to experienced Animal Crossing players, as the Nook shop has had multiple upgrades to work towards in every other game.
There are also some well-loved characters who haven't been included in New Horizons, like Brewster the Barista Pigeon and Harriet the Poodle Hairdresser. It feels as though there's a general lack of shops in comparison to Animal Crossing: New Leaf and City Folk. Whilst it does make sense that these shops wouldn't be available straight away given the deserted island start, it would have been a pleasant addition to have other shops to work towards, similar to Nook's Cranny and the Abel Sisters Tailor Shop. That being said, it is likely that these characters and new shops will eventually be introduced via updates and downloadable content, but it is disappointing that they haven't been included in the initial release or the first few update releases.
The multiplayer aspects of the game are also well constructed and simple to use. The Animal Crossing community is flourishing, so if you want to make the most of the game, you'll definitely want to consider becoming a part of forums and groups. You can trade and visit other islands with ease due to the Dodo code feature. Dodo codes mean players can connect with people in the Animal Crossing community without having to make them Switch friends beforehand. It makes connecting with other players easy and safe.
There are also preventative measures in place to stop other players from vandalising your island. Players won't be able to dig or chop trees on your island unless you make them a "Best Friend". This is certainly an appreciated feature that helps protect your island when you have strangers visiting.
In contrast to the online and local multiplayer system, the co-op feature lacks somewhat and is widely criticized. You can only have one island per console and only one player is designated as an Island Representative, meaning other players who might share the console and consequently the island, cannot perform certain actions on the island. For example, they can't build the Museum or Nook's Cranny as they don't hold the Island Representative title. This restriction feels unnecessary and undoubtedly frustrating to those who share a console.
New Horizons is certainly one of the most aesthetically pleasing games to grace the Nintendo Switch.
With regards to the appearance of the game, New Horizons is certainly one of the most aesthetically pleasing games to grace the Nintendo Switch. It is vibrant and colorful, with the art style and graphics making the characters cuter than ever. It performs wonderfully in both handheld and docked mode. The UI (user interface) is also clean and appealing to the eye. There really are no faults regarding the appearance of the game.
The sound effects and audio of the game also deserve some recognition. There is a lot of attention to detail regarding the sound effects. When you move on different terrains, the sound of your footsteps will change to match the texture what you're walking on. The whistling sound of the balloons overhead help players locate the balloon depending on the strength of the whistling. It feels as though a lot of time and effort was put into small details to make it more immersive for players.
The soundtracks of the game are also something to be praised, for adding to the immersive-ness of the game. The background music changes depending on the time of day, and each building on your island has a different song playing as you enter. All the songs play into the zen feeling of the game. In addition to the background music, players can also play K.K. Slider's songs in their homes or on their islands using various music players. The songs come in all different genres and tempos and can be used by players to set a mood or tone for their island.
The Animal Crossing universe has long offered players the opportunity to escape real life and to wander around catching critters and watering flowers in a town full of adorable villagers. New Horizons builds upon this by offering more game longevity through its addition of DIY crafting and island designing. This game seemingly also came at the perfect time, as the global pandemic meant many people were in quarantine or lockdown and needed a reprieve from the stress of their real lives. Whilst the game would have been a huge hit regardless, the global pandemic likely contributed to the phenomenal sales and success of the game, as well as the massive increase in Nintendo Switch and Switch Lite sales in the last six months.
Nintendo has already mentioned that they anticipate releasing new content and updates for the game for at least the next two to three years. This means we will likely see the shop upgrades and new buildings for our island that players so desperately want. The Halloween update of 2020 introduces Pumpkin farming, which could be a hint towards an update in the works for the game to become a full-blown farming simulator. It would certainly add another layer of gameplay and keep the game interesting for those who have been playing the game relentlessly since March. It is exciting to see how Nintendo will update the game to keep it relevant for years to come.
New Horizons is a must-have game and suitable for so many different player types. If you like to grind games, then you can work hard to earn bells to pay off your debts. If you're artsy and enjoy designing, you can sink hours into designing new clothing, path designs or art in the Custom Design tool. If you're a completionist, there's hundreds of critters to donate to the Museum so you'll be busy running around finding the rarest bugs and fish. And finally, if you're just looking for a game to relax and escape the busyness of actual life, then Animal Crossing: New Horizons is the perfect game for you.
Final Verdict
OpenCritic
A New Switch Classic!

This vibrant game offers players the perfect escape from real life.