Thanks to Scrapper's miscue in judgement, you'll be back at the very bottom of the volcano. (Well, technically, "bottom" implies the literal base; we're a fair distance away.)
Anyhow, this place is infested with newer, stronger enemies. Most notable are Dark Keese and Bokoblin Archers with Fire Arrows. You'll have to lead Scrapper to the summit of the volcano. However, he cannot take a lot of damage, cannot protect himself, and cannot censor beep use the whirlwind. Enemies are immediately attracted to Scrapper's presence and focus on the closer of the two of you. You'll have to dispatch the enemies, lest you end up starting over again. Dispatching enemies is best done with the Bow (long distance, you know).
Upon gaining control of Link, get rid of the two distant Bokoblin Archers; one is on the left, and the other on the right. Then begin to head forward and left towards the tunnel. Go inside and start picking off the Red Chuchus. Further ahead is a steep hill. Use your Bow to pick off the Bokoblin Archers on the hill – one per wooden platform and one at the topmost ledge. After clearing the way, dash up the hill. Rest at the middle platforms, then continue to the top.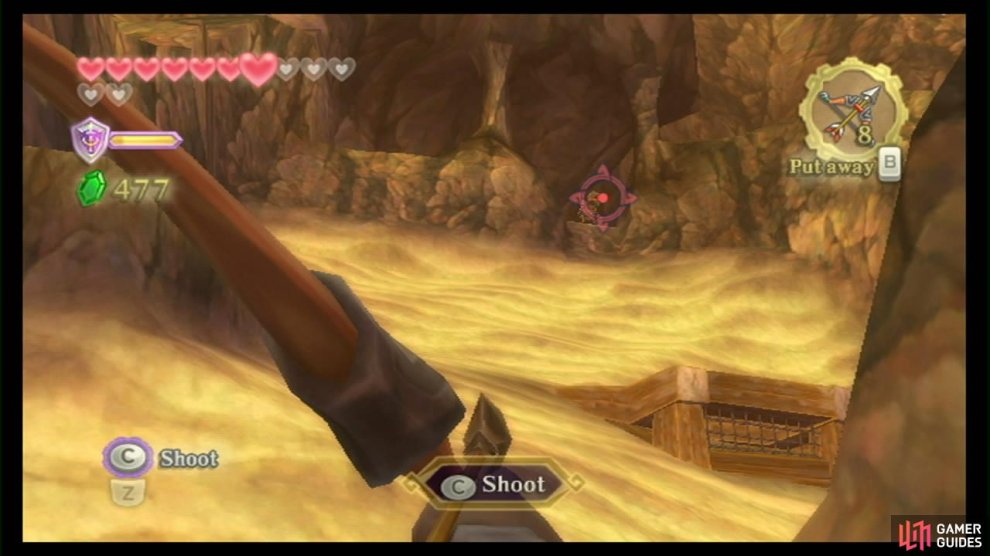 There, go to the right and you'll find a Moblin on the knocked-over tower from long ago. You'll have to deal with this somehow. My method: jump over the Moblin, using its shield as a wall, then repeated slices from the back. Dodge when needed, but anyhow… After defeating the Moblin (through your method or mine), continue along the path to a Red Chuchu. Beat it up and continue to the next steep hill.
There are three tiers here, each with a few Bokoblins (only the first level is plain Bokoblins; the other two are Archers). Shoot down the Bokoblin from the first two tiers, then run up to that second tier. Shoot down the remaining Bokoblin Archers above (one is on the stone outcropping; when facing the Earth Temple, look up and to the right to find the outcropping).
Afterwards, finish ascending the hill and use the nearby Bird Statue if you want. Then go to the right and flush out the Bokoblin population in the encampment. Then head to the fallen tower and defeat the Moblin on there with the same tactic as before. You'll also find some Bokoblin Archers above and to the left of you; I'd prefer it if you dealt with them before the Moblin.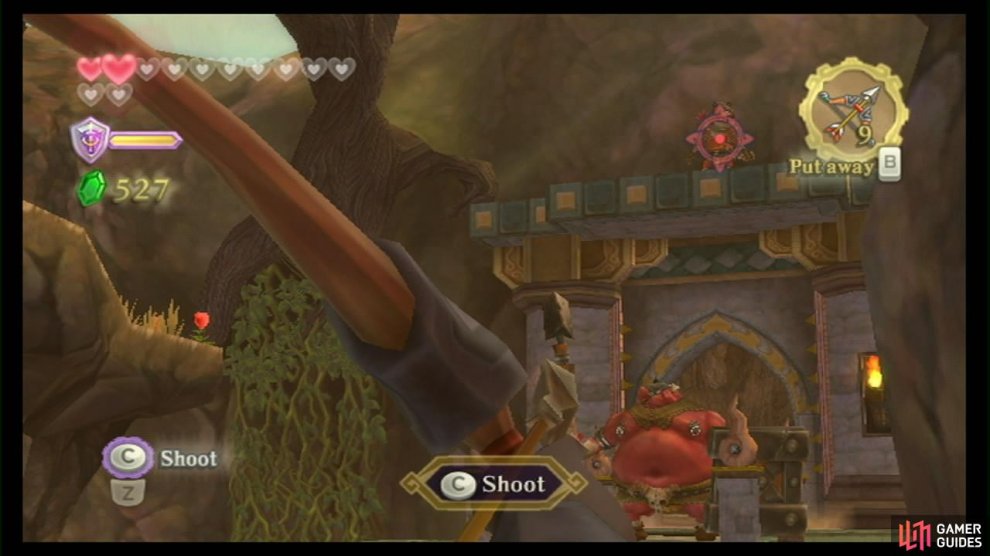 After defeating them, cross the bridge, then continue along the path to the fiery chamber, up the incline, and back to the summit.