After exiting the dungeon, go across the bridge into the cavern nearby. Go to the Gossip Stone and dig into the hole nearby. Burrow into the tunnels to find a passageway. At the other end is a hidden room; inside the room is a chest and some fairies; inside the chest is a Piece of Heart !
$$$item 2313
After this, finish up any other business you have here, then return to the sky.
Firstly, let us catch up on Goddess Cube chests.
Our first chest inside the Thunderhead on the southwestern side of Bug Island. It is on the ledge, and must be dived onto from your Loftwing. It contains a Piece of Heart.
$$$item 2307
Our second chest is found atop the Isle of Songs within the Thunderhead. It contains a Small Bomb Bag.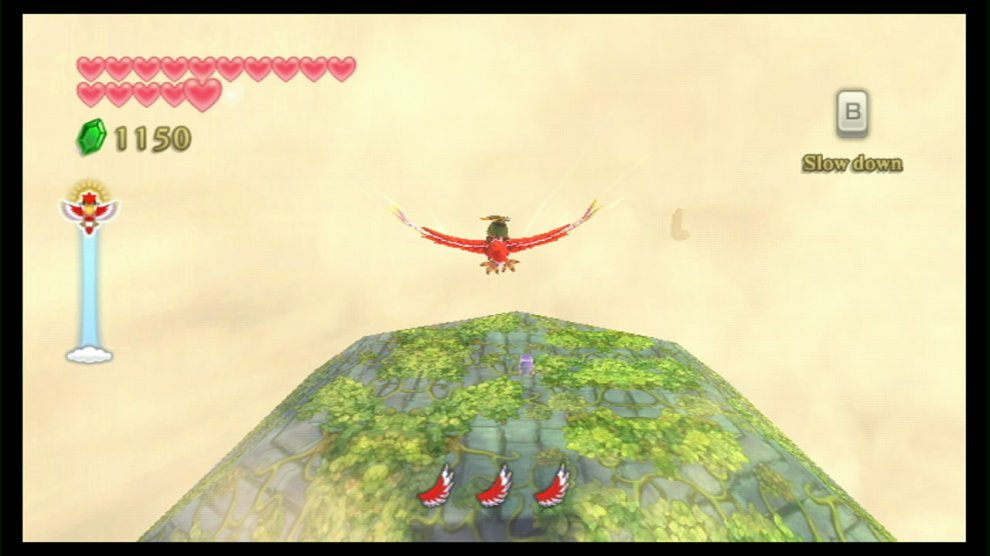 When done, head to the green light in the Overworld and descend to the Faron Woods, at the "Behind the Temple" Bird Statue. (Stock up at Skyloft first, if you want.)