You will need to create Dormitories quite early on in your build as a place for your students to sleep while on their courses on campus.
The basic requirements are beds, and you need to have at least one bed per five students on your course (you remember what University is like don't you?)
Dormitory Requirements in Two Point Campus
Description: Where the magic (sleeping) happens.
Features:
Students sleep to regain their energy
Keep students happy by decorating their Dormitory, and providing at least 1 bed for every 5 students
Receive monthly rent based on accommodation rating
Students are automatically assigned accommodation
Minimum Room Size: 2 x 2
How big should I build my Dormitory?
:::image-block-1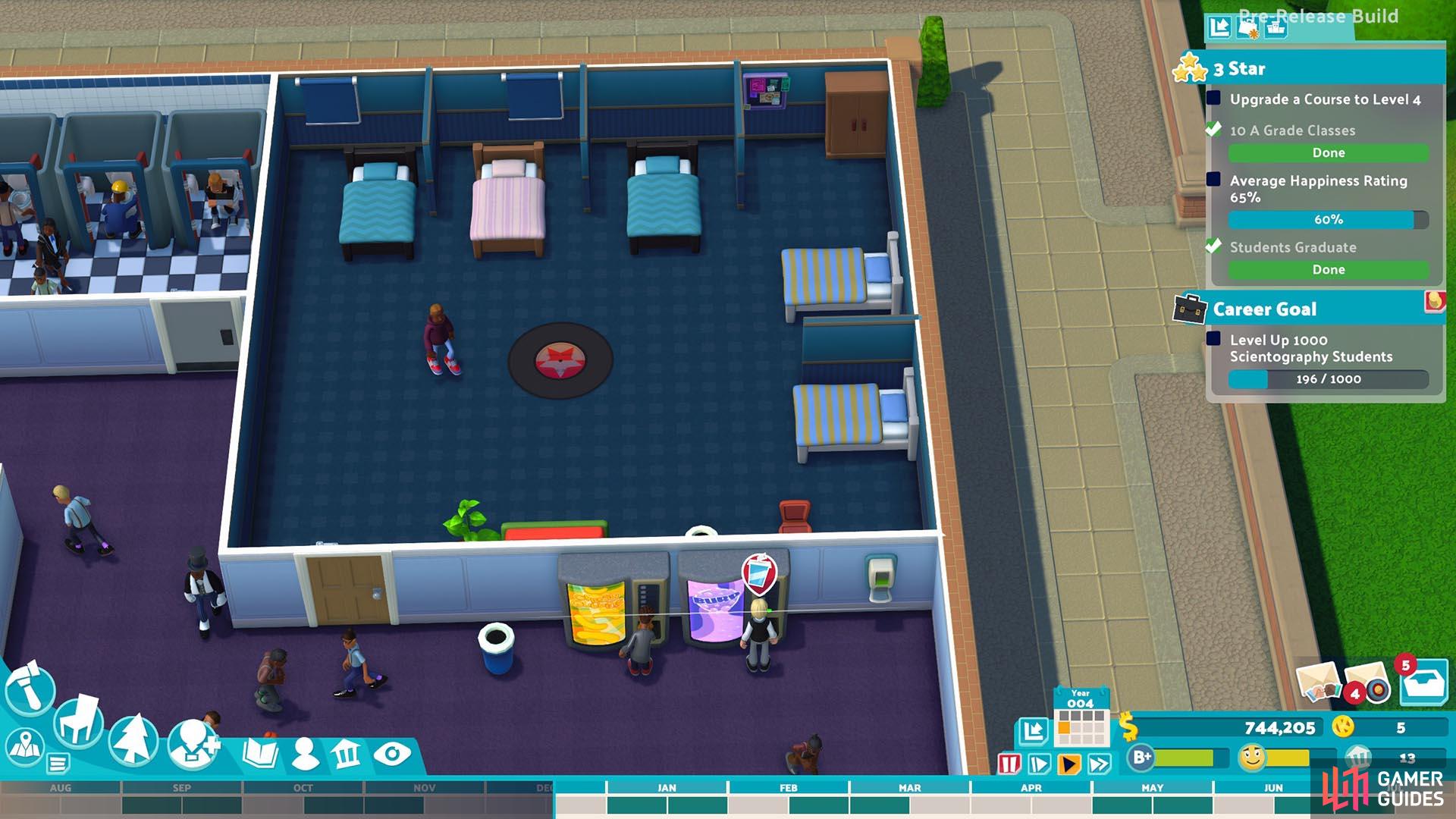 :::
There is no real reason to stick anywhere close to the minimum size, unless you want to set up a series of smaller rooms to make things a bit cozier and a bit less like a prison.
Realistically though you will barely get more than a bed and a wardrobe (the required items) in a 2 x 2 room so try and plan things out a bit bigger.
For the sake of neatness, we try to keep the Dorms (eventually) in their own block, rather than next to course rooms - it just means you can keep your staff more in the places you expect them to be. Maybe assign a janitor to the Dorm block and so on to keep it tidy.
We also like to put a Student Lounge in the vicinity so the students can roll out of bed straight to leisure time.
You can add partition walls between the beds to improve privacy and boost the rating of the room, and why you are at it, why not add in a few home comforts such as posters and rugs and the like?
Everything costs money but things for the dorm aren't that expensive and there aren't a mass of things to unlock with your limited Kudosh, so you can kit them out as you'd like without too much bother.
How to Save your Dormitory as a Template
You will likely be creating quite a number of dorms as your Campus expands, so a good tip is to make sure you save your plan as a template you can easily recreate any number of them with the minimum of fuss.
If you haven't tried saving rooms as templates you can find out all about that on our Room Editing page.