Once you arrive, head forward along the linear path to the central room. Here, look for the group of Blessed Butterflies and play the Goddess Harp to make a Gossip Stone appear.
Now, you can take the eastbound path from here by using the Clawshots. You'll arrive in the entrance room of the Lanayru Mining Facility. You can now get a get in here, then get back across the pit via the Clawshots.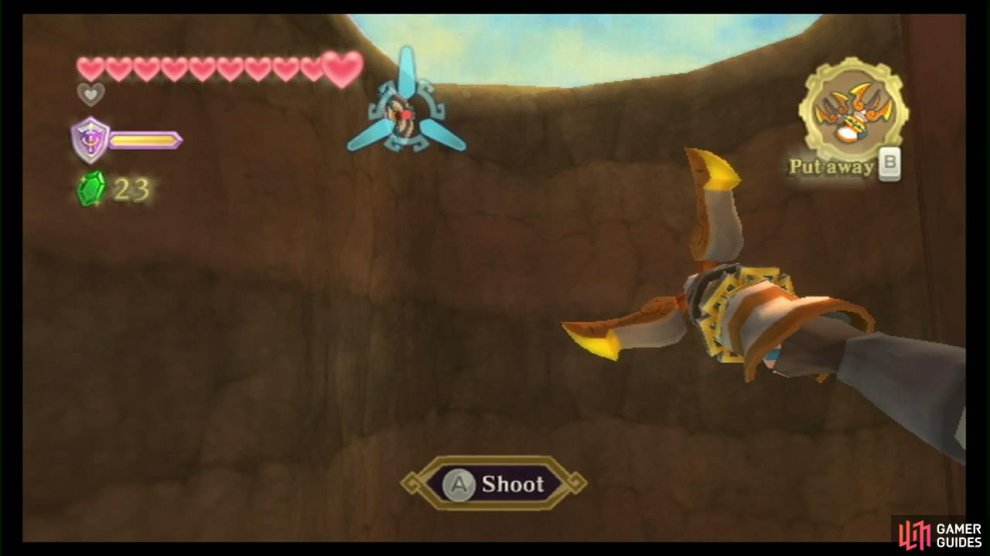 Once you're back in the caverns, assuming you even left, you'll find a Goron, Golo, nearby. Speak with him and you'll learn that he is attempting to carve out an inaccessible path on your map. Speak with him to also get a Small Key. You can on the stool nearby to restore some health and/or to donate 10 Rupees to Golo's digging fund.
Next, try throwing around some Bomb Flowers at the rock pilings nearby, then roll them into the tunnels they reveal. You'll be able to find a few Rupees nearby. Finish up any other business you may have here, then exit to the west by Clawshotting the target above the door and go through the aforementioned door.