When you arrive back in Luxerion, pay a visit to Blythe, the girl sitting at the top of the steps on the way to the Commercial District to begin " Dying Wish ". You won't be able to finish it all today but you can at least start it. There will be many instances over the next few days where you must revisit areas to complete side quests.
If you manage to make it to Luxerion before 9pm, head straight to South Station and find Luka to begin " The Angel's Tears ". This quest requires you to visit her on three other separate days to finally finish her quest. Make sure to remember to visit her when you are travelling around Luxerion on other days.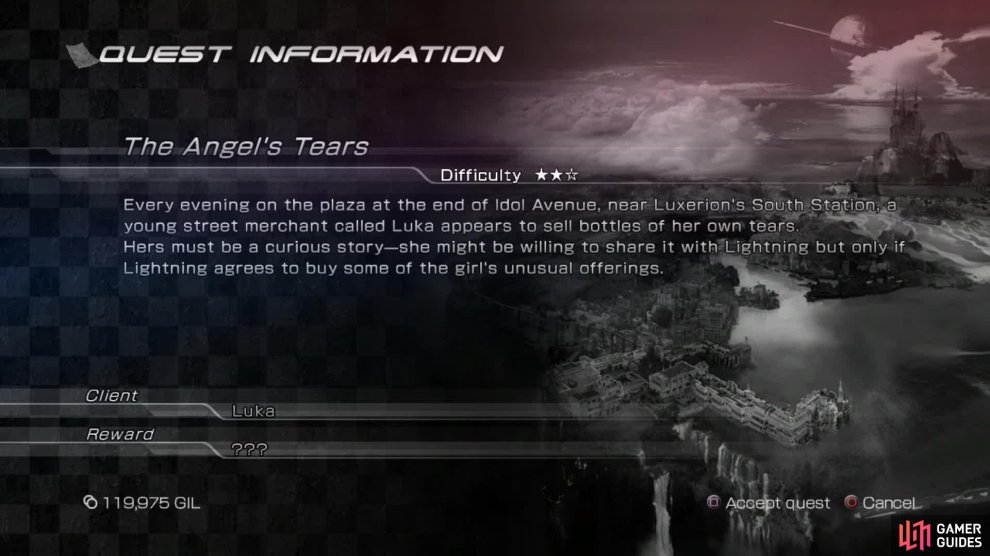 A little further along from Luka, is Ranulph who also has a quest for you " The Avid Reader ". This is another multi-day quest and actually has two choices at its end. One leading to a mediocre reward and the other leading to a much better reward. Take a look at both quests and see which you prefer. Of course, if you're a true completionist, you can do one on one playthrough and one on the next.
At 10pm you can then start " The Saint's Stone " that leads into a meetup with an old friend. Talk to Aremiah if you wish to begin this quest. She appears at 10pm just outside the entrance to the Cathedral grounds. You can complete this quest right away as well so it is definitely a worthwhile investment of your time.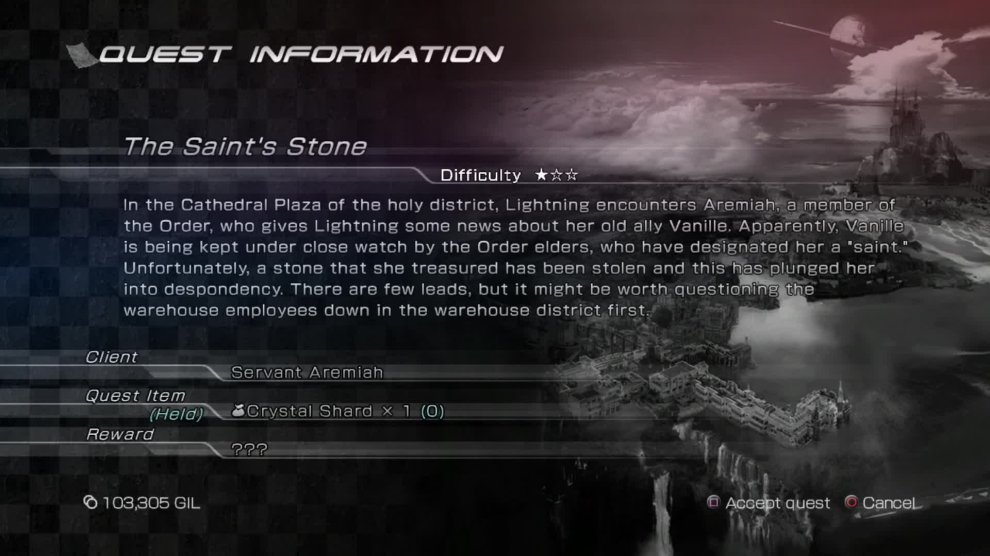 When the Warren opens up, you can find Lackley to continue " Get The Girl ". Get that drunk moving! Before leaving the Warren and heading off to finish "Get The Girl" speak to Reddick near the western entrance of the Warren. This will allow you to continue "The Avid Reader".
Finally, you can start and complete " Stuck In A Gem ". If you still have some time before 6am, feel free to visit the Dead Dunes and complete some tasks there.
Note : Try and finish (or at least start) all Luxerion side quests available at this time before you return to the Ark. You should have plenty of time and if you use Chronostasis, you may even be able to afford a trip back to the Dead Dunes and attend to tasks there.
At the Ark at the end of Day 6, you will receive the Amazon Warrior garb as your reward. Return to the Dead Dunes when you are ready.