There is no passage of time in this final chapter and therefore, no penalty for Escape and no reason to use Chronostasis to manage the clock. The Final Day can be a daunting task initially, because there are a bunch of new enemies to deal with who are all quite a bit stronger to what you are used to. Take your time to learn their weaknesses and you will be fine.
Collect the 5 Silver Malistones and speak to Mog when you are ready to warp to the Cathedral.
| Monster | Notes |
| --- | --- |
| Anubys | These guys have become a lot stronger and come in large numbers. Use slow and then magic attacks to Stagger. |
| Cathedral Sentry | These guys are small fry compared to some enemies and area of effect spells like Blizzaga etc help against large numbers. |
| Neela | Very weak to ice elemental abilities. |
| Wendigo | Very weak to fire elemental abilities. |
| Sugriva | Like the Hanuman, this guy buffs the other enemies (Neela and Wendigo) it comes with. Inflict Imperil and then use Firaga or Blizzaga depending on which minions accompany it. |
| Set | Achieving Perfect Guard against it's swipes will make a quick Stagger. It is similar to the Anubys in attack style. |
| Arcangeli | These can pose a massive problem if not prepared. Physical attacks for damage and elemental attacks when it is casting will ensure Stagger. Faith Feeder and the Preta Hood will protect you from the worst of Wings of Judgement. |
| Chimera | Induce a weakness to ice with Imperil and then inflict Poison. Keep Poison active and then unleash a flurry of Overclocks. Jump/Beat Down can create a quick Stagger. |
When you arrive, you can shop with four merchants if you need any items. Restoration items are a must of course. Climb the ladder on the right to find an Adventuring Essentials merchant who has Libra information on all the new enemies you are about to face. Don't worry too much about the Sorcery Shop just yet as there is another opportunity to access Recovery Items and ability upgrades a little later.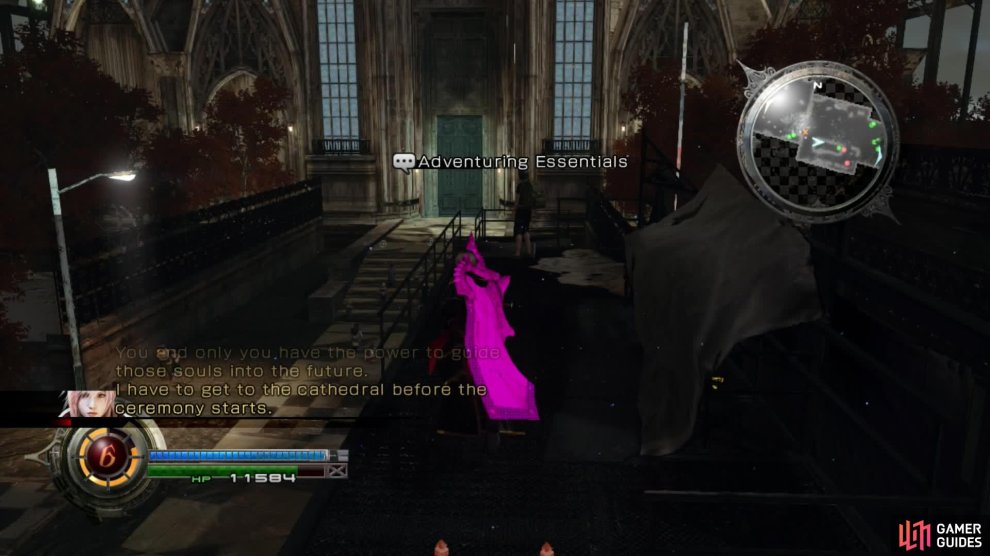 On your way to the cathedral, you will fight Anubys at their highest strength and they often come in twos and threes. If three show up, feel free to ignore them because a fight can quickly turn sour. Approach the sentries at the door for a cutscene and a battle against some Cathedral Sentries.
Sentries are particularly vulnerable to elemental attacks like Fira and can be staggered very quickly. Use area of effect spells when they bunch together to launch them all. They are nothing more than an annoyance at this stage so dispatch them swiftly.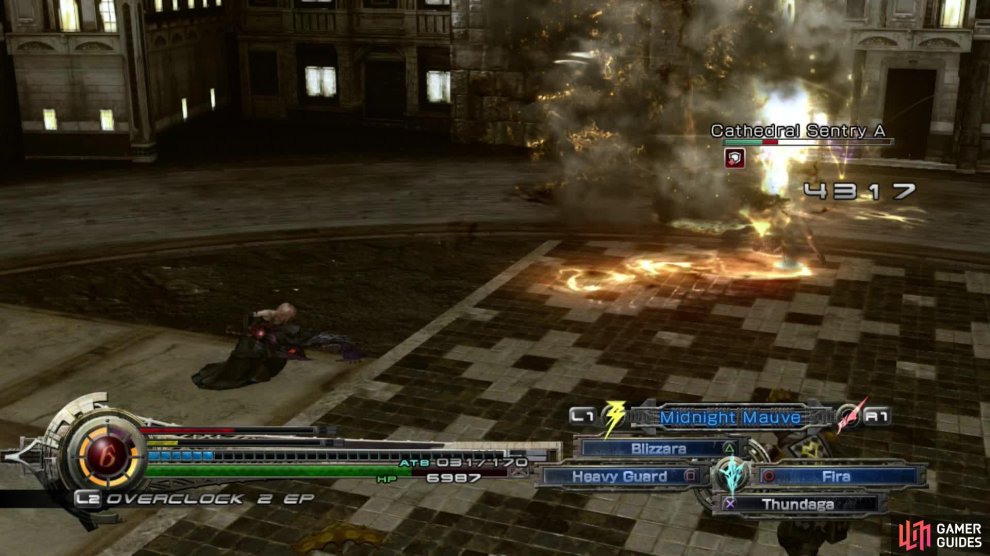 After the fight, run into the cathedral to the blue marker and what looks like a fun monster to beat. Apparently the Order has left a few surprises for the Savior but luckily a friend is on hand to help Lightning break through.