Head to the Moogle Village north of Jagd Village. Pick up the Crimm Mushroom in a little nook after entering the village. A bit further along on the right is some Moogle Dust . Talk to the Moogle with the star above his head in the tree stump circle to begin " Peace and Quiet, Kupo " A little way to the left, you will see a ledge with a treasure on. Glide over there to collect Healer's Lore .
Peace and Quiet, Kupo
| **Difficulty** | 1* |
| --- | --- |
| **Gil Obtained** | 555 |
| **Item(s) Obtained** | Moogle Fragment, Mog Figurine |
| **HP** | +60 |
| **Strength** | +7 |
| **Magic** | +7 |
| **Recovery Item Capacity** | +1 |
Jump down and kill the Dryads for the quest. There are quite a few to kill so just keep fighting. They are extremely weak to fire-based attacks. When you have killed them all, return to the Moogles for a cutscene. Oh look, an old friend! Lightning still hasn't learnt any manners when dealing with Moogles, has she? Talk to him again when he walks off.
Oh hey, we can carry more items into battle! It seems like an age we've been stuck on a maximum of six items so this reward is very welcome and much needed in the coming days. Talk to the Moogle next to the well who will give you Vegetable Seeds to plant in the plot there. This plot grows Sylkis Greens that you can feed to your steed. Excellent!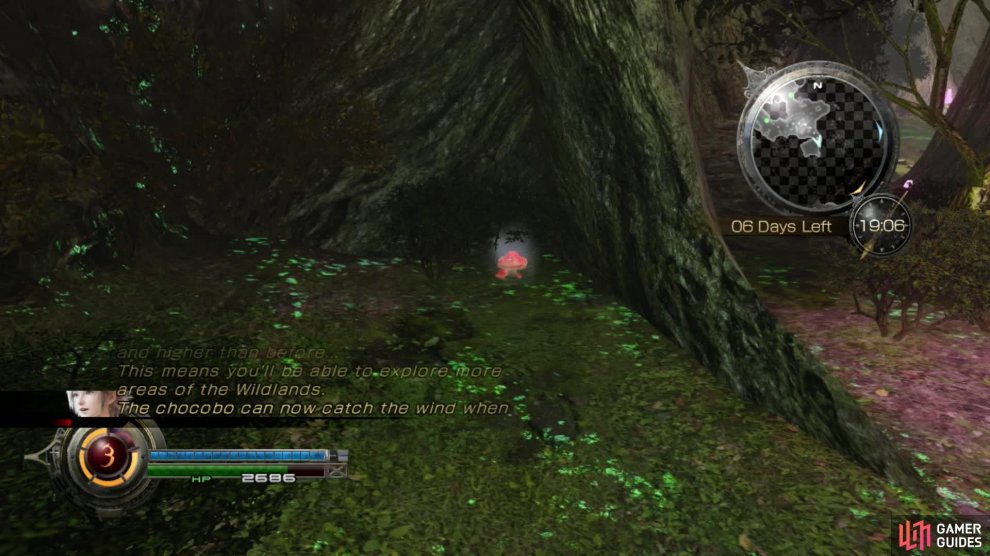 Jump down and talk to the Moogle dressed like a pirate. This snazzy dresser has another sidequest for you to complete: " Where Are You, Moogle ?" Leave the village to search for them. The little critters are spread out around Jagd Woods so you'll have to do a bit of trekking. Please check the sidequest section for locations and full details.
Note : Try to only spend a few hours in Moogle Village because you should then try and focus on finishing almost all of the Luxerion Main Quest line. Moogle Village isn't super important though the boost to Item Capacity is nice. You could come back on a later day to complete Moogle Hunt but do try and complete Peace and Quiet, Kupo for the boost.