| Difficulty | 2* |
| --- | --- |
| Availability | From Day 1 |
| Location | Glutton's Quarter |
| Gil Obtained | 1500 |
| Item(s) Obtained | Chef's Hat |
| HP | +120 |
| Strength | +8 |
| Magic | +4 |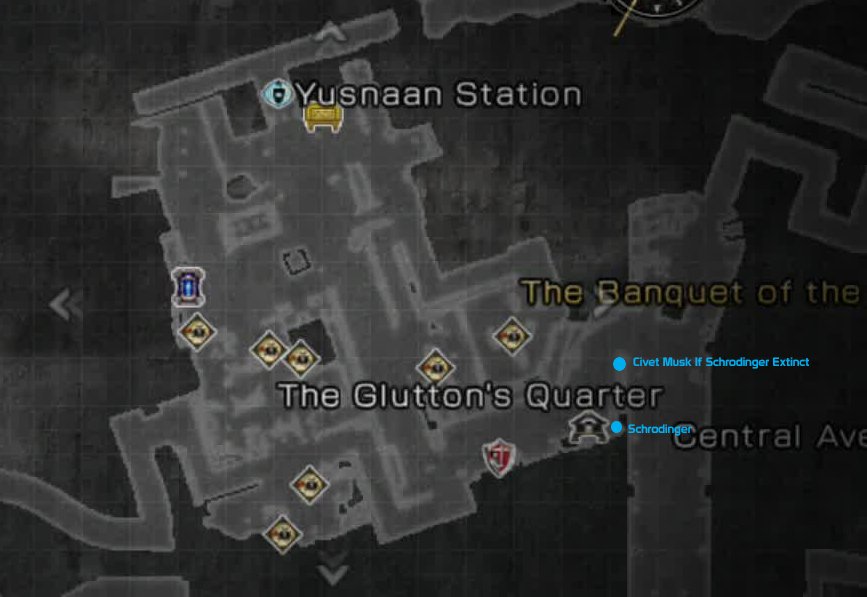 Speak to Seedy at his restaurant.When prompted if you would like a Deep-Fried Niblet Hairball (umm, I'm not sure you do) select 'Yes' to formally begin the quest. You now need to go and find the famous food expert Gordon Gourmet to help Seedy's. You can find him seated at a table in the Banquet of the Lord. Speak with him and he will ask you to eat at all six restaurants in the Glutton's Quarter. These are marked on your map. Pick the cheapest option at every one (and don't forget the Banquet of the Lord) and then return to Gordon.
Gordon now explains you will need Civet Musk , a spice needed to make dishes irresistible, from a Schrodinger in Central Avenue. The Schrodinger is next to the inn in the Central Avenue area. Finish it off and then return to Gordon. He will create and give you Gordon Gourmet's Recipe that you can then return to Seedy's. After the cutscene with Seedy, head back to Gordon with the portion to finish the quest and collect your reward.