Combat plays a significant role in V Rising, and to aid you in that endeavour are the plethora of different Cloaks that you can craft and find, all with their own perks. This page will inform you of where you can obtain the Razer Hood and Razer Cloaks in V Rising.
Where is the Razer Hood?
As you may guess from the icons alone, these new items are themed on the Razer applications that are so popular today. The first of these, the hood, doesn't offer any stats of gameplay boosts, but is arguably the sleekest piece of headgear to find in V Rising at the moment.
Unfortunately, there is no real surefire way of getting the Razer Hood outside of hoping the RNG gods smile upon you. As always with all of the hats and Cloaks in V Rising, they can drop randomly from enemies, found in chests (with Golden Chests having a higher priority), or from Fishing Spots. Players in the community seemed to have had better luck obtaining this illusive hood from the Fishing Spots such as the ones found in the Cursed Forest.
If you're attempting to locate this item via chest farming, consider heading out to the following locations where you'll find an abundance of chests depending on the popularity of your server:
Where are the Razer Cloaks?
You read that correctly, there are more than one Razer Cloak, in fact, there is one for each of the three Tiers of Cloaks currently in V Rising. Once again, like the Hood, you're going to be relying on the RNG gods to take pity on you once more, however there is a slight difference with the Cloaks.
As mentioned above, there's one cloak per each of the three Tiers, with the Razer Serpent Wrap representing Tier I cloaks, the Razer Serpent Cloak for Tier II cloaks and finally, the Razer Serpent Mantle for the Tier III Cloaks. With that in mind, you can narrow down your search by farming for the particular cloak in its respective region.
The Razer Serpent Wrap (and Tier I cloaks) will drop in the Farbane Woods region
The Razer Serpent Cloak (and Tier II cloaks) will drop in the Dunley Farmlands region
The Razer Serpent Mantle (and Tier III cloaks) will drop in the Silverlight Hills and Cursed Forest regions
Additionally, with the Razer Hood being able to be found anywhere in Vardoran, you can essentially work on two items at once in any given region.
V Rising Razer Cloak Stats
As mentioned above, and unlike the hood, the Razer Cloaks have combat uses beyond just their flashy looks. Each cloak has the respective stats of the current cloak Tier that they're found in, those are as such:
Razer Serpent Wrap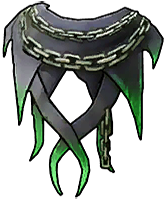 +12 Max Health
+15 Sun Resistance Rating
Razer Serpent Cloak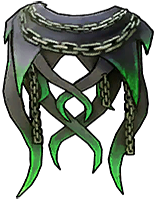 +18 Max Health
+15 Sun Resistance Rating
+15 Garlic Resistance Rating
+15 Silver Resistance Rating
Razer Serpent Mantle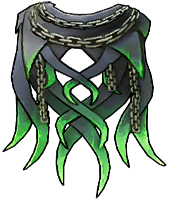 +24 Max Health
+15 Sun Resistance Rating
+15 Garlic Resistance Rating
+15 Silver Resistance Rating
+15 Holy Resistance Rating
+15 Fire Resistance Rating
If you're looking for more information on all of the cloaks in V Rising, or other equipment in general, consider checking out these pages: