A boss battle begins immediately upon entering.
Boss Battle: Paradox Alpha
Ugh, this giant is quite resilient to all damage, and delivers powerful strikes with Wound Damage. As I explained in the status changes section, Wound Damage permanently reduces your MAX HP until the end of the battle, or until cured with a Wound Potion. Switch to RAV/COM and endure a couple of boss attacks until it readies to slam you again.
Cinematic Action Sequence Incoming!
Tilt left analog RIGHT
Being successful negates all damage from the attack, grants the Bravery buff to Noel and the Faith buff to Serah. Endure some more attacks and then...
Cinematic Action Sequence Incoming!
Tilt left analog RIGHT Tilt left analog UP Press X
This will stagger the boss, allowing you to deal greater damage. Switch to COM/COM at this point and send the gigantic pile of paradox to the pits.
Cinematic Action Sequence Incoming!
MASH Triangle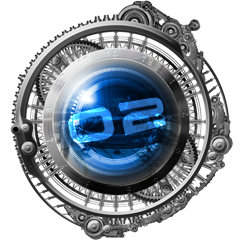 Time Traveller
Left behind a normal life, and began a journey through time.
15
Being accurate in all Cinematic Actions for the boss yields Silver Gear, an item for adorning the monsters. Talk to the Captain in red armour to get things moving and then they throw you in jail in the northwest corner of the Excavation Site.
Talk to Noel for a Live Trigger: (There's something about this world that's different from mine. Let's see what Noel thinks.), then the sentry in front of the cell for another Live Trigger: (We've been taken prisoner by a group known as the Academy. Let's see what we can find out from the guard.), and again: (The elevator wasn't anywhere near completion, but he says it's been operational since last year. How is that possible?) At this point a blonde woman comes running. Her name is Alyssa and she'll help you out.
After Alyssa and the soldier are done conversing, talk to the soldier again and you're free for a further Live Trigger: (A girl names Alyssa lied to a soldier to set us free. We need some answers.). Afterwards you need to talk to Alyssa again, but before that explore the Excavation Site for a couple of treasures.
Heard of Time Reversal? You can try it immediately, but first you need to find a required item. In the south dead end of the Excavation Site is the scorched gate you arrived at in this timeline. Check the southwest corner of the Excavation Site and in the dead end open the treasure cube for the 'Leaving' Gate Seal that unlocks Time Reversal in AF003 New Bodhum.
Now explore the remainder of the Excavation Site for 3 treasure balls which contain 400 gil , 350 gil , Black Belt respectively. If you go back to the soldier next to the cell, you'll see a brief image of a treasure floating in the air. Very soon you will get the ability to uncover these treasures, so hold onto your moogles for now.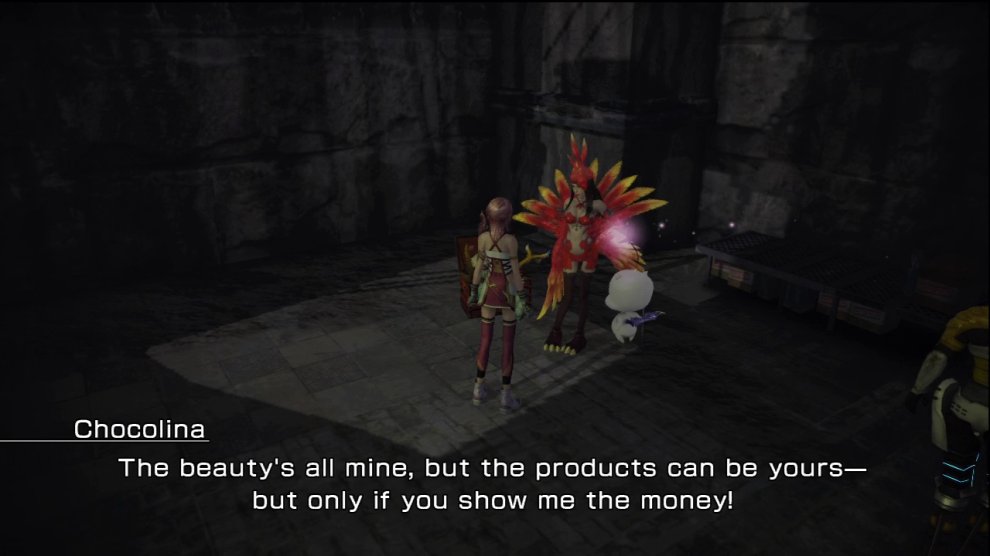 Chocolina's Shop
Along the northeast corner of the Excavation Site you can find Chocolina, a crazy girl in a chocobo suit. She'll be haunting you wherever you go, offering her wares at exorbitant prices. Items she's selling also depend on which Historia Crux area you're in - in this timeline she offers:
| Category | Items |
| --- | --- |
| Items | Potion, Phoenix Down, Remedy, Wound Potion, Antidote, Holy Water, Painkiller, Mallet, Wax |
| Weapons | Meteorblaze, Howling Soul |
| Accessories | Iron Bangle, Black Belt, Rune Bracelet, Star Pendant, Pearl Necklace, Warding Talisman |
| Monster Materials | Monster materials are not available just yet |
| Special | Gysahl Greens |
Anyway, at this point you can purchase better weapons for Serah and Noel, so equip them right away. Talk to Alyssa to receive the Academy Communicator and a map of Bresha Ruins. The Change Leader entry has also been added to the main menu, as well as the battle menu.
Now you can proceed up the stairs in the northeast corner to Echoes of the Past. Bag 2x Potion from the treasure ball, and an event battle will unfold - kill all enemies to obtain two monster crystals, and unlock the Paradigm Pack menu ability. Accept the next tutorial and add Cait Sith to the empty monster slot, then choose your default paradigm. Upon quitting the menu, the next event battle unfolds.

The Monsters entry has now been added to the main menu. Now let's talk about monster development and paradigms.
At this point I went back to AF003 New Bodhum and captured the Pulsework Soldier . Its SEN role kept me cruising for a bruising all the way to the end of the game. For other alternatives you can capture the Pulsework Knight - though it's max is level 20, it learns Mediguard, a very useful SEN ability which recovers HP while SEN is guarding and the Silver Chocobo is the best SEN in the game but cannot be found till a lot later in the game. For a MED I kept Cait Sith (increase its level a few times so it learns Esuna), which was later replaced by Flanitor. And for a COM I have Meonekton, which is later replaced by Chichu, a special Ochu monster found in the Archylte Steppe which we shall visit in the near future. The Dragoon is another excellent COM though it cannot be captured yet.
Proceed up the next set of stairs, get scared by the giant hand and turn left to find a shiny gate near lots of pillars (this is the best way to describe the location of this gate). Examine it for a Live Trigger: (We need a key to open the gate. What's something that doesn't belong in this time?...), then follow Mog to its glowing bobble position and talk to the nearby soldier.
You now gain the Moogle Hunt ability! When you find a concealed treasure sphere, treasure cubr or something else floating in the air, but still barely visible, press R1 in its vicinity to have Mog reveal it, allowing you to claim it for yourself. Press R1 now to uncover something. Examine the item to obtain WILD ARTEFACT (01/10)! Wild Artefact allows you to activate a crystal gate, leading you to other timelines. The gate you just passed is a shiny gate, so the Wild Artefact won't work on it.
Chocolina's shop
There's Chocolina's shop nearby (she will oft times be in your way, allowing you for easy access to her shop, so that you don't have to backtrack) and she now sells monster materials! Note that we're not sure what governs the appearance of items under the Special category. Some items appear there after you acquire an accessory in some other way, like from a treasure sphere or from monsters. The following are new items:
| Category | Items |
| --- | --- |
| Monster Materials | Potent Droplet, Potent Bolt |
| Special | The following items unlock after you reach AF200 Augusta Tower! General's Belt, Witch's Bracelet, Delicate Royal Armlet, Durable Royal Armlet, Delicate Entite Ring, Durable Entite Ring, Mint Chip Ice Cream, Strawberry Ice Cream, Rum Raisin Ice Cream, Chef's Hat |