Quest Info
Objective: Slay 14 Vespoid
Reward Money: 1080z
Time Limit: 50 min.
Conditions: HR 3 or higher
Failure Conditions: Time Expires / Faint 3 Times
Other Monsters: Apceros / Kestodon / Gajau / Noios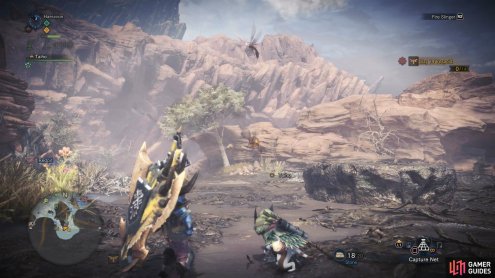 Much like the previous quest, this is a simple small monster hunt generously unburdened by complexity. Vespoids can be found in two areas in the Wildspire Waste, in the southern part of AREA 9, along the southern-most end of the map, and in the northeastern most area, AREA 8, above Diablos' lair. Go kill one group (use your Slinger loaded with whatever is handy to make this easier), then venture across the map and kill the other, by which time the first group should have respawned. Repeat until this quest is complete. The only thing you need to be wary of is provoking Diablos, who is quite out of your league right now.
Note: And for a bit of redundancy, this advice will be repeated again: At the risk of making this guide somewhat obsolete, you can easily find most anything you care to look for by using the in-game map and filters. Just open up your map and press [R1]/[RB] and [L1]/[LB] to change filters. In this case, search for "Small Monsters" and you should see some purple dots on the map. Just hover your cursor over each dot to see what it is. This should help you if you ever need to search for specific monsters, wildlife or materials.