Quest Info
Objective: Deliver 2 Wyvern Eggs
Reward Money: 3600z
Time Limit: 50 min.
Conditions: HR 4 or higher
Failure Conditions: Time Expires / Faint 3 Times
Other Monsters: Aptonoth / Jagras / Mernos
You already had the walk-in-the-part version of the egg delivery quest, so you shouldn't be surprised to find that this one is somewhat more challenging. There are a few unspoken snags to this quest that you need to be prepared for ahead of time; first, you must have the Ancient Forest Camp location unlocked in the boughs of the forest and second, you should be prepared to fight a Rathian in this quest, as the mother of those eggs won't let them go without a fight.
Fighting a Rathian has been covered in the quest Royal Relocation, so you won't be burdened with redundant strategy. Just be aware that the terrain is much more... vertical... in the Ancient Forest, and the Rathian will flee to a variety of lofty nests as you fight it and chase it off. It'll take you much longer than it'll take the Rathian to get to these locations, so be prepared for quite a bit of running about. Its nest in this map is in AREA 16, fairly close to the Ancient Forest Camp in AREA 17. While you can move between those areas fairly easily while unburdened by crawling under a branch, when you're carrying an egg you'll have no choice but to go around clockwise - a much longer route. The eggs, of course, are in the Rathian's nest in AREA 16.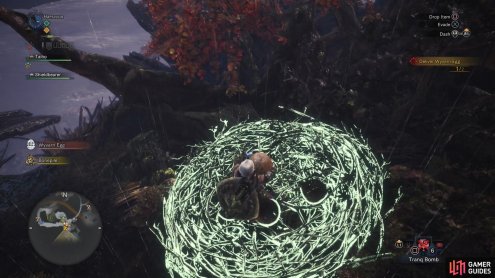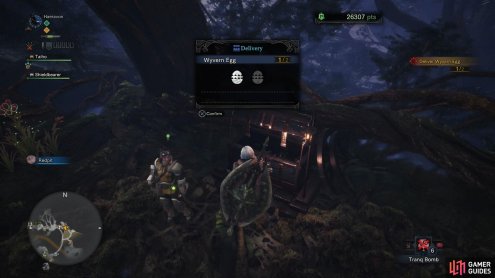 Once you defeat the Rathian, you should have little to fear save some Vespoids, and even then, only if you stand still for a quite a while. Claim your prize from the Rathian nest and walk through the boughs of the Ancient Forest to reach the Ancient Forest Camp. If you're not sure of the route, simply press [R3] on the Ancient Forest Camp to set a waypoint, then follow the Scoutflies there.