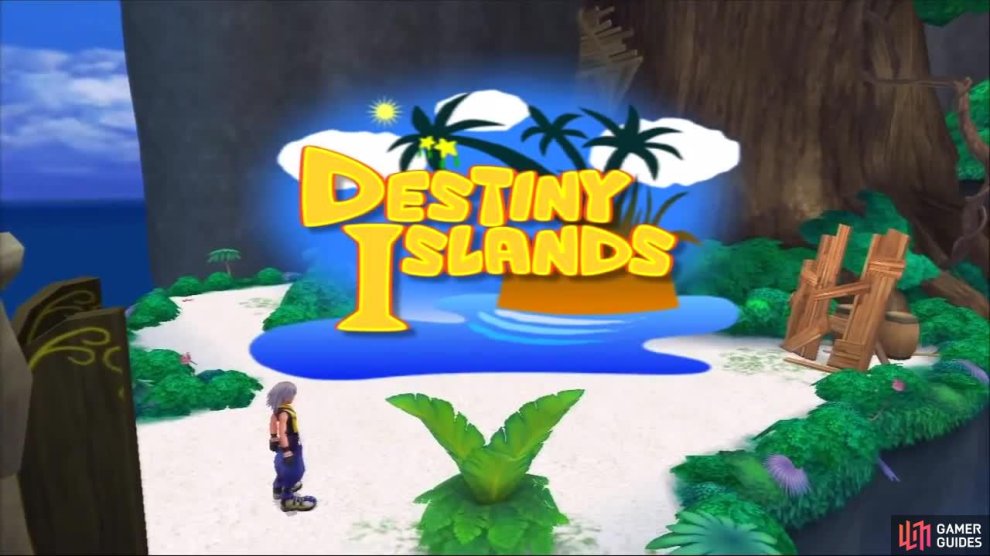 A Familiar Foe
Get a few levels here using your new Lexaeus card. It's great for finishing off enemies with high HP quickly. Your deck isn't too strong but it's not poor either since you have a Hi-Potion. This means you want to string together 3 hit combos via stocking them and then reload with the Hi-Potion. Take the Key of Beginnings and open the Room of the Beginnings to start a battle.
BOSS - Darkside

Darkside is one of the few bosses in the game where you'll want to avoid the use of sleights. Use a bunch of high level cards so you can break all of the Darkside's attacks. The ones that can cause some trouble are when he fires balls of darkness from his chest, and when he breaks a ball of darkness to rain it down upon you. These are easy to break since they aren't sleights, so focus on breaking these and jumping over his slam attacks. The Gimmick Card in this fight will create pillars for you to reach Darksides head, making it easy to get a lot of hits off.
After the battle you're afforded the opportunity to leave and heal/save. You should take this opportunity to do so because talking to Sora starts another battle.
BOSS - Zexion

Zexion uses three sleights that are easily countered. Cyclone Snatch will steal Riku's cards, so break this. Dark Punisher has Zexion's real self, not his clones, grab you and sap some health over time. This can be broken at any point during the attack. Catastrophe has all the copies shoot beams to the center then spin around to hit you, but it's easy to avoid. If you don't dodge Catastrophe you'll take a lot of damage though, it's your call.
Zexion normally just uses his lexicon to steal a few cards and build a sleight, but it's easy to dodge this attack since you start in Dark Mode. It's best to use Jafar-Genie and lay into Zexion early, and use Oogie Boogie when you start to take damage. Inverse Burst and Dark Firaga should be your main attacks in the fight, though normal slashes in between his sleights work fine too.
Head to the Exit Hall via the Conqueror's Respite to start a scene then save and use your new Twilight Town World Card.