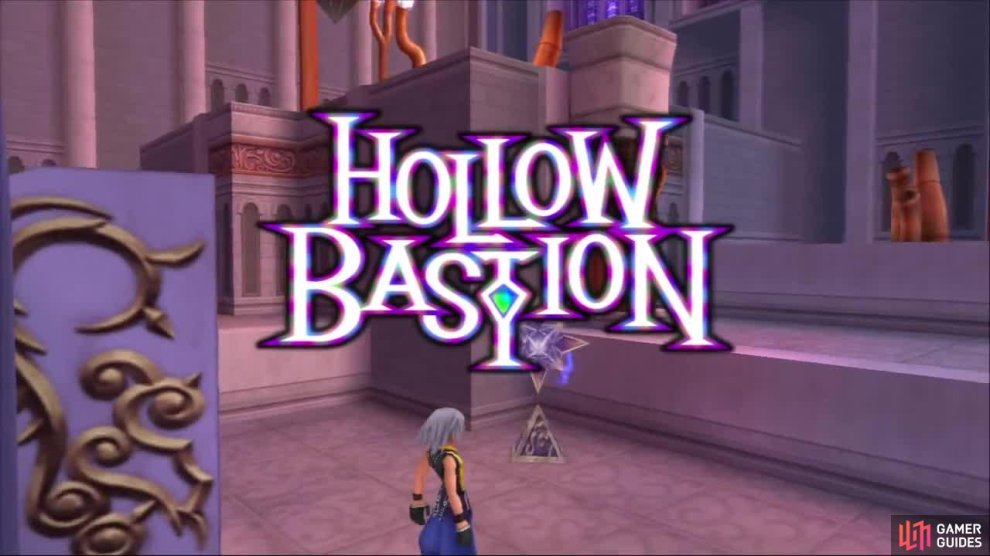 Dark Beginnings

After the opening scene you'll acquire the Key of Beginnings . You want to level up a little bit through this first area so you can get some AP and HP before the boss fight. Head to the Room of Beginnings to get the Key of Guidance and head on over there. You should get used to the different style of fighting that you use with Riku, and enter the Room of Guidance to get the Key of Truth . When you're ready to clear this world, head to the Room of Truth where Maleficent is waiting.
BOSS - Dragon Maleficent

Maleficent is much the same as when you fought her with Sora. She still has the the tail spin, snap, stomp, and fire attacks, but they are simpler to break with Riku, and she doesn't do nearly as much damage. You will not be able to heal so you want to focus on breaking Dragon Maleficent's cards then following up with a combo. When she uses the fireball attack, break it and you'll receive the Gimmick Card for the battle. It creates a platform that you can jump on and fly around to avoid the fiery ground, and get easy hits on Maleficent's head.
The Seeker of Darkness

After the battle head to the Exit Hall where you'll meet Ansem. During the first portion of the battle you'll need to focus on breaking Ansem's cards as soon as he shows them, a "Rapid Break" as the game calls it. Afterwards, use a number 7 card to match Ansem's and enter a duel. It's easy to flip back to all the 9s at the end of the deck to quickly break his cards three times. This is the basics of dueling. Afterwards, Riku learns D Mode , a mode that can be activated in battle from card breaks. You also receive the Agrabah , Monstro , Neverland , and Traverse Town World Cards.
Worlds and Floors
Much like Sora's story, the floors will remain the same regardless of the world you go to, but the enemies and bosses stats will vary depending on where you go. As you move to B11F you'll gain Mickey as a Friend.