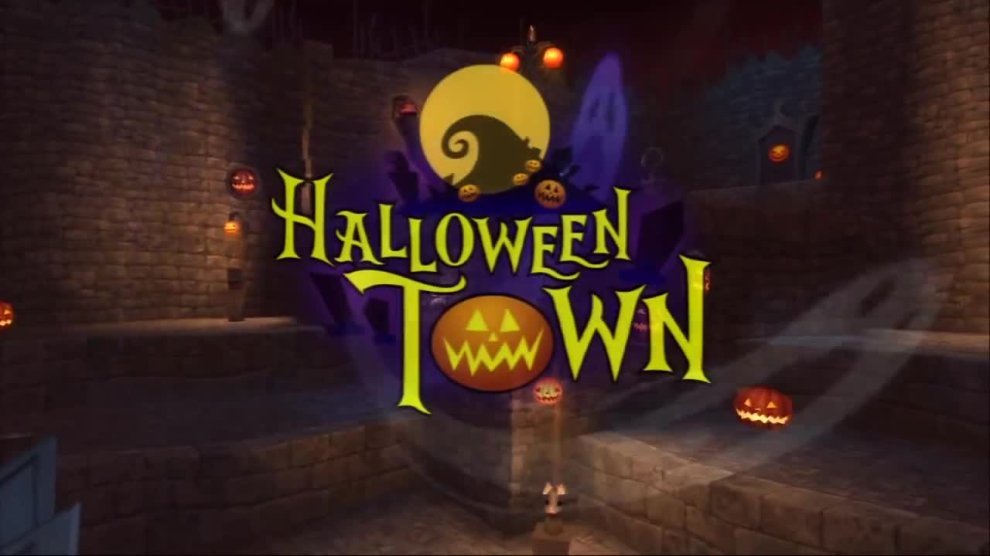 Happy Halloween
You start with the Key of Beginnings . Your deck this go around is packed with great high value cards. Plenty of 7s and 9s, some 0s for card breaking, and the enemies here provide great experience. If you've been a little under-leveled, now is a perfect opportunity to level up before facing the boss.
BOSS - Oogie Boogie

This is another simple fight since you have some high number cards. Oogie will toss out dice, so card break the attack and the gate guarding Oogie Boogie will lower a third of the way. Obviously, doing this three times means the gate will go all the way down, allowing you to jump up and attack him. If you don't card break the dice then you will deal with added enemies--saw blades, or daggers depending on the roll.
The good news with the dice is that you can hit them with the high probability of getting a Gimmick Card. The Gimmick Card will lower the gate completely, so use it after you've lowered the gate naturally to have two consecutive attacks at Oogie Boogie.
Venture to the Conqueror's Respite and save since you will have another fight on your hands in the Exit Hall.
BOSS - Lexaeus

Lexaeus resists normal attacks, but will take normal damage to sleights. That means you need to use Dark Mode to beat him. Lexaeus uses three sleights and two of them are nigh impossible to avoid.
Impact Quake will see Lexaeus use his tomahawk to slam into the ground and create rocks that spike up underneath Riku. The attack does a lot of damage and the timing is hard to get used to, so it's best to break this. Ground Impact causes an aura to span across the field and it does a bunch of damage. It's impossible to dodge so use a 0 card to break this. Lastly, he can use Rockshatter. Lexaeus gathers rocks around himself then smashes them outward. This can be avoided if you stay in between the rocks as they fly at you.
He uses high value cards often and tosses his tomahawk--be sure to avoid it with a Dodge Roll. Other than sleights, you need to be aware of his Enemy Card that can stun you. It's best to shuffle to your duel 0 cards and break two attacks, then reload and do it again until you reach Dark Mode. Let loose with Dark Firaga and only use Dark Aura to counter one of his sleights, otherwise Lexaeus will just break it. Inverse Burst is also great for this fight
Head up the stairs after the battle to receive the Destiny Islands World Card. Take the time to save here then continue on.