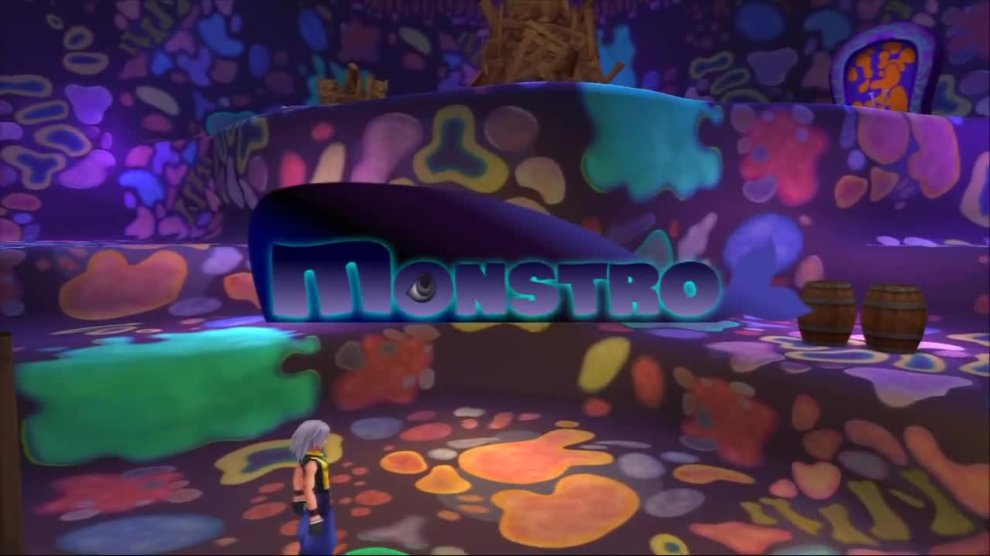 Breaking out of the Cage
With the Jafar-Genie card you'll be able to power through Heartless with ease. Start with this card at the beginning of every battle then use Dragon Maleficent after. Take the Key of Beginnings and march to the Room of Beginnings, leveling up a little bit on the way. Holy Burst is going to be the best way to plow through the areas, so use it when you get The King cards.
BOSS - Parasite Cage

The Parasite Cage is always facing you as the four platforms spin around. You have to deal with the Parasite Cage firing poisonous balls at you, this forces you to jump to another platform. You want to collect The King cards and use them to heal if you get low. Try to card break the Parasite Cage often so you can get to Dark Mode and have a chance at the Gimmick Card, which turns the poisonous floor into harmless water. If you are feeling bold, use Holy Burst (or Inverse Burst) and you can stun the Parasite Cage.
Once you reach the Conqueror's Respite be sure to heal and save because Vexen will be waiting for you in the Exit Hall.
BOSS - Vexen

Use Jafar-Genie from the start, and card break Vexen so you can get past his shield and actually deal damage. When you enter Dark Mode, you'll be able to bypass the shield and deal damage more directly. You want to break his sleights, but if you don't, Freeze makes an ice stalagmite appear under Riku, and Ice Needles involves a bunch of icicles following you around the room.
When Vexen is low on health he'll use Diamond Dust, a new sleight that causes a blizzard around the room, and a finish with Vexen shooting a wall of ice everywhere. It's best to stack cards and break it with a better sleight, or use a 0 card. Stick to using The King cards to heal and stun Vexen–it leaves him open for some easy combos. Holy Burst just isn't worth it in this battle.