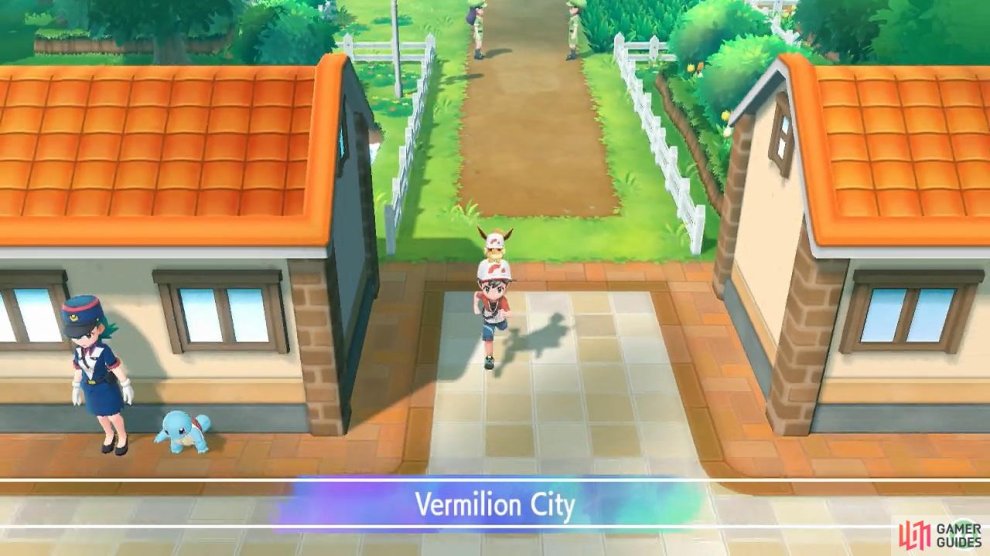 This port city is where the luxury cruiser, the S.S. Anne is currently docked. Plus it's the home of the Electric-type Gym. Which means you're about to become quite busy! From the Route 6 entrance, you should notice the policewoman and the Squirtle from Cerulean City. If you've caught at least 60 Pokémon, you can adopt the Squirtle.
In any case, carry on left to reach the city's Pokémon Centre. As always, your priority should be to visit it. Even if your Pokémon don't need resting, you should chat with the visitors inside, in case they've got something to say.
Alola Trade (2)
This time, the Hiker on the left sofa wants to trade his Alolan Geodude for your standard Geodude. Geodude can easily be caught in Mt. Moon. But if you don't have one, you can head to the Rock Tunnel later.
The Alola version is Rock and Electric, which is pretty unique. If you want a bulkier Electric-type, you could consider training it. Just remember you'll still need a trade partner to evolve it from Graveler to Golem. Also, the next Gym is Electric, so you may want to keep your Ground-type Geodude for now.
Outside, towards the east of the Pokémon Centre is an area of undeveloped land. In fact, it's been this way for over 20 years; it seems like we'll never see its finished form anytime soon. But don't lose heart just yet. In the top-right corner, you can search to the left of the crates for a hidden Full Heal. That'll heal your disappointment a little.
Next, head south through the city. Along the right side is the Poké Mart if you need to do some shopping. To the far west from here is the Pokémon Fan Club. Before going inside, speak to the lady sitting on the bench in-between the two houses. If you show her 5 Growlithe (Let's Go Pikachu) or Meowth (Let's Go Eevee), you can get something cool.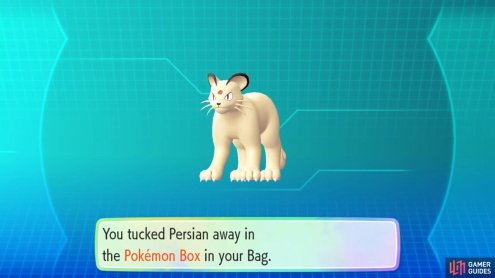 A Ride Pokémon for You!
Let's Go Pikachu owners will receive a Persian that's otherwise exclusive to the other version. Likewise, Let's Go Eevee owners will receive an Arcanine. Both of these Pokémon have an additional benefit: if you take them out of their Poké Ball, you can ride on them outside of buildings! This will let you travel slightly faster.
Also, both Pokémon are fairly strong in their own rights, at least during this stage of the game. Persian has so-so stats, but excels in Speed. Meanwhile, Arcanine has good stats overall, but because it's evolved from a Fire Stone, it cannot learn any moves, except via TMs. If you still have a gap in your party, you can use them as filler.
Inside the Fan Club building, speak to the president near the top and listen to him ramble about his favourite Pokémon to receive a Partner Costume Set. Now you can cosplay as your partner Pokémon! That's all the important stuff. If you head south from here, you can find the Gym, but the entrance towards the right is blocked off by a skinny tree.
For now, continue east from the Poké Mart. As you go below the empty plot, the path will branch towards the south and east. South leads to the S.S. Anne, which you'll need to visit to access the Gym. But you will need the S.S. Tickets from Bill on Route 25. Meanwhile, east leads to Route 11, where more Pokémon and trainers await. We suggest going there first.