Finish an Era with 450 Prosperity
This development is an extension of the 'Genesis' development, and as such this guide will start in exactly the same way.
With that said, in order to make this Development as easy as possible it's recommended that you complete the Agriculture Development first. Doing so will unlock the Pear tree, a great, easy food resource that will aid in the completion of this development.
To start with you'll need to ask the Ocean Giant to create some water. Next, send the forest Giant to one side and create a Forest to the right of the water and then send the Swamp Giant to the left and make a Swamp here. Place a Forest Giant plant in the forest four tiles 'in' from the water to attract your first nomad.
With the Forest Village growing, continue to place plants as you would to nurture a forest village, focusing on Strawberries next to blueberries to maximise food output.
While this is happening ask your Swamp Giant to place some plants of his own in the swamp, ready to attract your second Nomad the moment he is ready.
From here it's simply a case of focusing on Food for the Forest and Tech for the Swamp. Have the Forest Ambassador join the Forest Giant and then use Potent Fruit aspects to turn Blueberries into Pear Trees, these are all you need to create a thriving Forest community.
The Pear is an amazing resource. One pear, on its own, will generate 10 Food. Place a plant either side of it and it will generate 30 Food. Apply two additional Potent Fruit Aspects to it (if you apply a Potent Fruit aspect to a basic Blueberry then you can upgrade it twice from just the one Aspect) and it will generate 40 Food. Not only this, but it will also generate 10 Awe, a statistic that will lower a village's greed growth, and thus their desire to go to war. Create a line of Pears and be astounded; a true wonder fruit.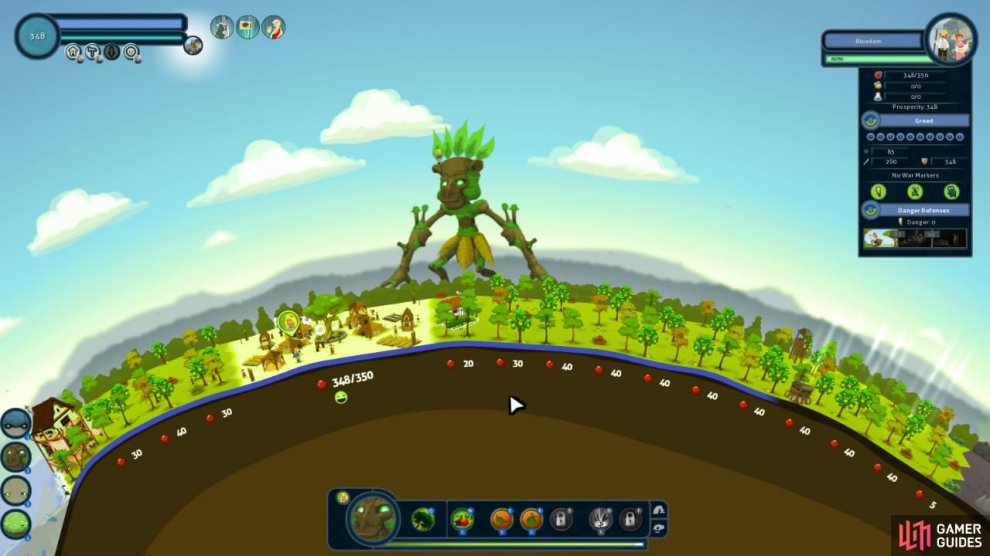 In the Swamp focus on the Marble, Peppermint, Marble setup and fulfil your project's specialisation.
The only thing to look out for in this instance is moving too fast. You may have to restrain yourself from developing villages as if they want to start a war then you'll have to put one of the villages back to square one, which is a shame. Watch the village's greed; any more than three faces and you need to lay off giving them any new resources.
Using the Pear trick it's possible to create a Forest village that, by the end of a thirty minute era, will have 300 prosperity all to itself, if not more. This would mean that the Swamp Village would only need to generate 150 prosperity by itself and that will come naturally after completing the project you're presented with.
If you've accomplished this task with time to spare then it's recommended that you try and earn the Post-Classical Era Development. It's a harder version of this development and simply requires you to set up a third village towards the end of the era.