Finish an Era with 250 Prosperity
A simple way to describe how we're going to earn this development is that we shall combine two of the 'Tribe' developments and then work a little harder. It's possible to earn 250 global prosperity in under ten minutes, you've just got to know which Giants to send where.
So to start with you'll need to ask the Ocean Giant to create some water. Next, send the forest Giant to one side and create a Forest to the right of the water and then send the Swamp Giant to the left and make a Swamp here. Place a Forest Giant plant in the forest four tiles 'in' from the water to attract your first nomad.
With the Forest Village growing, continue to place plants as you would to nurture a forest village, focusing on Strawberries next to blueberries to maximise food output.
While this is happening ask your Swamp Giant to place some plants of his own in the swamp, ready to attract your second Nomad the moment he is ready.
When dealing with two villages it's important to have a plan in your head concerning how you want them to grow, if only to cut down on making your Giants travel around the planet so much. It's possible to grow a forest village of amazing prosperity with the Forest Giant alone, while a Swamp village can do well with the Swamp and Rock Giants. Knowing how you intend to grow a village can help cut down on thinking time.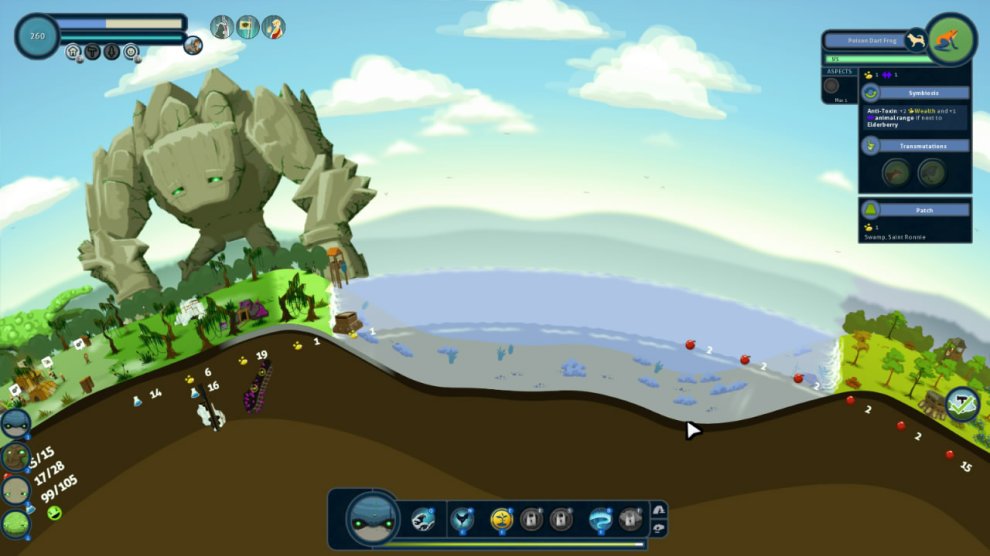 From here it's simply a case of focusing on Food for the Forest and Tech for the Swamp. Have the Forest Ambassador join the Forest Giant and then use Potent Fruit aspects to turn Blueberries into Pear Trees if you've earned the Agriculture Development, these are all you need to create a thriving Forest community.
In the Swamp focus on the Marble, Peppermint, Marble setup and fulfil your project's specialisation.
The only thing to look out for in this instance is moving too fast. You may have to restrain yourself from developing villages as if they want to start a war then you'll have to put one of the villages back to square one, which is a shame. Watch the village's greed; any more than three faces and you need to lay off giving them any new resources.
If you continue playing in this way it's easy to earn the Classical Era development, which is a harder version of this development.