Finish an Era with 600 Prosperity
This development is a harder version of the Classical Era development. As such, the guide to attaining it will start the same; this development is a natural extension of that one.
With that said, in order to make this Development as easy as possible it's recommended that you complete the Agriculture Development first. Doing so will unlock the Pear tree, a great, easy food resource that will aid in the completion of this development.
The first thing you need to do is create a pair of fully functioning villages. The best way to do this is to create a Forest and a Swamp, and then have the Forest Giant tend to the Forest while the Swamp and Rock Giants provide the Swamp Village with plenty of Tech resources.
Doing this will allow you to build two advanced villages within the first fifteen minutes of the game.
Once these two villages have completed two projects they should be generating around 210/220 resources each with ease. If they are slipping behind in this then focus on building up a large orchard of Pear Trees in the Forest, or adding animals outside borders.
Animal Range is a great tool to take advantage of. Animals tend to spread their resources several tiles each side, meaning they can still provide a village with resources even if positioned outside its borders. Take advantage of this to give a village extra resources even before they expand their borders.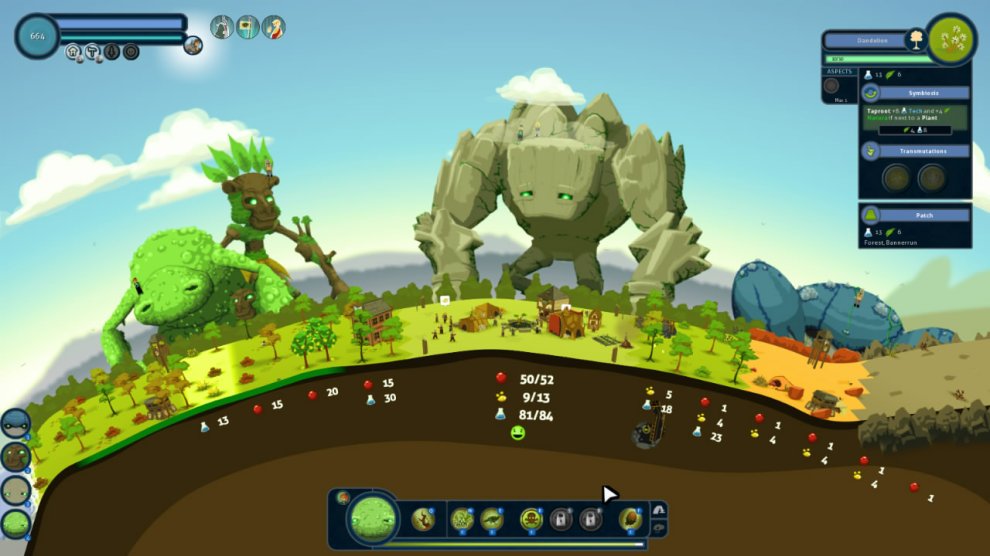 Now it's time to make a third village. Chances are you may have made a new Ocean so as to facilitate a Forest expansion, if so it's recommended that you take the Forest Giant to the other side of this Ocean to create a third 'patch' of land. Move all your giants here; the other villages shouldn't need your attention anymore.
Now simply build up this third village with the attention of all your giants. I focus on the Forest Giant's plants and the Ocean Giant's Animals but if speed is of the essence then throwing in some Minerals won't hurt. With all eight hands, nurturing this third area into a resource rich area shouldn't take ten minutes.