The battle system in Type-0 is more akin to an action game than a regular RPG, as they take place in real time. During missions, you can have up to a party of three characters that you choose at the beginning of an area and will be able to switch between them at will during battles. Other characters can be set as reserves and can be brought in if you visit a save point or a character falls in battle.
Every character, when controlled, has four buttons for their actions, with one assigned to their equipped weapon and the others for skills and magic. Skills take up an AG gauge, which each character has and is located above the action icons, and magic uses MP.
You can lock-on to enemies (default is by holding down the button, but it can be changed to toggle in the options menu), and can switch the lock-on to different enemies by using the right analog stick. After defeating most enemies, their bodies will still be on the ground. While locked on to them (if not, flick the right analog stick up to target downed enemies), your regular attack command will change to "Harvest Phantoma" (which will be covered later).
In addition to the attacks you can perform, you also have a dodge button. Every character starts out being able to dodge twice before there is a few seconds before they can dodge again. Of course, this can be upgraded with skills so every character can dodge an infinite number of times without that downtime.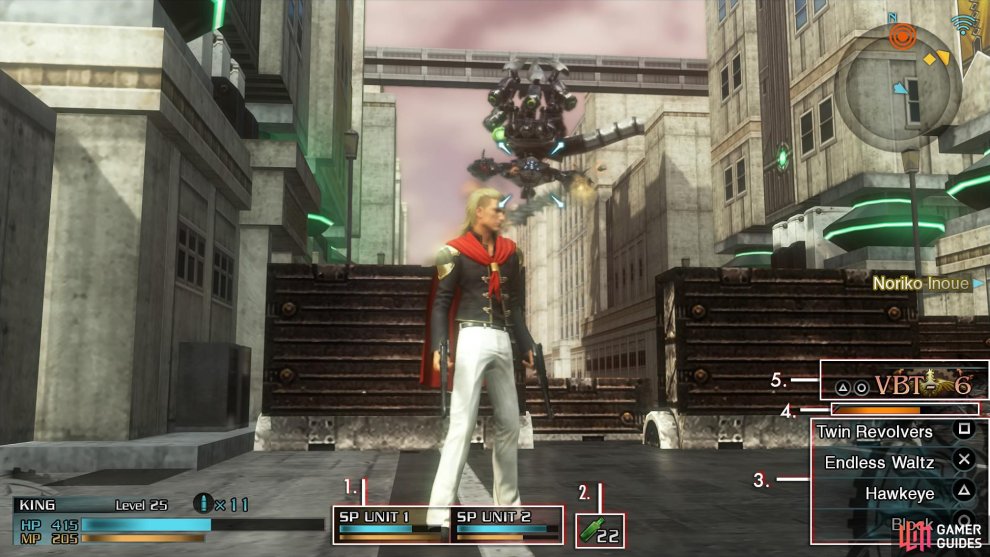 Party members.
The current item equipped.
Commands and corresponding buttons.
AG gauge.
Squad Command and Eidolon information.
Breaksights/Killsights
While fighting the various enemies, you will see yellow/red circles appear when you're locked on to them. These are Breaksights/Killsights (respectively) and allow you to target an enemy's weakness while the circles are on the enemies. The majority of opportunities will arise either right before an enemy unleashes an attack or right after one.
Killsights, which are the red circles, will allow you to instantly kill an enemy if you hit them at that opportunity. For Breaksights, the yellow circles, they will allow you to inflict a certain amount of damage or stun an enemy so they fall to the ground and cannot attack, no matter the level difference or attack power of your character. A majority of the smaller enemies will have Killsights, while bosses and larger enemies will have Breaksights until they are low on health.