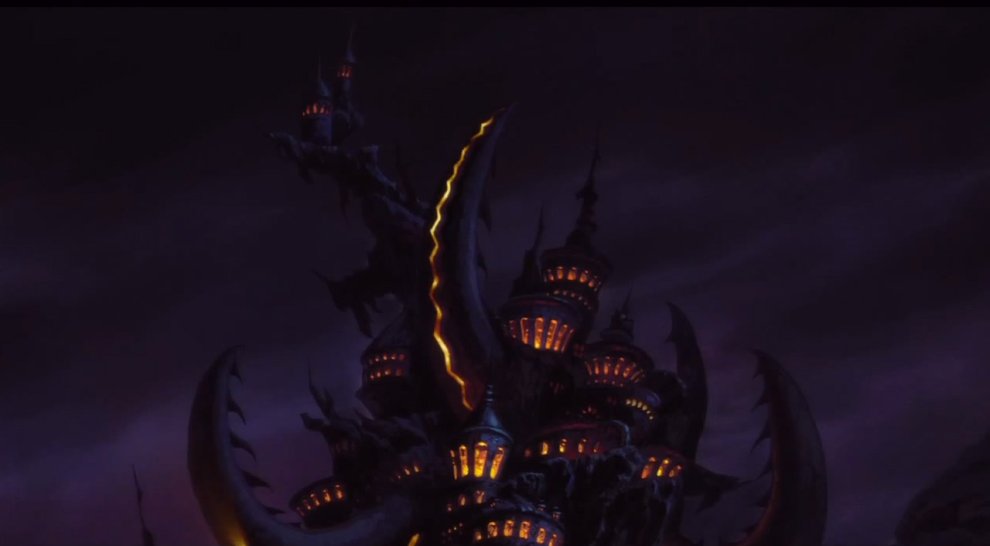 Items: Sage's Secret, Phoenix Breath, Sprite Dew, Dragon Lance, Shield of the Pure, Griffin's Teeth, Nostrum, Boarlord's Armor, Giant's Ax, All-Be-Gone, Radiant Blade, Great Sage's Secret, Alicia's Pendant
Pages: Evenstar
If you haven't been leveling up all that much lately, it's a good idea to build some levels by hanging out at the valley of Perdida, slaughtering Tokotoko's with the help of the Veil spell (gotten from Horace in Perdida). Remember that these green little staff-wielding creatures give 8000 experience a piece, which should allow you to hit the mid 50s easily.
Try to be around level 50 and view that as baseline minimum to get through Nevermore Castle without a ridiculous amount of struggle. If you can spare the 30 to 45 minutes leveling up, late 50s will make things considerably easier - it's up to you.
Travel to the entrance of The Miasma Marshes and use the teleport circle to warp to its northern end, granting immediate access to Nevermore Castle up ahead. Save your game at the waystone and enter through the creepy gate…
1st Floor
The castle's first floor is a straightforward hall. At the first intersection move east to find a blue chest with a [SAGE'S SECRET] inside. The west path leads to a Crystal Ball that makes a set of stairs appear to the north, granting passage.
At the next intersection, loot the chest to the west for a [PHOENIX BREATH] and unlock a second set of stairs by activating the Crystal Ball to the east. As you go through the doors, don't miss the chest immediately to your left; it contains a [SPRITE DEW] .
2nd Floor
s you go upstairs the camera turns upside down, possibly confusing you to the bone. Head up the left/north flight of stairs and follow it to the end; either keep looking at the mini map and steer Oliver by solely looking at it, or turn your head for a little while and get a nice rush of blood to the head. At the end of the hall you can find an amazing [DRAGON LANCE] , which you should equip to one of your familiars immediate
Of course, the camera still turns to strange angles here; closely follow our directions on your mini-map. You'll get at a three-way intersection. First head left/south to find a [SHIELD OF THE PURE] inside a chest (on the left side of the next intersection, the other side leads to a dead end). Back at the three- way intersection, head straight/west to find a chest with some [GRIFFIN'S TEETH] . Finally, head right/north to reach another intersection and a set of doors.
The chest to the left contains a [NOSTRUM] and to the right is a vantage point for Swaine to open a green chest containing the fantastic [BOARLOARD'S ARMOR] . Just stand near the balcony's edge to locate it down below.
Head through the doors to reach a circular chamber. Move to the south edge of this room and step a little to the west, at seven 'o clock; stand near the edge toward the middle to find a vantage point for Swaine. The green chest on top of one of the pillars contains the fine [GIANT'S AX] .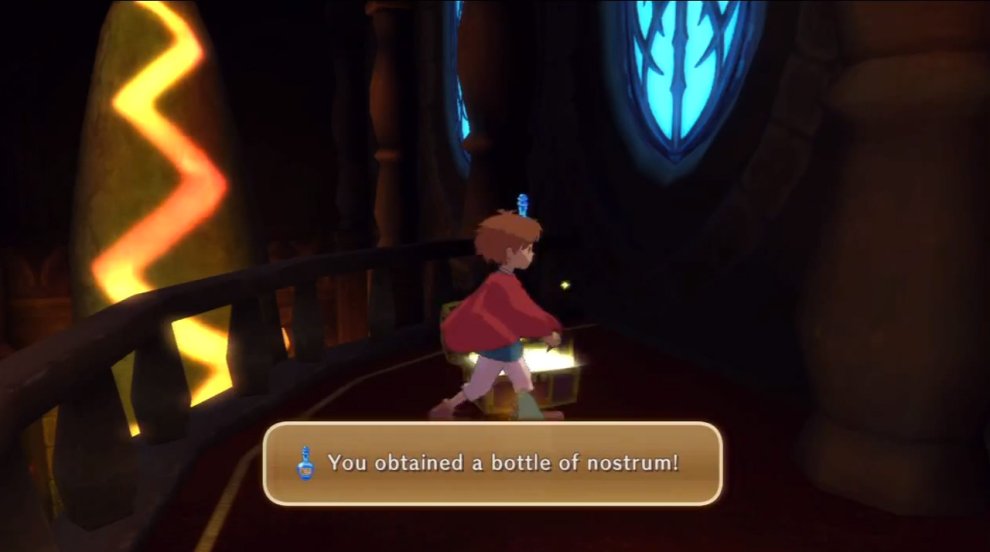 Move through the doors to the south and enter through the next set of doors to your left/east, locating a blue chest with an [ALL-BE-GONE] inside. The second doors only lead to a dead end, but the third reveal a Crystal Ball that allows you to continue further west.
Be sure to open the purple chest to the south before going upstairs; it contains a fine [RADIANT BLADE] , which drains 10% of the damage inflicted to enemies, healing you with it. Upstairs you'll find a chest with a [GREAT SAGE'S SECRET] inside to the left of the doors. Go through the doors and activate the final Crystal Ball, revealing a large set of stairs in the circular chamber, leading the the third and final floor of Nevermore.
Shadar The Dark Djinnn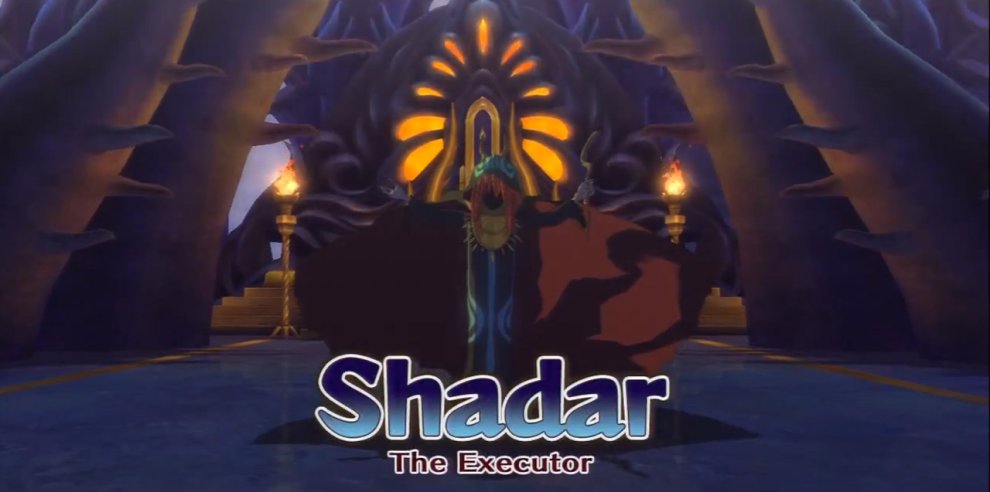 Stats: 3900 HP
Weak against: Light
Resists: Dark
Steal: Wizard's Robes
Attacks:
Pyre [Single Target, Fire Element, Minor to Medium Damage]

Fell Wind [Ranged, Storm Element, Medium Damage]

Bleak Midwinter [All Targets, Water Element, Major Damage]

Evenstar [All Targets, Dark Element, Major Damage, Use Defend & All-Out Defense!]
Shadar has powerful tricks up his sleeves, although some are definitely more powerful than others. Pyre only hits a single target, so if you see Shadar preparing this have the targeted character defend (or prepare to heal them).
Fell Wind is a ranged attack, so staying away from Shadar helps avoiding it. Bleak Midwinter, on the other hand, is a very powerful attack that hits everyone no matter where they're standing, so always order an All-Out Defense and Defend with your current character when you see Shadar preparing it.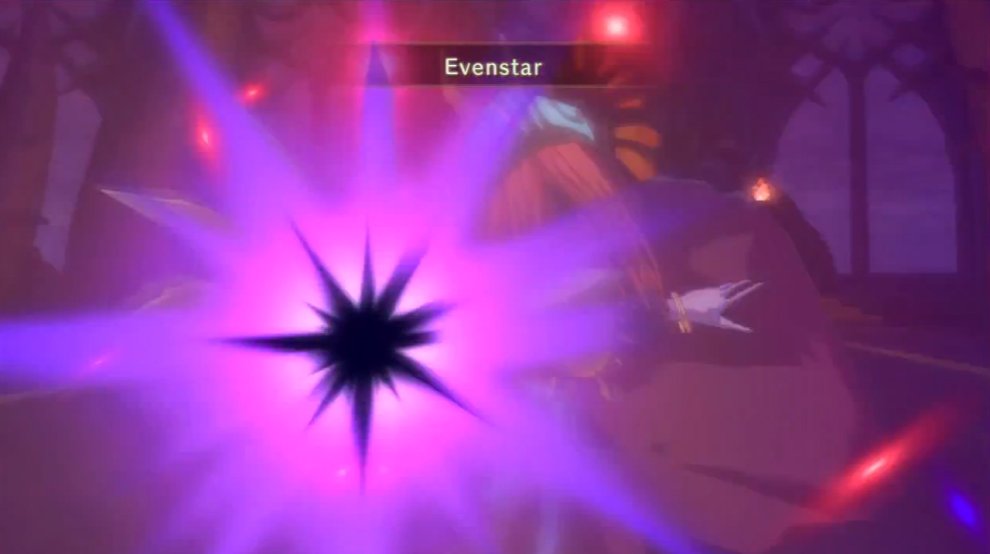 His Evenstar attack is his most powerful trick. Although defending against it works okay, a much better strategy is to cancel the attack altogether. You'll have to do this with your Mornstat spell. The only problem is that Mornstar takes a while to cast, at which point Shadar will already have unleashed his deadly Evenstar.
Fortunately, Shadar only casts Evenstar after warping close to his throne and using Fell Wind. Avoid the latter by moving away from him and immediately start casting Oliver's Mornstar spells (before Shadar starts preparing his Evenstar). If done correctly, Oliver blasts Shadar with Mornstar when he's only beginning to prepare his powerful move, cancelling the spell and leaving him vulnerable to a flurry of attacks, possibly even generating golden glims.
Do keep your party healthy at all times, and make sure your party is healthy both in terms of HP and MP when Shadar's health bar is nearly depleted. After all, you've got two more battles coming up!
Boss Fight: Eternal Knight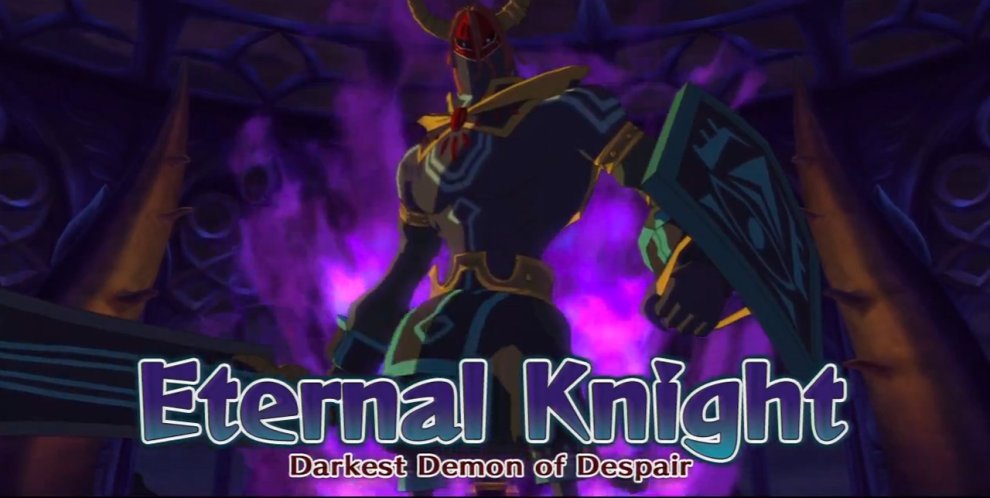 Stats: 6370 HP
Weak against: Light
Resists: Dark
Steal: Night Armor
Attacks:
Physical Attack [Ranged, Medium Damage]

Dark Aegis [Boosts Defense]

Onslaught [All Targets, Major Damage, Use Defend & All-Out Defense!]
The Eternal Knight is basically a grunt that relies on physical attacks to do his talking. Get too close and his double-hitting physical attack will quickly sap the life out of you. Preferably keep your distance while using spells and provisions to attack Eternal Knight and respectively keep your party healthy.
The Knight will usually follow one of your characters around the area. You can keep him distracted by having that familiar or character defend, heal, or attack while the others use spells from afar.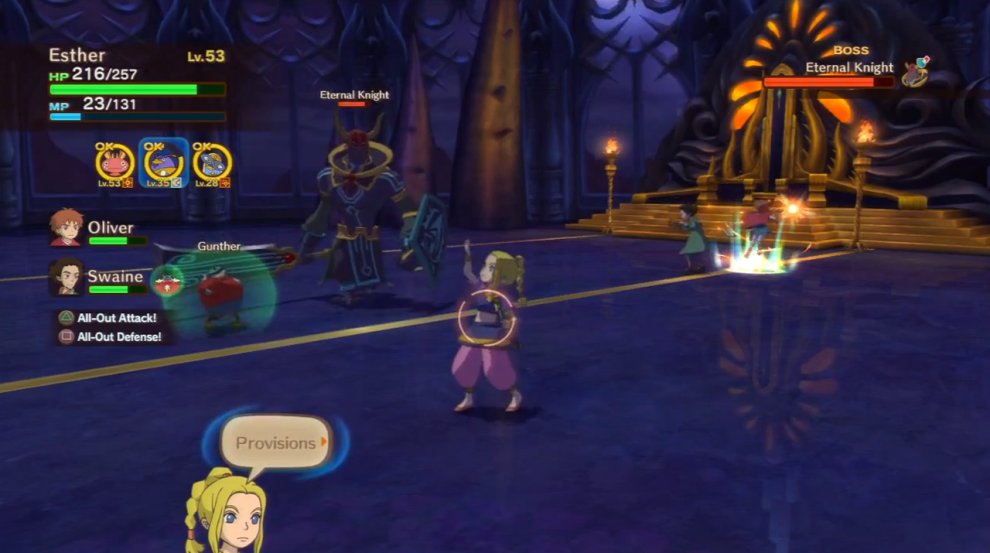 There's one attack you definitely want to defend against, which is Onslaught. Immediately order an All-Out Defense and Defend with your current character, since it could potentially wipe out an unprepared party. When the end of the battle draws near, heal your party with a Sprite Dew (or something similar), and be sure that your characters have some MP left for the third battle.
Boss Fight Dark Djinn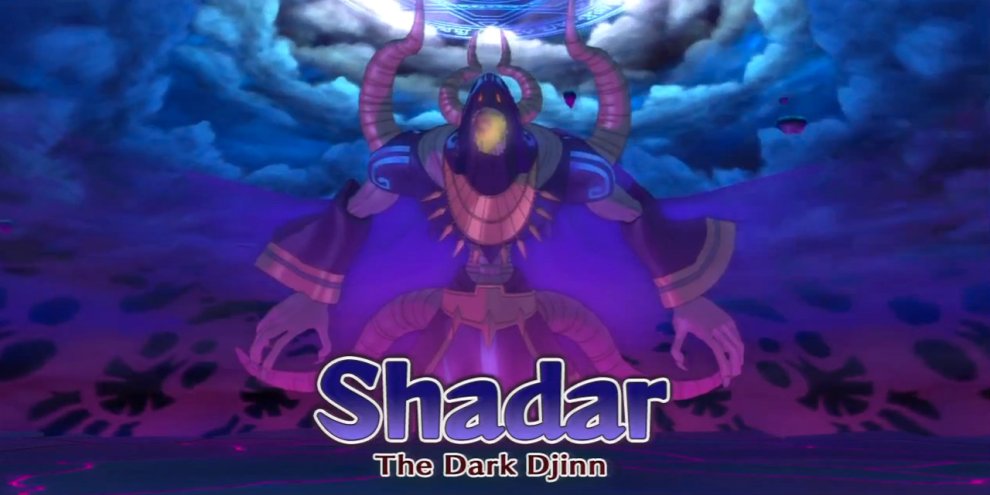 Stats: 8830 HP
Weak against: Light
Resists: Dark
Steal: Night Armor
Attacks:
Blast from Beyond [Straight Line Attack, Medium Damage]

Pitch Black [Straight Line Attack, Medium Damage]

Circles of Hell [Ranged; Forms Damaging Circles, Medium Damage]

Fell Sweep [Ranged, Medium to Major Damage]

World's End [All Targets, Heavy Damage]
Rewards: 6720 EXP, 7400 G
Shadar's transformed form is powerful, but with the right tactics he's definitely beatable. His Blast from Beyond attack is a 'beam' type attack that only hits targets on the left side of the screen. Conversely, the Pitch Black attack only hits people on the right side of the screen. Staying mostly in the middle zone of the area should render those two attacks harmless.
The Circles of Hell attack deals quite some damage, but the circles are formed before they start hurting anyone inside them, so stepping outside of any will prevent you from incurring damage. This won't always work for the characters controlled by the AI, so healing may sometimes be necessary.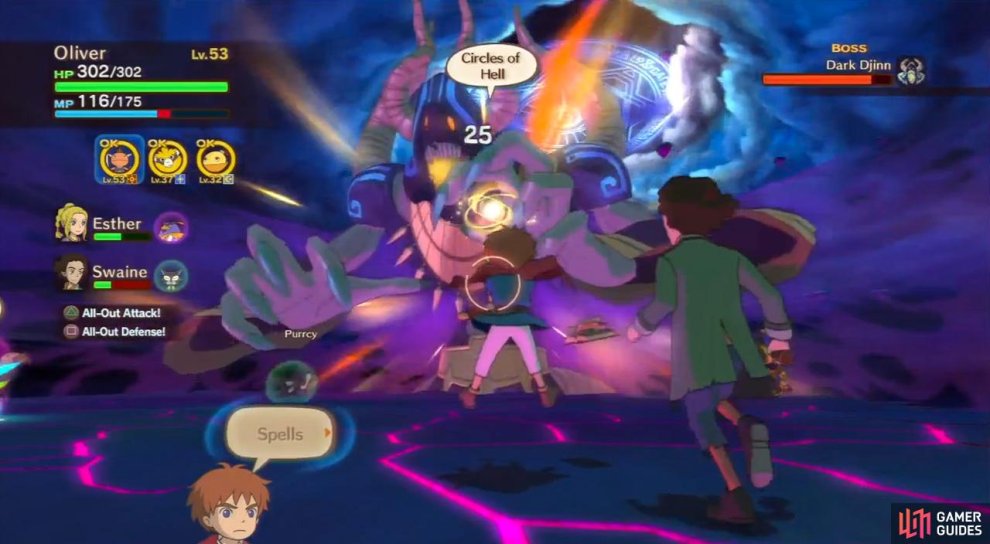 The Fell Sweep is his ranged physical attack, which you can either avoid by standing far away from Shadar, or defend against (including an All-Out Defense if possible).
His most devastating attack - by far - is the World's End move. IMMEDIATELY order an All-Out Defense and Defend with your currect character, since it is potentially powerful enough to wipe you out. Fortunately for you, Shadar won't use it too often, and successfully defending against it leaves the Djinn defenseless, allowing you to order an All-Out Attack for a short while, boosting your chances for getting golden glims.
Remember that this is a tough series of fights, and there's no shame in using good healing items every once in a while, such as a Phoenix Down (or even Tear) when an ally has fallen, or Sprite Dew to give your entire party a great health boost, not to mention the delicious espresso's - not that you'd fall asleep during this battle, but the MP boost will come in handy.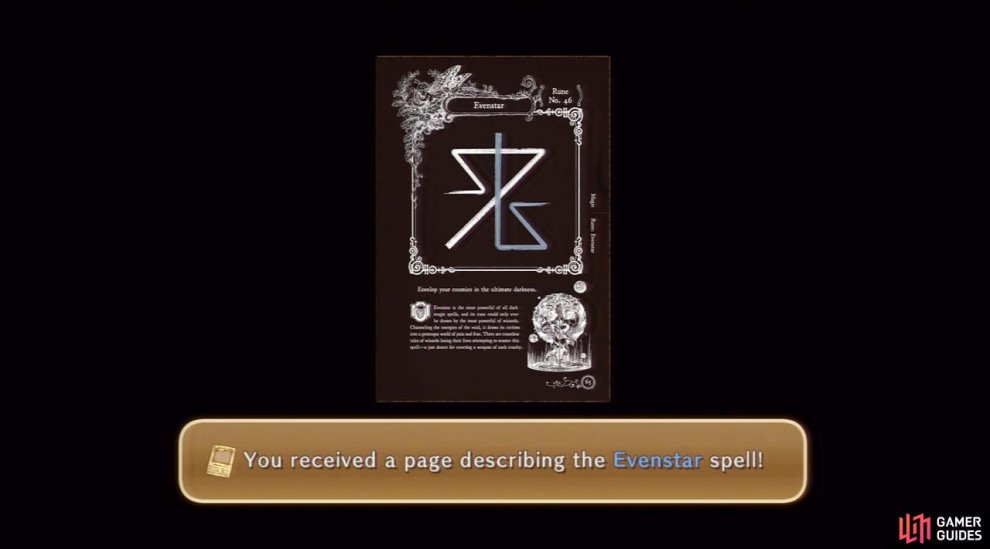 After the battles, a lot of scenes will play, and you'll receive [ EVENSTAR ], Shadar's powerful spell, as well as [ ALICIA'S PENDANT ]. When you finally get to control Oliver once again, head to King Tom and speak with him twice to trigger more cutscenes.