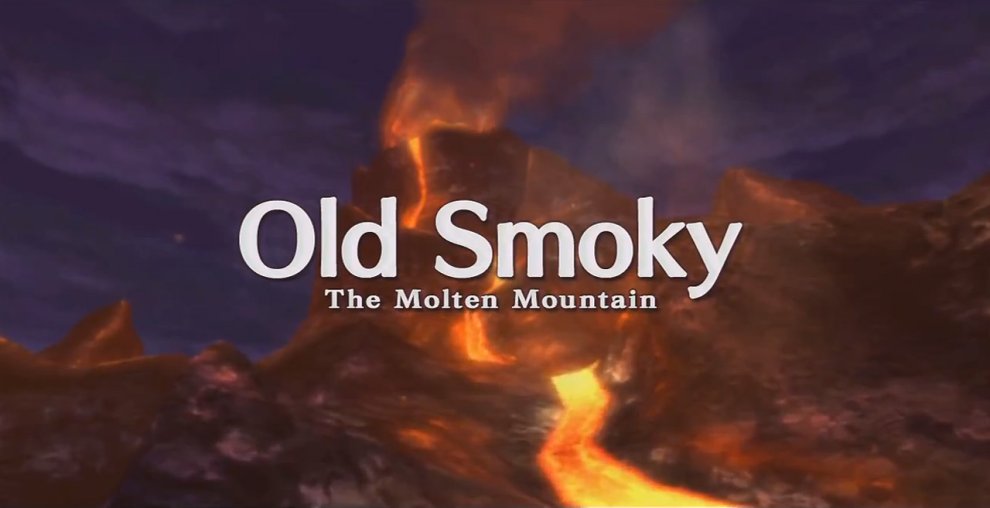 Items: Moondrop, Pheonix Feather, Sandwich, Flame Robes, Burning Blade, Strong Coffee, Cloud Cover
Pages: 215 (Moltaan)
Enemies: Deep Fry, Boggly-Boo, Little Bighorn, Shirmpaler, Ruffian, Hullaballon, Moltaan
Follow the path until you reach an intersection. The Northern path leads to a dead-end with a broken-down robot, so head east to reach another split. The southeastern path leads to a sealed purple chest, where the path ends, so go up the northeastern path and collect the [MOONDROP] from the chest as you travel on.
Tip: The enemies in this area frequently leave various kinds of 'drops' behind: Sundrop, etc. These items will come in handy sooner or later when you want to metamorphose some of your familiars, so be sure to stock up on a few.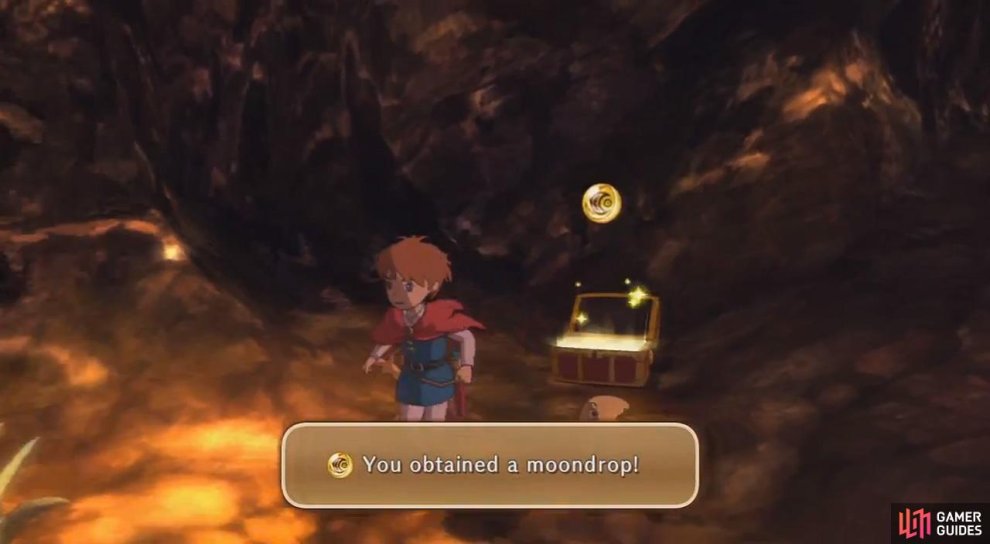 At the next intersection, definitely head left/west first to reach a dead end with two regular chests containing a [PHOENIX FEATHER] and [SANDWICH] , along with a sealed blue chest that contains a [FLAME ROBES] upon opening it with 'Spring Lock'.
Keep following the path and you'll notice that it really looks like it's about to erupt. Continue until you reach an intersection; the right/northeastern path leads to a chest with a [BURNING BLADE] inside. Follow the other path up the mountain until you reach a Waystone - heal up and save.
The left path at the next intersection leads to an inaccessible green chest, so head right and cast your Frostbite spell to continue over the stream of lava.
Drippy then tells you that there are only three minutes left to stop the volcano from erupting, so get moving! (It will indeed be game over if the timer reaches zero, so get a move on!) It's also good to know that the timer stops during battles. You'll still want to hurry up if you wish to get the treasures; you only have roughly 10 seconds to spare. You can also skip the treasures and head for the goal, then backtrack (since the timer will be gone).
Make your way northeast, scaling along the edge while avoiding the steam coming out of the wall; those won't do any damage, but they will cost you time. Once you're on the other side, keep going along the path until you see path shoot off a bit to the west. Open the chest at the dead- end here for a cup of [STRONG COFFEE].
Head back to the main path and continue north and west, following along the long, spiraling path until you come to another lava stream; use your Frostbite spell to pass it. A little further on you'll reach a fork splitting northeast and southwest; quickly take the northeastern path first to come to a dead-end containing a [CLOUD CLOVER] cloak.
Head back to the fork and continue southwest, and you'll eventually come to another thin ledge that you have to scale. Cross it, then once you've made it to the other side and to the yellow star, you'll find out nothing happens after all. Figures! Feel free to relax a bit now, since the timer is gone, and get your party situated if you need. Recover your HP and MP and save at the Waystone.
Tip: Now's also a good time to equip the Cloud Clover on Thumbelemur, as it'll make him faster and gives him better defense. Definitely equip your Flame Robes on your Drongo (and Seed Sprite, if you brought it). Any other good equipment you haven't yet given your familiars should now be put to use as well.
Also, because of that short event with the "timer", you'll actually miss a part of the map. If you don't want to backtrack here later for the sake of completions, head back southwest between the two pieces of map (main area, then the crater) to ensure that you get it 100%. Check your Telling Stone's "Dangerous Places" to double check the number.
Continue northeast to the crater, where Shadar will summon a giant lava beast for you to take on!
Boss Fight: Moltan - Lord of Lava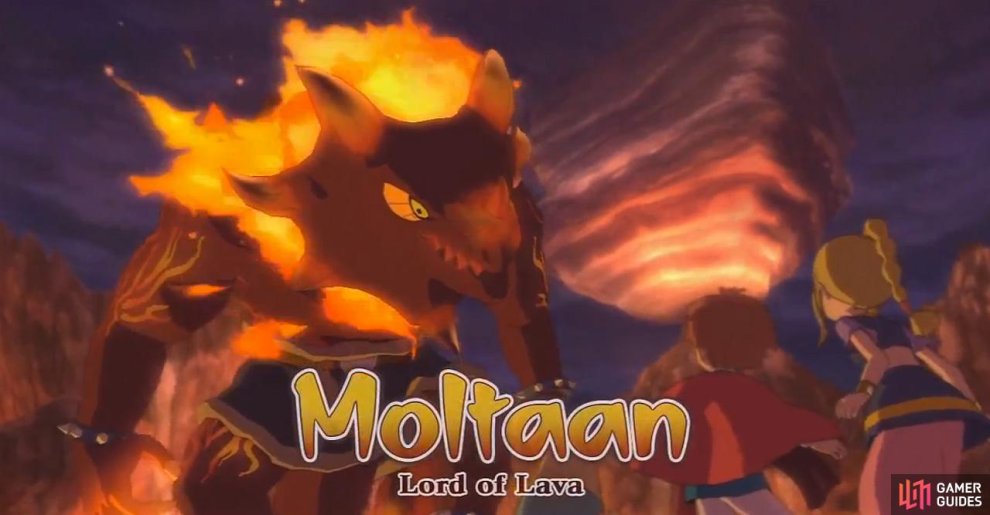 Stats: 1375 HP
Weak Against: Water
Resists: Fire
Attacks:
Physical Attack [Single Target, Minor Damage]

Chain of Attacks [Single Target, Major Damage]

Tail Flail [Range Attack, Medium Damage]

Volcanic Roar [All Targets, Medium Damage]
Rewards: 650 EXP, 420 G, Spirit of the Flame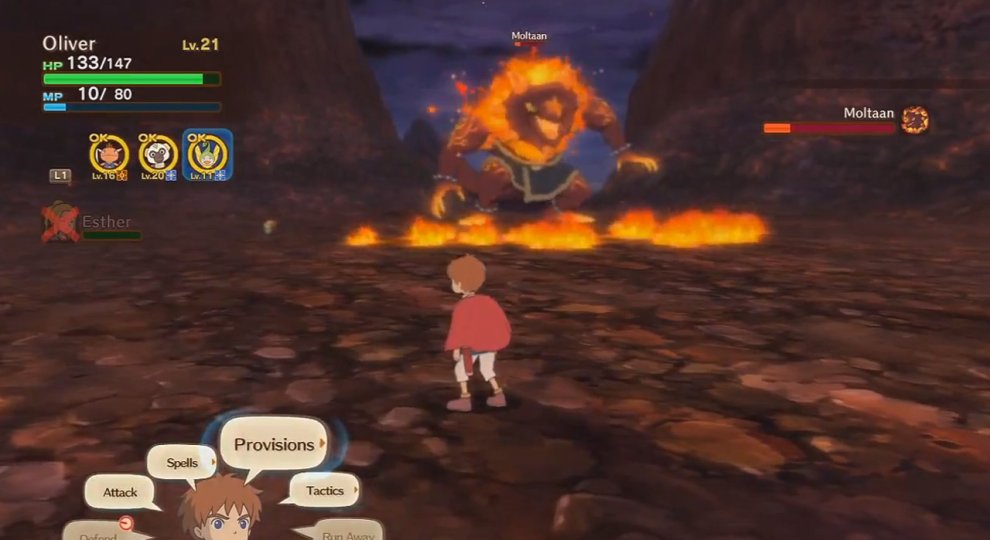 You'll want to stay as Oliver in this battle, spamming your Frostbite spell against Moltaan. Stay to the far edge of the field while firing off that spell, and don't worry too much about your HP; Esther should keep your HP up. If your HP does manage to fall below 50, then take a moment to either use an item or cast Healing Touch to keep you going.
The only attack that does major damage is his physical attack when decides to go on a rampage on one ally. Other than that, all of his attacks will do well under 40 damage each time, leaving you plenty of time to attack before you have to worry about healing. Honestly, none of them are even worth defending, so focus on blasting him with your ice.
As you go on with the battle, Drippy will let you know that its tail is the weak spot, so try to stay behind him while blasting him with Frostbite. Fire away and watch your MP, using a Strong Coffee as needed to keep it from reaching a point where you can't cast spells.
After you've finally done enough damage, the beast will stumble back into the lava, and Oliver will knock the massive rock into the lava on top of him, effectively ending the battle.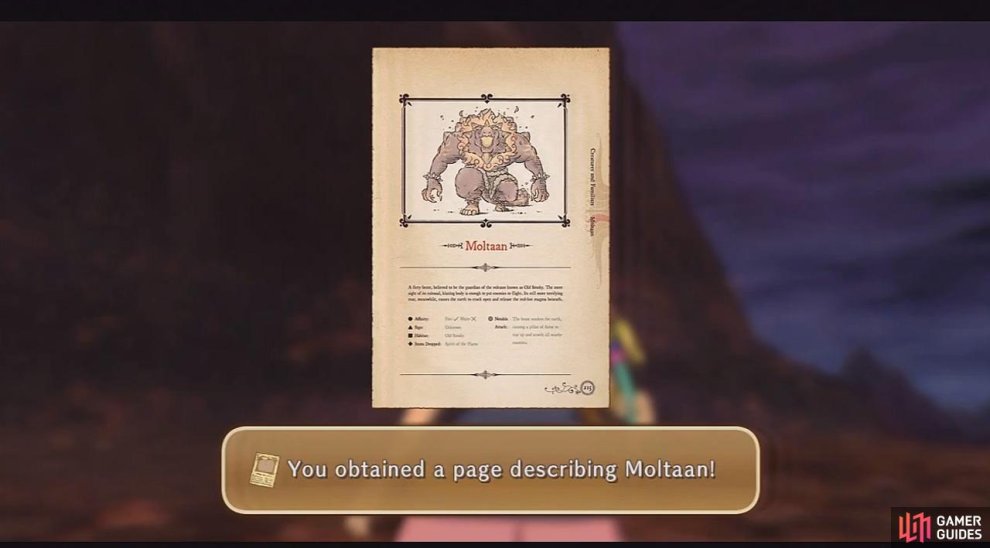 After the battle, you'll receive the page for [MOLTAAN] . A portal will also open up afterward, allowing instant teleportation to the foot of the mountain. From there, simply return to Al Mamoon by foot. After debriefing Rashaad, several bounties and a new errand become available, which you might just want to check out.