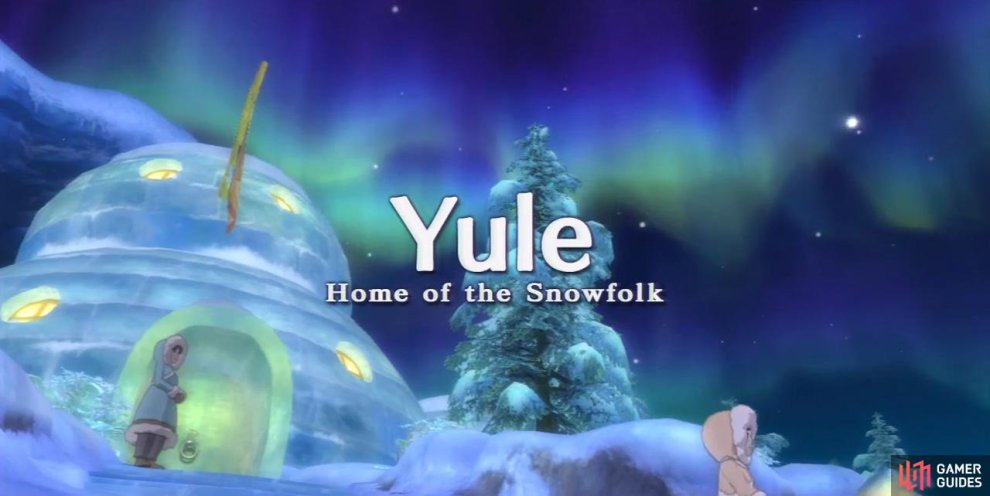 Items: Winter Clothes x4, Blunt Gem, Phoenix Feather, Frosty Flan, Soulshield Gem, Cheeseburger
*Items: Wildflower Sundae or Ruby Ripple Ice Cream or See-Through Pie (33% each), Sleep-Be-Gone (60%) or Nix-Be-Gone (30%) or Phoenix Feather (10%)
Pages: 330-332 (Other Islands), 58 (Cloudburst)
Formulae: 016, 021, 026, 031, 036, 041, 061, 071, 074, 080, 096, 107, 112
| **Peddler** | | | |
| --- | --- | --- | --- |
| 100 G | Sandwich | 4800 G | Aurora Cloak |
| 500 G | Cheeseburger | 5200 G | Tundra Shield |
| 800 G | Pixie Dew | | |
| 800 G | Strong Coffee | 4500 G | Wolf Fangs |
| 2000 G | Cappucino | | |
| 500 G | Phoenix Feather | 20 G | Chocolate |
| 20 G | Poison-Be-Gone | 20 G | Flan |
| 40 G | Blindness-Be-Gone | 20 G | Cake |
| 40 G | Sleep-Be-Gone | 20 G | Sundae |
| 40 G | Curse-Be-Gone | 20 G | Pie |
| 40 G | Confusion-Be-Gone | 20 G | Ice Cream |
| 60 G | Nix-Be-Gone | | |
| 100 G | Stone-Be-Gone | 50 G | Dumpty Egg |
| | | 50 G | Crispy Lettuce |
| 8000 G | Blazing Blade | 50 G | Crunchy Carrot |
| 6400 G | Ice Shard | 60 G | Tender Beef |
| 7500 G | Tomte Whomper | 50 G | Yogurt |
| 6400 G | Snow Witch Claws | 150 G | Fluffy Rice |
| 7900 G | Icewyrm Tusk | 200 G | Green Grapes |
| | | 200 G | Caramels |
| 5500 G | Inferno Armor | 200 G | Snow Radish |
| 5500 G | Sasquash Pelt | | |
After arriving, make your way northeast and stop in at Swift Solutions. Talk to the large Tomte on the right side of the room to trigger a few scenes with Tabitha. Afterward, head back to the Cat's Cradle and choose to rest up for the night, which will of course earn you another page for your Wizard's Companion. This time, you get [OTHER ISLANDS] .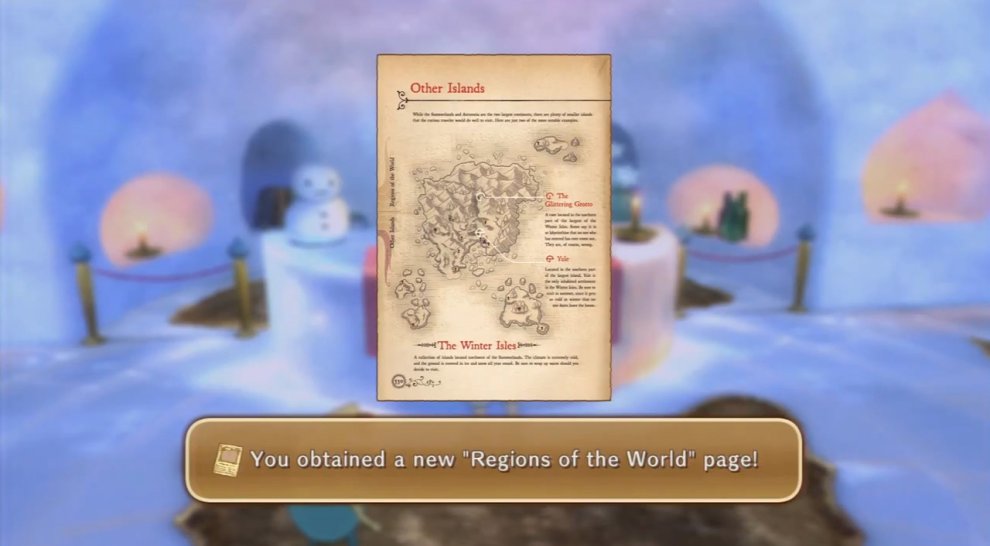 The next morning, go to the top part of the town and enter the house on the right, which is the elder's home. Talk to him, and he'll immediately give you permission to enter the Grotto, and will also give you four sets of [WINTER CLOTHES] so you can finally travel sensibly in the cold!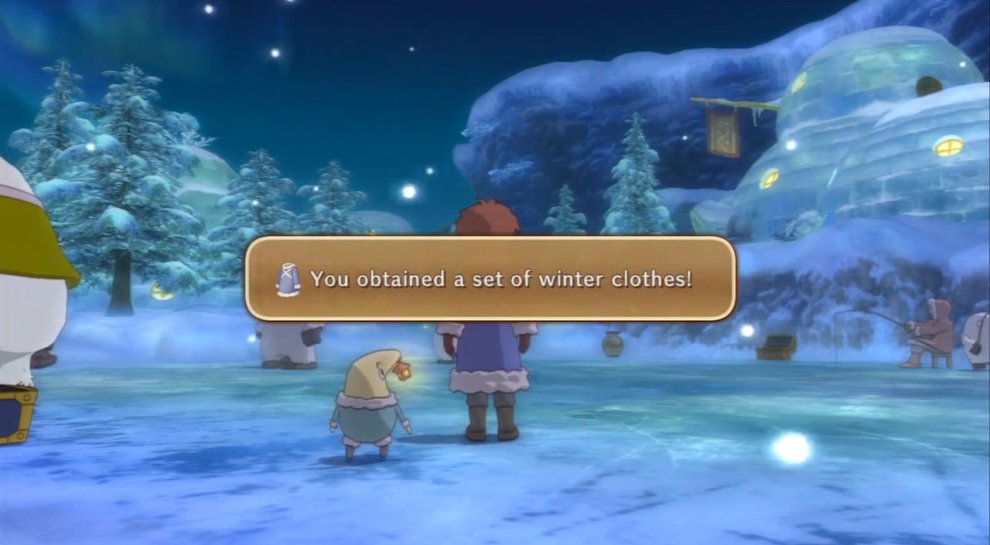 Before going, we have plenty to do in town. Head back inside the elder's home and you should see Horace off to the left, as long as you've solved his riddles in the previous towns. Talk to him with 'Spirit Medium', and he'll want to know what the icy flowers they use in their stew are called. Feel free to flip through your Wizard's Companion if you like (the answer is on page 139), then when you're ready, tell him it's a "Blizzard Bloom" and he'll reward you with the [CLOUDBURST] spell!
While you're still in the elder's house, check the urn on the right side of the room for [ WILDFLOWER SUNDAE or RUBY RIPPLE ICE CREAM or SEE-THROUGH PIE ], then head back outside.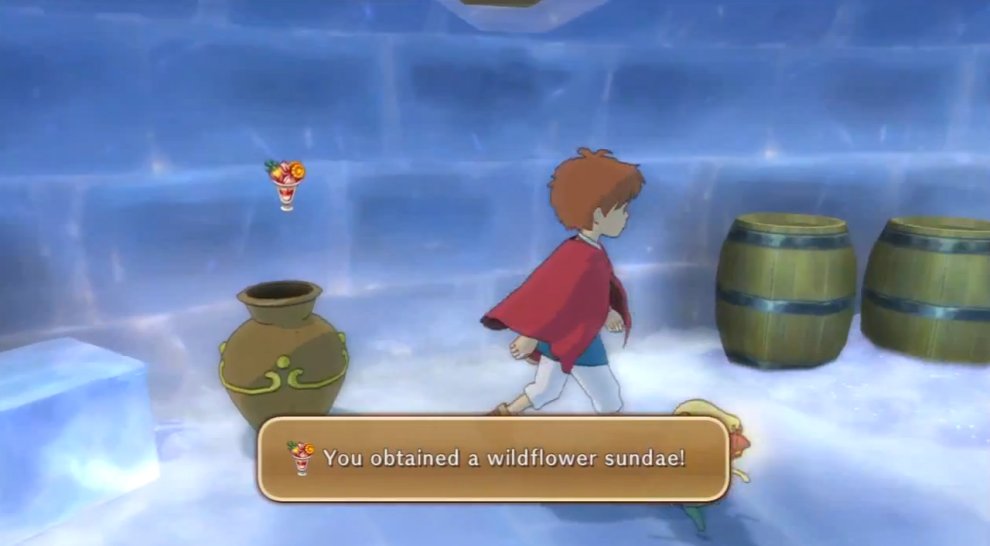 Just below the entrance on the right is a blue chest with a [BLUNT GEM].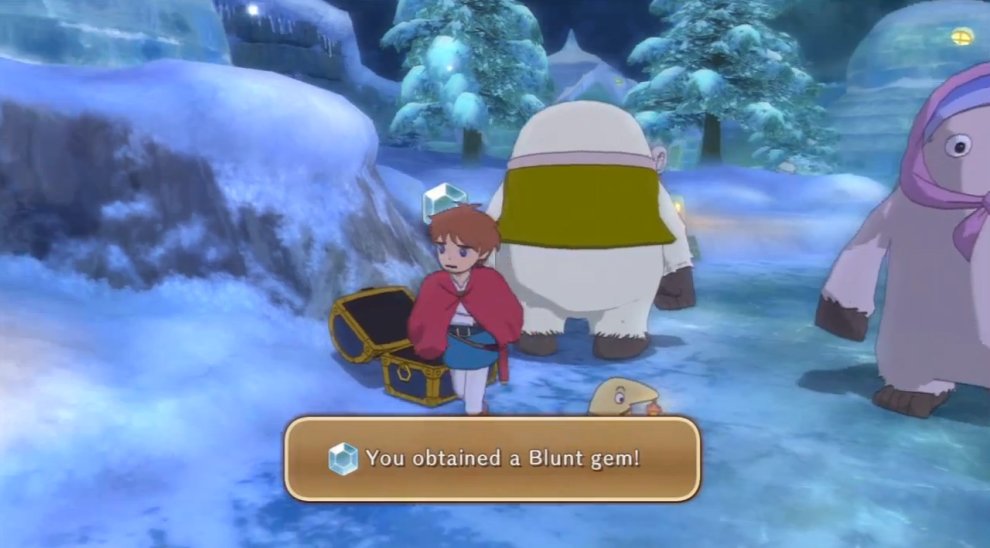 Next head directly left of the elder's house to find a chest with a [PHOENIX FEATHER] .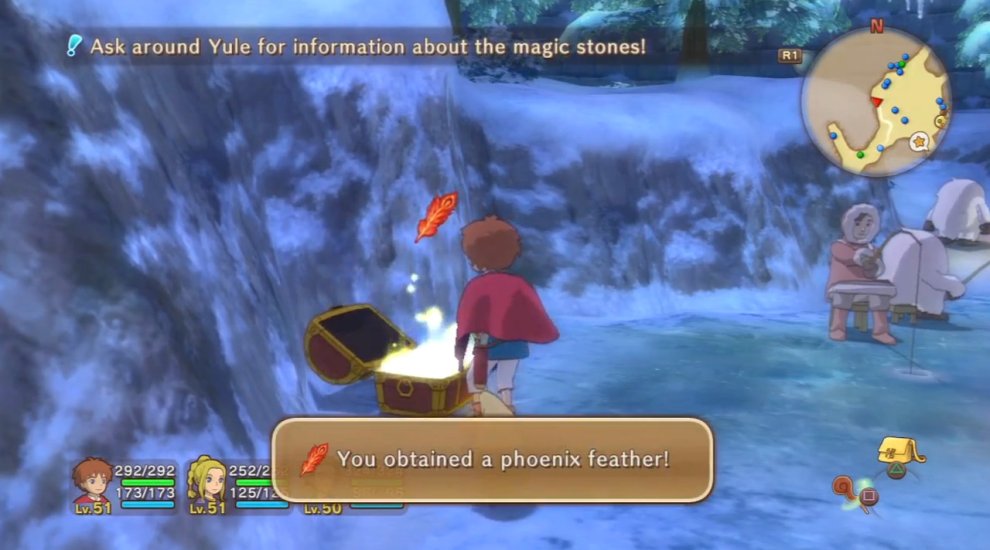 Check the urn a few steps down from the chest to find a [FROSTY FLAN] , then talk to the tomte who is ice-fishing just to the right of the chest. He will give you quite a few more recipes: 016, 021, 026, 031, 036, 041, 061, 071, 074, 080, 096, 107, and 112.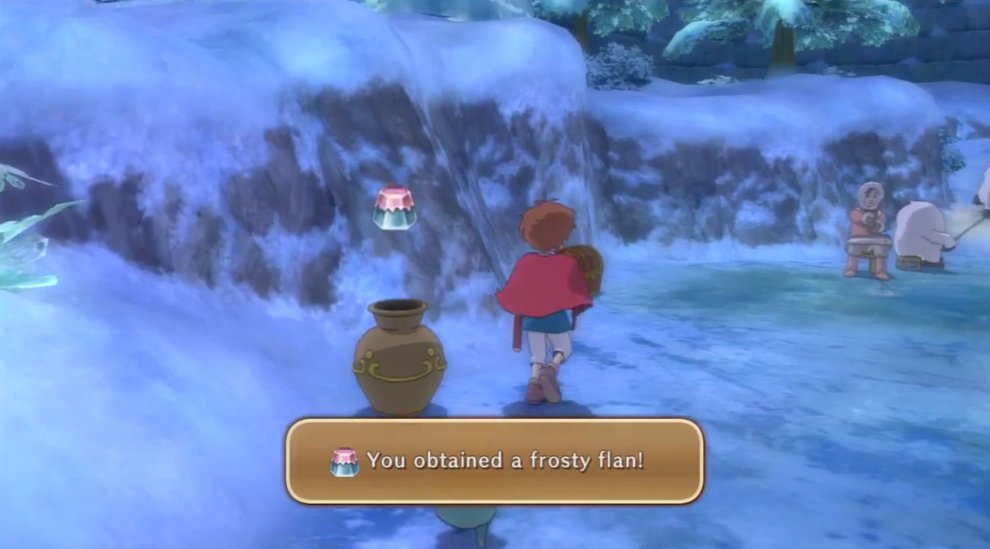 Head southwest just a bit, then turn northwest to a dead-end at an igloo. If you stand next to the woman here and face the igloo, you should find Swaine's vantage point to be able to collect the green chest, which is on top of the igloo to the right. Opening it will net you a [ SOULSHIELD GEM ]. Go down to the Cat's Cradle and head inside to find a chest to the left; it has a [ CHEESEBURGER ] inside, while the urn beside it has a [ SLEEP-BE-GONE or NIX-BE-GONE or PHOENIX FEATHER ] inside.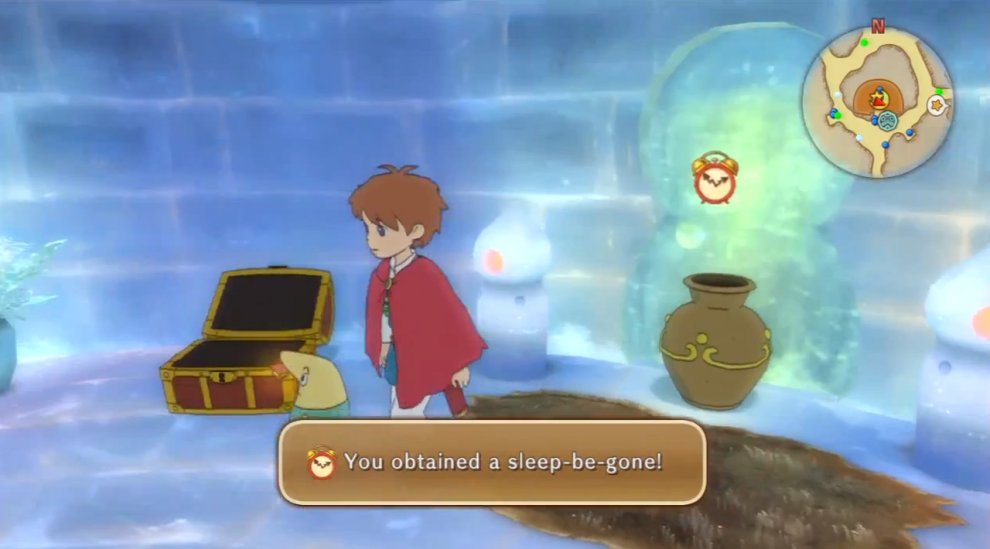 There's one last chest inside of Swift Solutions, but you can't get it just yet. You'll definitely want to visit the Hootique/Peddler in Yule, as he sells some excellent equipment and items. The Blazing Blade will prove extremely valuable in the upcoming dungeon, and the water-resisting armor pieces are also rather handy.
Before heading off to the Glittering Grotto, it's time to heal some hearts and bash some baddies.
Note: There are four pieces of heart you can get here in Yule, and three of them will allow you to finally complete Errands that we've been waiting on.
Belief (Tomte beside Swift Solutions.) Use it for Errand #037 below.
Kindness (girl near snowman at the north end of town.) Use it for Errand #019 in Ding Dong Dell.
Courage (kid walking around the west side of town.) Use it for Errand #016 in Ding Dong Dell.
Confidence (grandma on the west side of the Cat's Cradle.) Use it for Errand #023 in The Fairyground.
Errands / Bounties
Errand #016 - Strength to Soldier On (Can now finish)
Errand #019 - With Friends Like These (Can now finish)
Errand #023 - Comedy Gold (Can now finish)
Errand #020 - A Shivering Wreck
Errand #037 - A Mean-Hearted Hubby
Errand #059 - Moving On
Errand #060 - A Hot New Look
Errand #073 - Snow-Loving Creatures
Bounty #106 - Sleighbell Hell
Errand #020 - A Shivering Wreck
Description: A man from Yule is refusing to leave the house, having given in to his dislike of the cold.
Goal: Restore his restraint so that he can go outside again.
Stamps: 3
Rewards: Snow-White Ice Cream x3, 1000G
The man in question is in the elder's home on the northeast part of town. Talk to him to find that he's missing his restraint. You should still have some from Hamelin (if not, go grab it) so give it to him to restore him to normal.
Errand #037 - A Mean-Hearted Hubby
Description: One of the traveling merchants suddenly finds himself unable to trust anyone, much to his wife's dismay.
Goal: Restore his belief so that he can trust people once more.
Stamps: 3
Rewards: Sprite Dew, 1000G
The merchant couple we've been dealing with for quite a while needs help again. Talk to the husband in the northern section of Yule on the left side to learn that he needs some belief. Luckily, the Tomte standing next to Swift Solutions has some, so do the old switcheroo to restore the husband back to his old ways.
Errand #059 - Moving On
Description: A young girl is worried about how her pet jabberguppy is coping since she became a ghost.
Goal: Agree to look after the girl's pet jabberguppy.
Stamps: 5
Rewards: Snowblower Gem, 1500G
Formula: 046 (Jumbo Planetdrop)
To start this errand, you have to return to Sleety Hollow, which was the hidden cave you visited earlier to the southeast of Yule. Return there by having Tengri drop you off in the open area just to the north of the large ice chunks, then enter the cave and talk to the girl in here. Of course, to ACTUALLY speak with her, use 'Spirit Medium', and you'll find out that she just wants you to toughen her pet jabberguppy up so that it can move on without her.
To complete this task, you must level up the Jabberguppy from 30 to 40. You can either just throw it in your party and come back once the time comes, or you can take it just outside of Perdida near Billy Goat's Bluff and fight four Tokotokos to get there. Either way, once you're at 40, she'll reward you and this errand will come to a close, with you keeping the pet familiar.
Errand #060 - A Hot New Look
Description: A Yule woman would like nothing more than to get her hands on a snazzy swimsuit.
Goal: Listen to the woman's request.
Unlock Requirement: Complete Errand #049.
Stamps: 5
Rewards: Sarsaparilla Sundae x2, Snow-White Ice Cream x2,5000G
Items: Snazzy Swimsuit
In Yule, there's a woman walking around in circles around town; talk to her to find out that she wants a swimsuit from Castaway Cove. Simple enough; use 'Travel' to go there, then talk to the woman from earlier, whom you helped design a new swimsuit. (She's the one walking around in purple pants.)
Of course, as chance would have it, her very last one was stolen, so you must retrieve it. Go back out on the World Map and summon Tengri, then go west to the island of Bungler's Bay. Land on the northern part of the island just below some trees, then seek out the treacherous seagull to your east. Use 'Nature's Tongue' to obtain the [SNAZZY SWIMSUIT] . With it in hand, return to Yule and give it to the woman for your reward.
Errand #073 - Snow-Loving Creatures
Description: Derwin has moved on to Yule in search of more creature data.
Goal: Agree to help Derwin with his research.
Unlock Requirement: Complete errand #072.
Stamps: 6
Rewards: Jumbo Sundrop, Jumbo Stardrop, 3000 G
You'll find Derwin traveling once again; talk to him near the entrance to the city, on the left. He needs three more familiars; an Ice Queen, a Sasquash, and a Lotus Bubbud. The Ice Queen can be found inside of the Glittering Grotto itself, while the other two can be found on the World Map. The Lotus Bubbud will likely be the most difficult to catch.
Bounty #106 - Sleighbell Hell
Description: A family of monsters have invaded the Sleighbell Isles northeast of the Winter Isles. They cannot be allowed to stay!
Last Seen: On the Sleighbell Isles (Northern Winter Isles).
Stamps: 4
Rewards: Snowball Gem, 1500 G
Enemies: Sasquash (054), Papa Sasquash (055), Sasquish (053)
Spoils: 303 EXP, 406 G
Your target is on the Sleighbell Isles to the northeast of the main continent, so have Tengri drop you off in the northern center of the island, where you'll find the Papa Sasquash. Make sure to save before taking him on.
In the battle, beware of the Sasquashes and Sasquish using the Earsplitter trick, as they can all use it right after another if they like, making the battle end very quickly, and not in your favor.
Work on getting rid of the Sasquish first, then the Sasquash, then the Papa. Having the Blazing Blades that you can purchase from Yule help out immensely here, as well as any fire-based tricks your familiars know.