Items: Giant Cheese Wedge, Letter of Passage, Portrait, Fling Flame Gem
Pages: 35 (Nature's Tongue), 52 (Burden)
Enemies: Swaine's Nightmare (*)
Return to Al Mamoon and attempt to enter the palace… Access denied! Head over to the Cat's Cradle (Inn) and speak with the purrprietor to trigger a scene. Afterward, cast the Gateway spell and travel back to Motorville.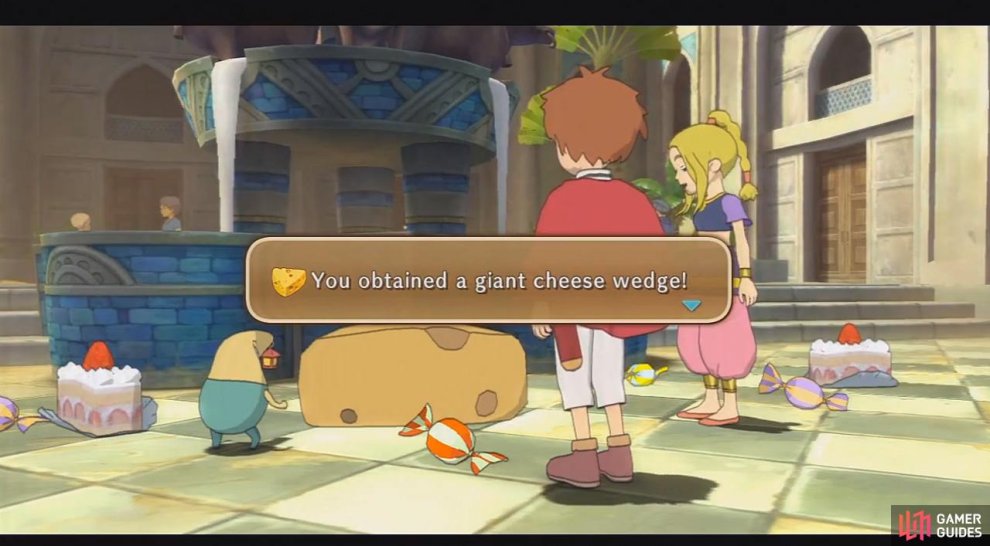 Head over to Leila's shop, triggering a scene. Afterward it's back to Al Mamoon, where you must inspect the left milk fountain on the town square and cast the 'Secret Ingredient' spell to conjure a [GIANT CHEESE WEDGE] out of thin air (and some milk, of course).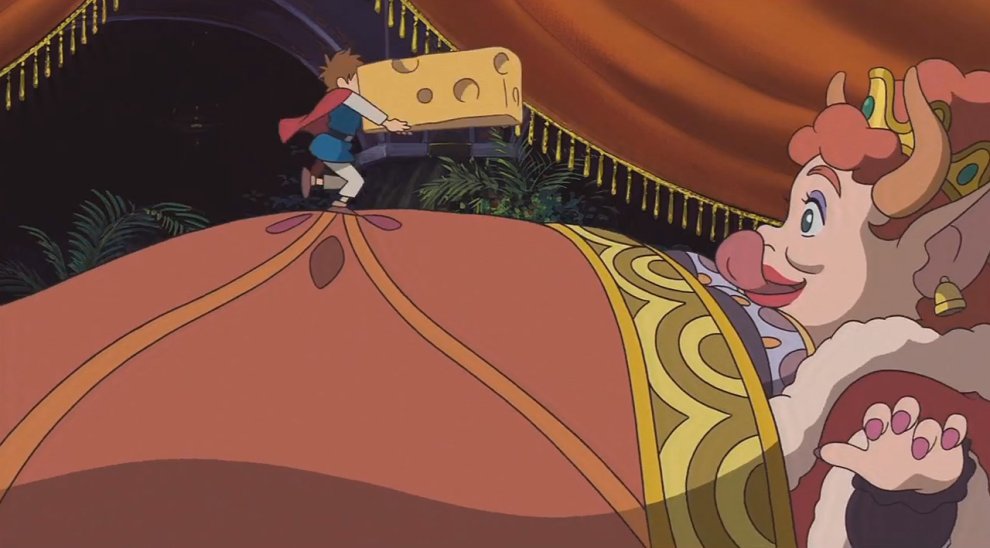 You can now speak to Abull, who'll let you into the castle. Unfortunately, the Cowlipha appears to be in need of some restraint, which you must now go out and seek. (Quite a frightening scene, that was.)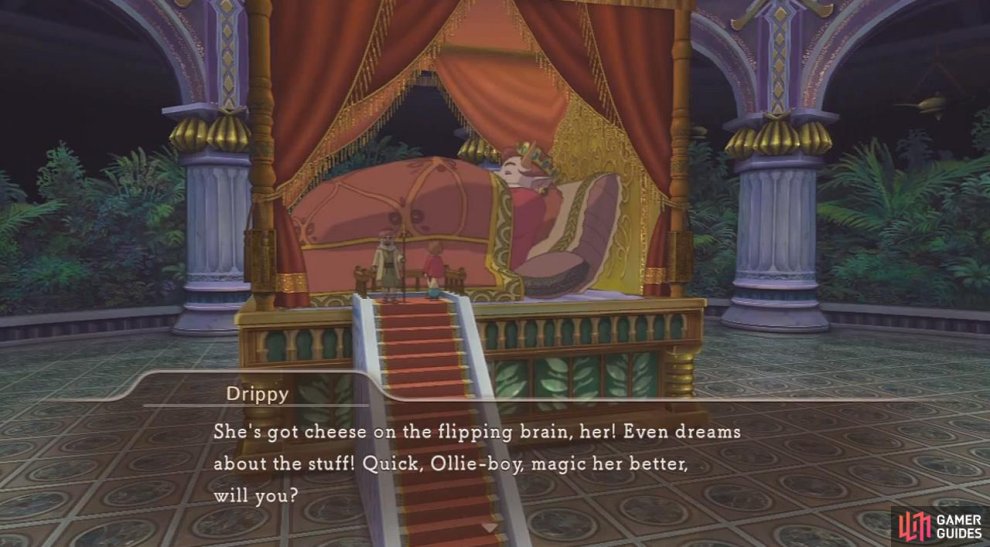 Visit the Cawtermaster first, who tells you that Abull's the one you're looking for. Don't forget to purchase a Flint Dagger here for errand 76 (unless you already have one) now that you're here anyway. Return to the castle, take some restraint from Abull and give it to her Moojesty! This returns things to … well, things are indeed a little different now.
After the scenes you'll receive a [LETTER OF PASSAGE] , a [PORTRAIT] , as well as the [NATURE'S TONGUE] and [BURDEN] spells.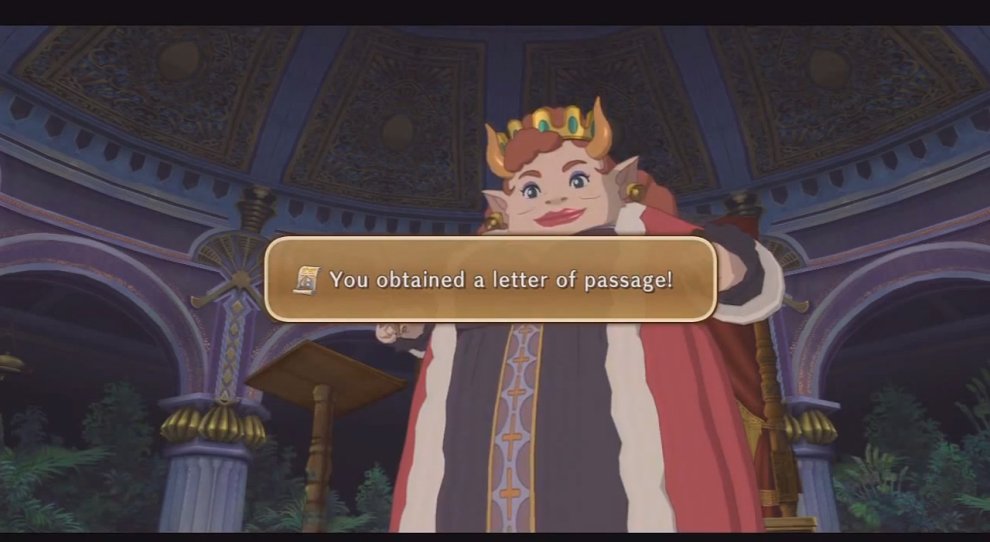 Before you leave town, talk to the boy near the entrance of town to do a new errand (#047). It lets you make good use of your newly acquired spell.
Errand #047 - A Boy and His Birds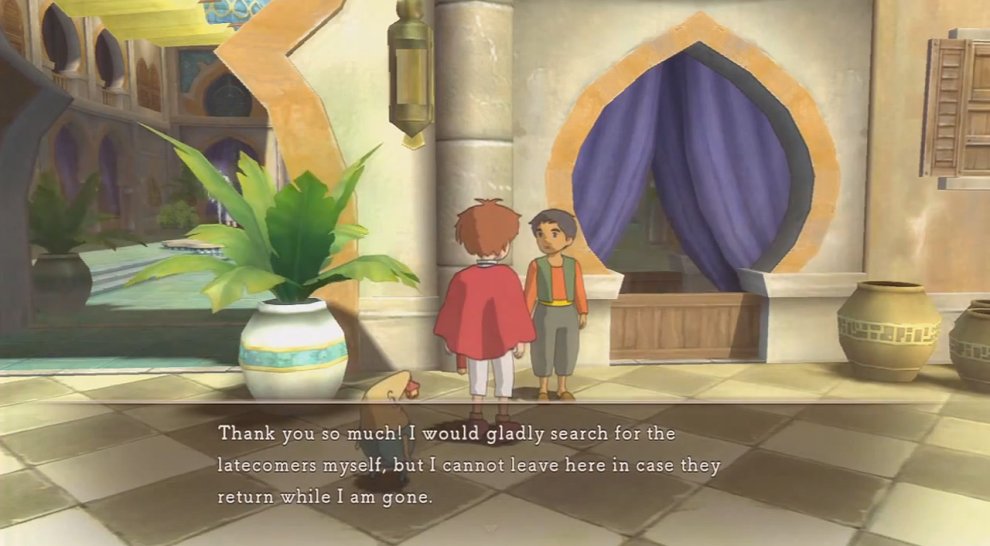 Description: A young Momooni boy is worried because his pigeons are late returning to him.
Goal: Agree to look for the boy's pigeons.
Stamps: 2
Rewards: Phoenix Feather x2, 400 G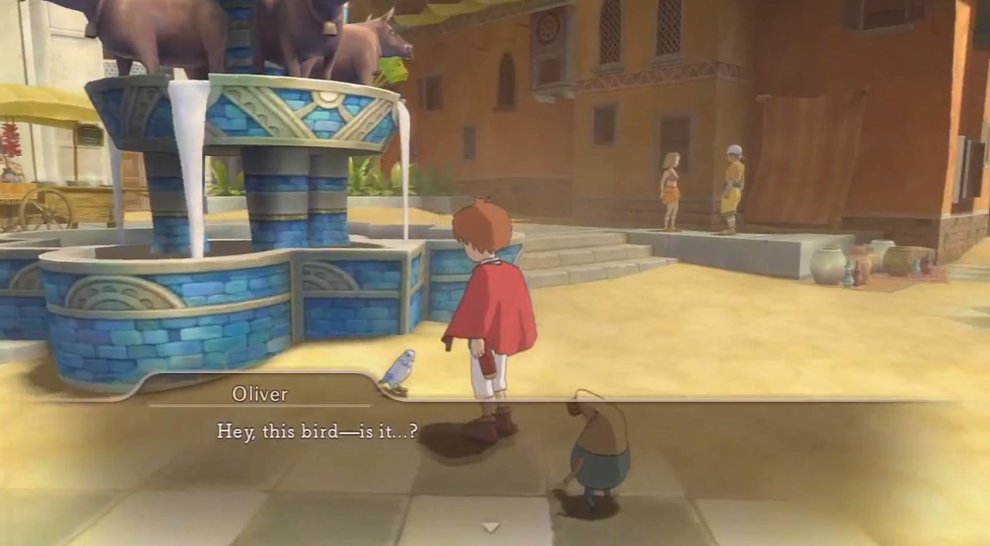 Talk to the boy near the entrance of Al Mamoon to start this errand. You'll need to find three tame pigeons in Al Mamoon; the first is around the corner, next to the milk fountain outside the Cat's Cradle. Cast Nature's Tongue to speak with it, sending him back to the boy.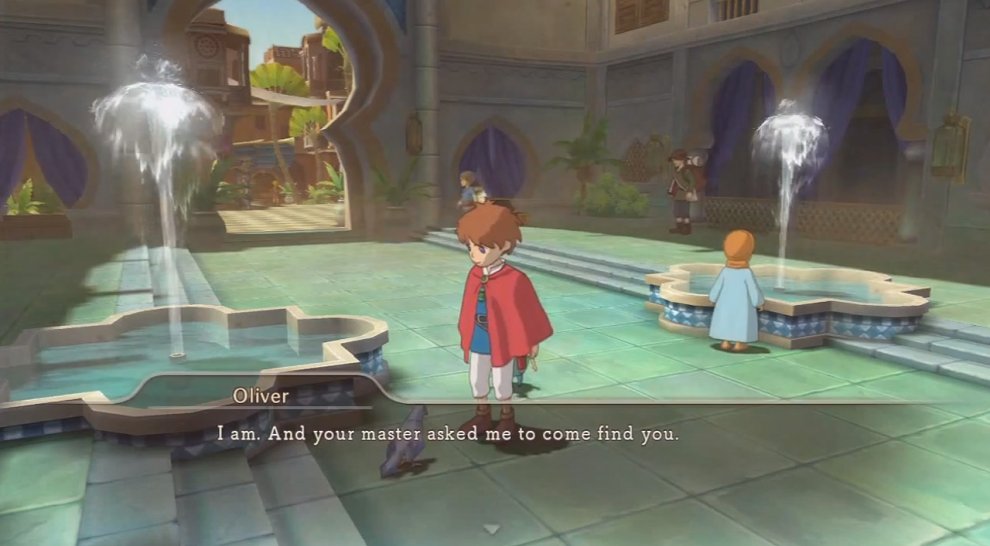 The second pidgeon can be found next to the milk fountain on the right side of the town square. The last pidgeon can be tricky to find since he's hidden indoors; visit the Hootique to find it sitting in a windowsill to the left.
Return to the boy for your reward.
Return to Castaway Cove to trigger a scene. Be sure to rest at the Cat's Cradle if your party isn't funkyfresh at the moment, because we've got a boss battle coming up! You might also want to stock up on Sleep-Be-Gones as well as some Confusion-Be-Gones from the peddler. When you're all set, head for the pier to face what looks to be another nightmare creature.
Boss Fight: Swaine's Nightmare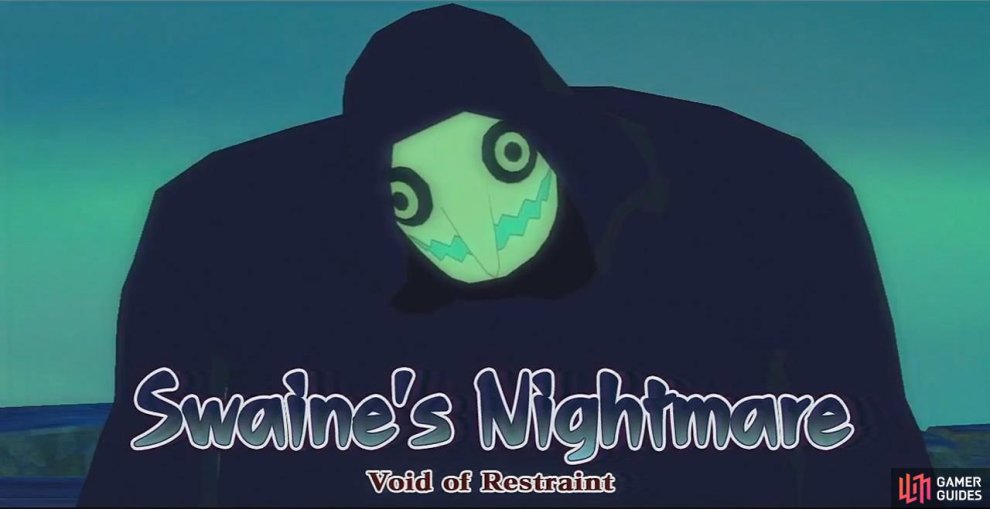 Stats: 1280 HP
Weak Against: Light
Resists: Dark
Attacks:
Physical Attack [Single Target, Minor to Medium Damage]

Bad Dream [All Targets, Inflicts Sleep]

Grudge [Single Target, Inflicts Curse]
Rewards: 860 XP, 700 G
This Nightmare creature will frequently attempt to put your characters to sleep, or otherwise curse them, significantly impairing their movement, allowing it to hit you with quite a few nasty regular physical attacks.
Move in with a familiar right away and perform an all out attack. The sleep ailment is annoying since Nightmare might inflict a critical hit on you, but after any such hit you're good to go again; heal up and continue your sequence of attacks. Also keep an eye on your second party member's health and don't let it drop below 40-50%.
If you see Nightmare charging up for Bad Dream, it's quite possible to cancel the attack with a series of attacks, and you should always attempt this if you're high on HP. It might just generate a golden glim. If it does, the battle is surely in it's last phase.
After the fight, find the restraint you're looking for by visiting the Cat's Cradle, where you'll find the Governor, who's more than willing to share a piece. Bring this back to the quayside and heal the thief, who's name turns out to be Swaine. He and his Hurly familiar will join you, incidentally also granting you the ability to open up green chests with his pickpocket's pistol. Walk up to the green chest nearby and lock onto it to collect the [FLING FLAME GEM] inside it!