Items: Pheonix Feather x3
Note: Now that you've defeated Moltaan, you can report your progress to Old Father Oak and earn yourself [PHOENIX FEATHER x3] ; however, since you might want to backtrack for several items soon enough, you'll want to save yourself the trouble of having to do this twice, so postpone this for a little while until the time is ripe.
Head over to Swift Solutions to find two new bounties available. A look at the errands board reveals that one new errand can now be done as well.
Errands / Bounties
Errand #080 - Notes from a Volcano
Bounty #091 - Merchants' Menace
Bounty #092 - Megmadness
Notes from a Volcano
Description: A man visiting Al Mamoon is rather flustered after misplacing his diary again.
Goal: Agree to look for the missing diary.
Stamps: 3
Rewards: Hallowed Habit, 200 G
Items: Traveller's Diary
Speak with the rich man located to your immediate left as you enter the town square of Al Mamoon, and you should recognize him as the traveler from Ding Dong Dell. Looks like he lost his diary again, so off you go. This time the diary can be found on the trail leading to Old Smoky. It's not too far away actually.
Once you pass the first large crack in the ground (on the left side), inspect the big tree just behind it to find the actual [TRAVELER'S DIARY] ; this is slightly southeast of the first lava stream (in which you have found a Burning Blade before).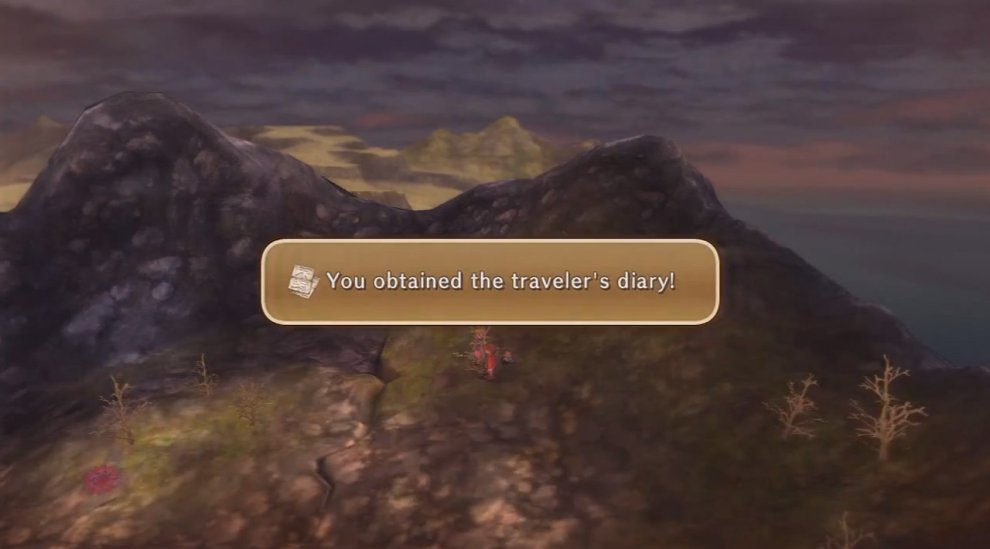 Return to the man to claim your reward.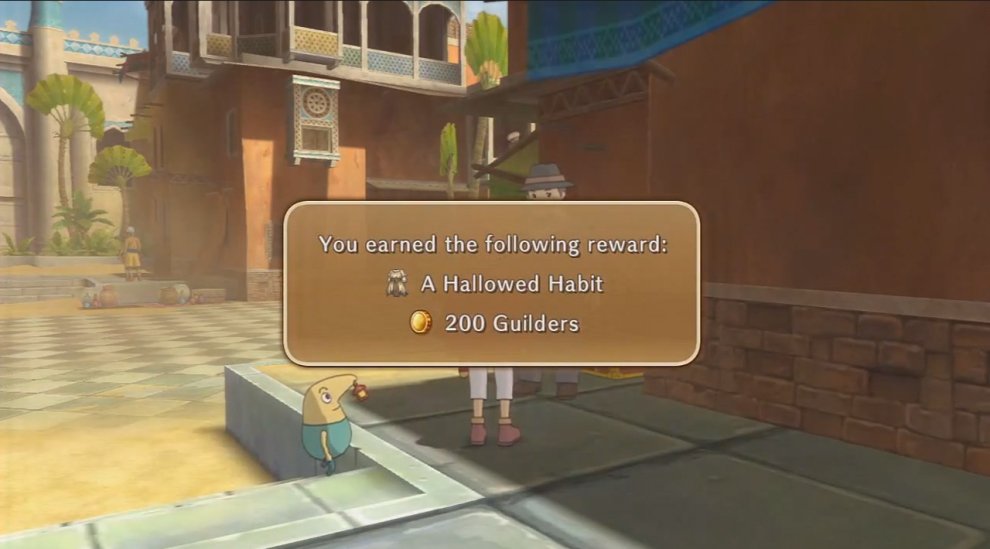 Bounty: Magmadness
Description: A hotheaded monster is trying to make Old Smoky blow! That would be a disaster…The beast must be stopped.
Last Seen: At the Foot of Old Smoky (Summerlands)
Unlock Requirement: Complete Errand #079
Stamps: 3
Rewards: Fire Seal, 600 G
Enemies: Magmoiselle
Spoils: 121 Exp, 75 G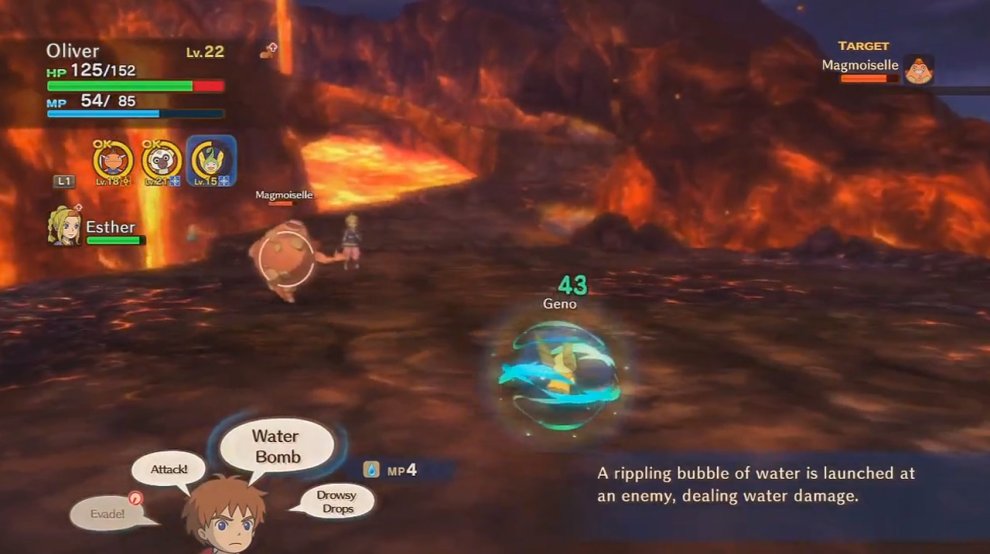 For some reason, now we can never listen to the Muse song 'Madness' without hearing this quests' name. Hopefully it's the same for you now, so that we share the grief. Magmoiselle can be found at Old Smoky; head north at the first intersection to find her at the dead end with the broken robot. She's a unique creature that can only be fought during this bounty.
This battle isn't too hard if you give Esther her Drongo while you stay in control of Oliver himself and keep casting Frostbite. Magmoiselle will usually keep chasing after you, and although her physical attacks are quite powerful, keeping a distance isn't that hard. She also has a more powerful fire-based long range attack; defending against it works best.
Bounty #091 - Merchant's Menace
Description: A monster has been attacking tavelling merchents and stealing their wares. It must be dealt with as soon as possible.
Last seen: East of Castaway Cove (Summerlands)
Stamps: 3
Rewards: Fishburger x4, 480 G
Enemies: Hog-Goblin, Gobspeed
Spoils: 182 EXP, 109 G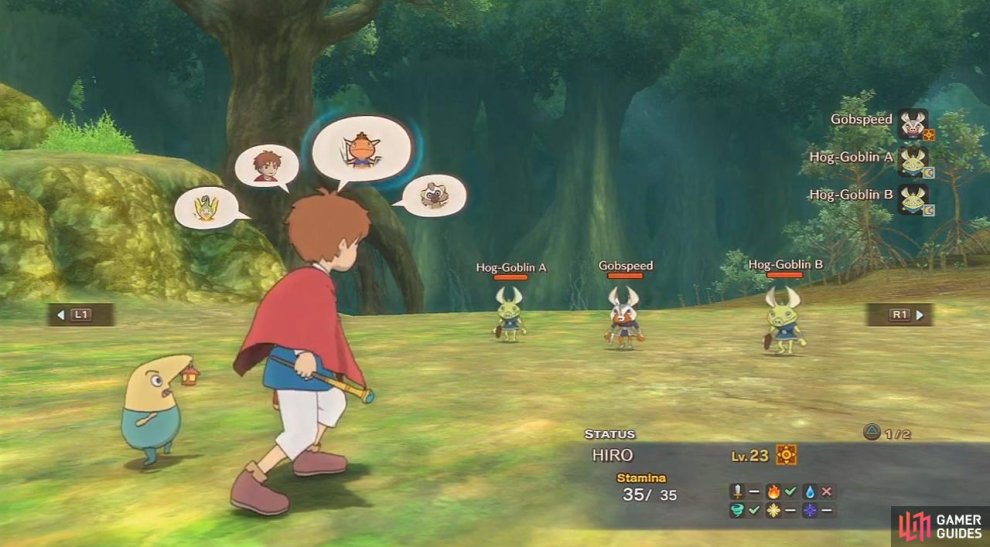 This bounty is located to the far south, in the grassy area near Castaway Cove. More specifically, you'll need to create a bridge (with the 'Bridge' spell) to travel to the east part of the area, where it resides on a hill to the south.
The Gobspeed is accompanied by two lesser Hog-Goblins, making this a rather tough fight for this point in the game. You'll want to be around level 20, and you might also want to give your familiar your current best equipment, such as the Burning Blade (among other things).
Your first priority should be to take out one of the Hog-Goblins, but don't lose track of Oliver or Esthers' health; as soon as they fall below 50% of their HP, quickly cast a healing spell or give them a proper health boost by way of items. When the first Hob-Goblin is eliminated, heal your party and go for the second one. With just the Gobspeed left, the remainder of the battle should be much easier to handle.
If you're having trouble and taking too much damage with just your familars, then try fighting as Oliver and continuously cast Pule to knock them away as they're about to carry out their attacks, and it should minimize the damage.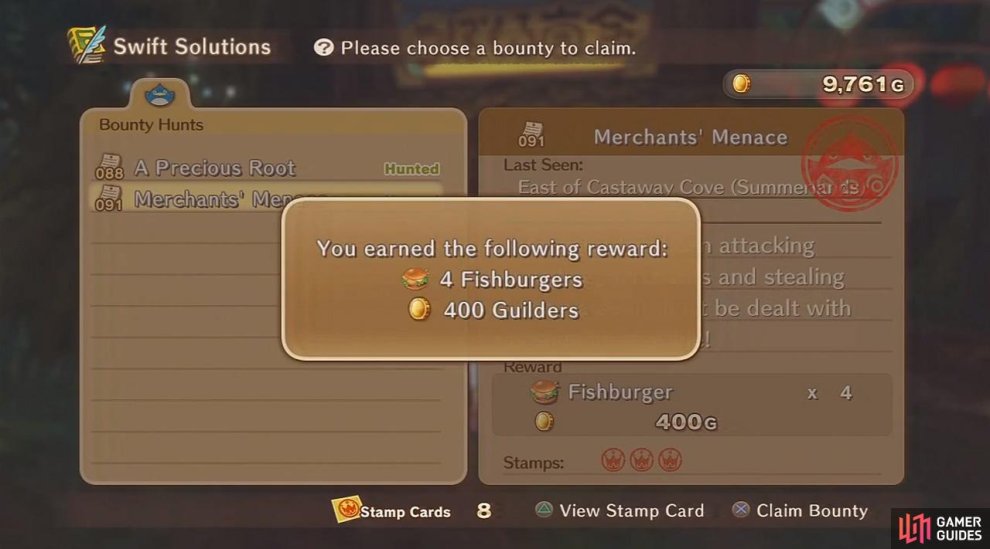 By now you should have a few merit cards left to exchange for power-ups. It's up to you to decide, although Jack-in-the-Box (if you don't already have it) may prove useful in dungeons and parts of the world map with more powerful adversaries.