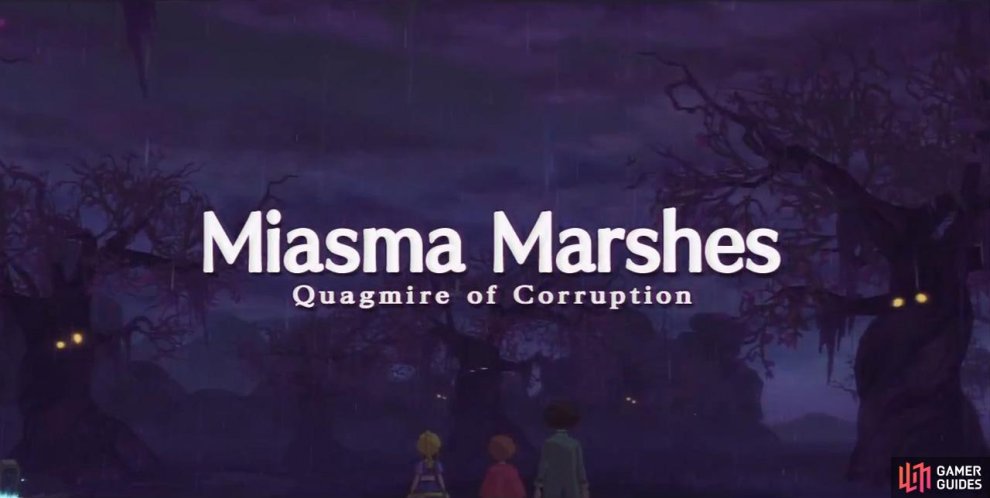 Items: Espresso, Dead Man's Duds, All-Be-Gone, Fruit Flan, Fiend's Fang, Tonic, Night Armor, Sprite Dew
Pages: 71 (Mornstar)
Enemies: Ex-Girlfiend (282), Slamander (182), Firefry (127), Sharper-Parper (250), Rhinosaw (028), Wayward Sun (231), Bougie-Woogie (275), Whampire Bat (087), Vileheart (368) (), Vileheart (369) ()
There are a couple of enemies outside on the World Map. Other than that, there's nothing to worry about, so go on and enter the deadly marshes. Once you're inside, Esther will clear them out for you with the Clarion. After a scene, you will be able to explore the Quagmire of Corruption! (Giggity!)
Before moving, you'll want to cast 'Levitate', and keep it on the entire time. The whole area is covered with random poison traps, so use the spell and keep an eye on the icon in the upper left corner; if you see it start to blink, cast it again, and be careful NOT to touch the ground.
Use the Waystone if you need to, then proceed northwest to a fork. Open the chest to your left first to find an [ESPRESSO] , then return to the fork and make your way to the far northwestern dead-end for a blue chest containing a set of [DEAD MAN'S DUDS] . Head back to the Waystone to heal, then proceed northeast, going all the way up when you can to find another chest at a dead-end. Open it for an [ALL-BE-GONE] .
Head down from that chest now, and you'll soon come to an open area / awkward fork in the path. Take a few steps north, then turn east to find a red chest near the water with a [FRUIT FLAN] inside. Turn left, then you'll be at another split as you go up. Continue up, then go right and down to find a blue chest at a dead-end; unlock it for a [FIEND'S FANG] .
Go back to the fork and continue west, then a tiny bit north to be at another somewhat open fork. Head up and to the right first, grabbing the [TONIC] at the dead-end here, then return and go slightly left, then down. You'll come to another dead-end down here to the left, along with a nice purple chest. Unlock it for a suit of [NIGHT ARMOR] . Return to the fork, then go northwest, moving up as you go, but stopping before you turn right.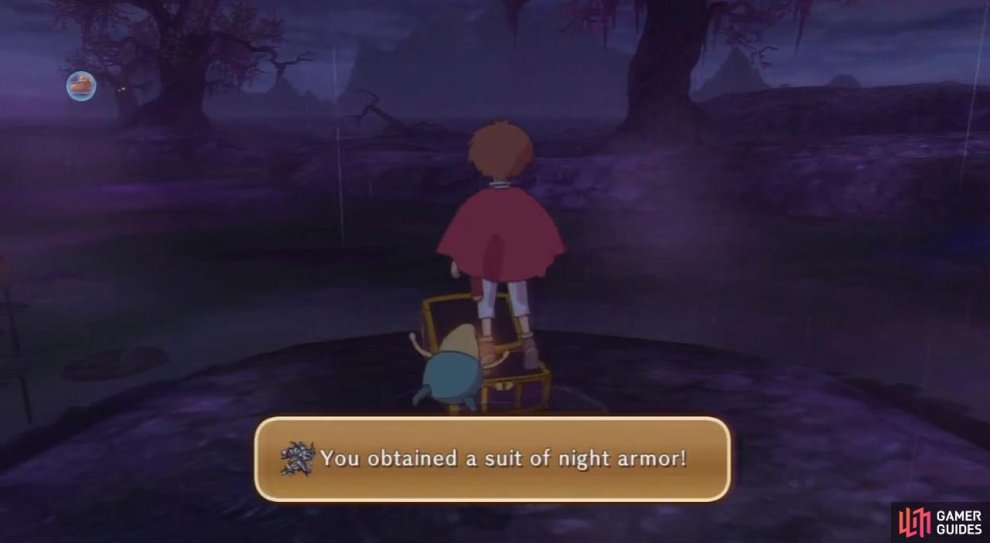 There's a green chest to your west, so go up against the upper left edge here to find Swaine's vantage point, allowing you to snipe a bottle of [SPRITE DEW] . That's it for treasure, so head right and follow the path to another Waystone. Use it, then proceed northwest to take on the evil Vileheart.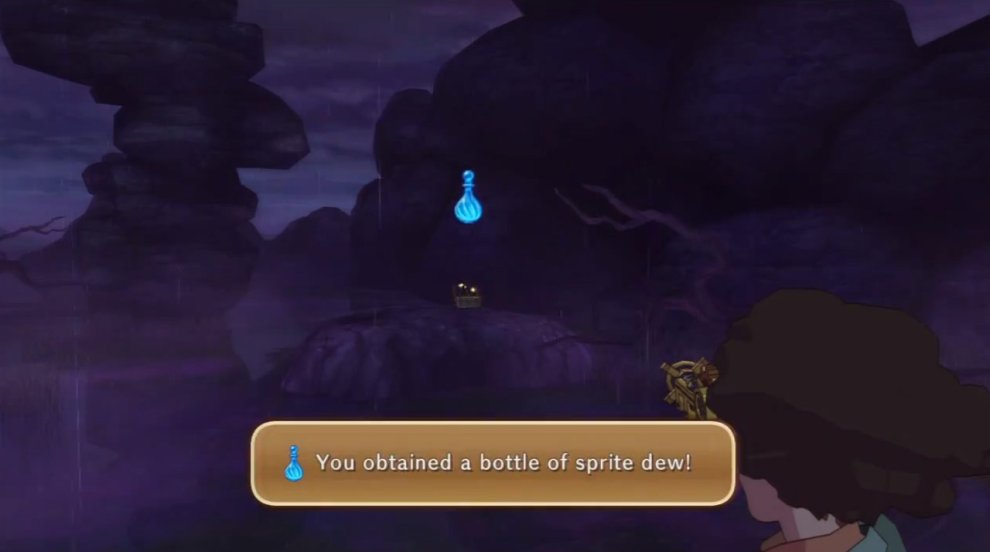 Boss Fight: Vileheart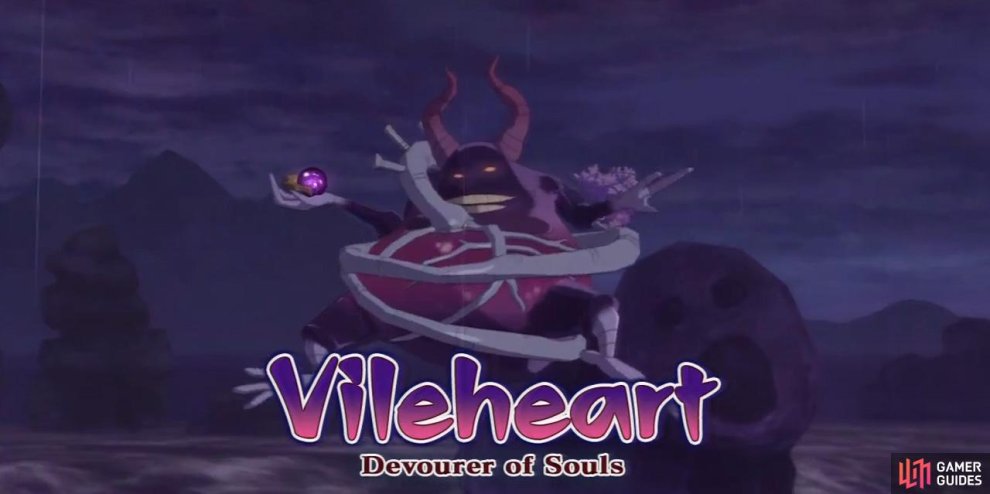 Stats: 6830 HP
Weak against: Light
Resists: Dark
Steal: Barrier Badge
Attacks:
Physical Attack [Range attack, Minor Damage]

Vile Breath [All Allies, Inflicts Poison]

Viledriver [Range attack, Major Damage, Inflicts Stun, Use Defend and All-Out Defense!]
Rewards: 2840 EXP, 3140 G
Right off the bat, switch to Swaine and be sure to steal that Barrier Badge! It gives an enormous boost to defense and magic defense when equipped!
As for the battle itself, Vileheart is going to be constantly using attacks that inflict Poison, so don't even bother with trying to remove the status; just keep your party healed the best you can using all-healing tricks and items like Pixie or Sprite Dew.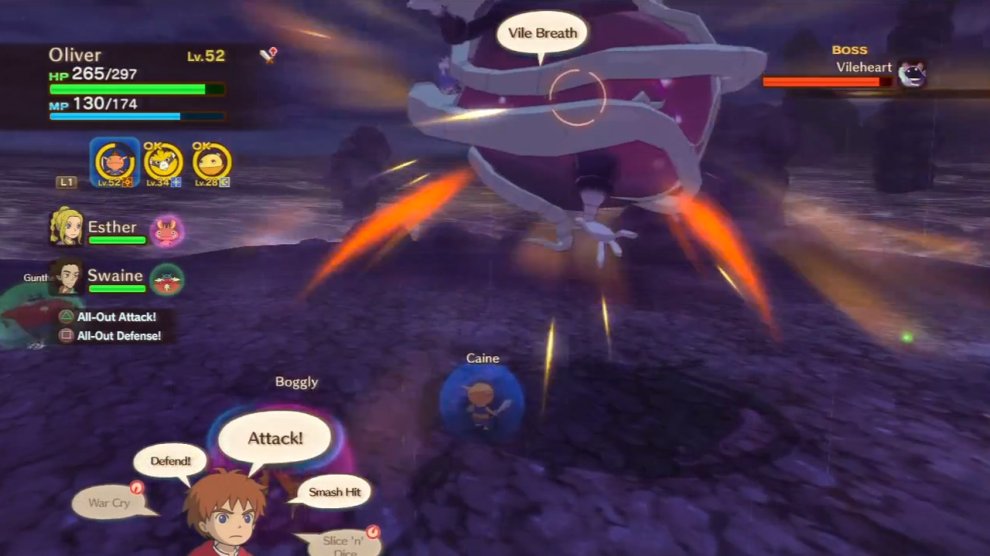 Start off with your strongest physically attacking familiars, using All-Out Attack during the majority of the battle to inflict as much damage as possible. The only two exceptions will be to heal with Oliver as necessary, and to defend against the Viledriver. When you see the Viledriver coming, QUICKLY switch to All-Out Defense and choose to Defend; you'll not only minimize damage, but you will be able to knock him off guard and possibly grab some gold glims after assaulting him, giving you a chance to really pile on the hurt.
The battle may seem to drag on for a while thanks to the poison, but as long as you try to keep everyone about 50% of their HP (and keep Esther's MP replenished for healing), you should be okay.
After the battle, watch the quick scene before you regain control in a different area. Just go forward to progress the story, the watch the story unfold in a major way.
You'll eventually regain control of Esther in Perdida. Head south to the exit for another long set of scenes between Esther and Swaine, then with Oliver. It will all lead to another battle with Vileheart, but this time, with the ultimate [MORNSTAR] spell in his possession!
Boss Fight: Vileheart
Stats: 2110 HP
Weak against: Light
Resists: Dark
Steal: Jumbo Sundrop
Attacks:
Physical Attack [Range attack, Minor Damage]

Vile Roar [All Allies, Medium Damage, Inflicts Curse, Use Defend and All-Out Defense!]

Viledriver [Range attack, Major Damage, Inflicts Stun, Use Defend and All-Out Defense!]
Rewards: 2930 EXP, 3230 G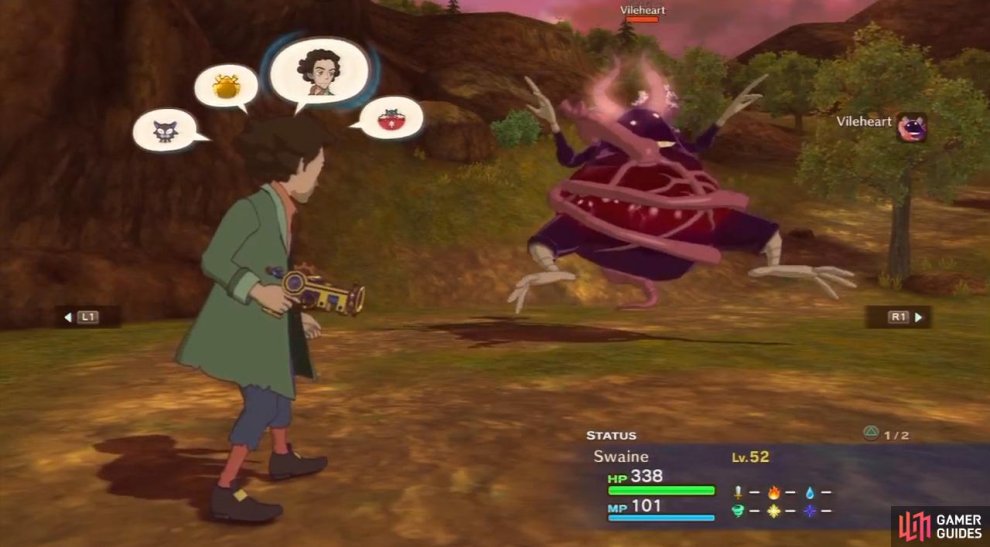 The only noticeable difference in this battle, other than it being much easier with the Mornstar spell, having fewer HP to whittle away, and having to fight with cheesy inspirational music over the awesome normal boss theme, is that Swaine can steal a Jumbo Sundrop, so be sure to grab it.
Other than that, the fight is mostly the same. He'll attack the same way, so still defend against the Viledriver. But he does have a different trick instead of Vile Breath, and it's Vile Roar. It'll attack everyone while inflicting Curse, so defend against it like you would for the Viledriver to minimize damage.
For your attacks, just control Oliver and stay as far away from Vilehart as you can, continuously casting Mornstar until it wipes him completely out! It should only take a handful of turns!
After the battle, make any preparations needed before heading to Nevermore. When you're ready, use 'Travel' to go back to the Miasma Marshes, then proceed to the magic circle in front of you. It'll take you back to where you fought Vileheart, so from there, just travel northwest and follow the path to enter Nevermore!