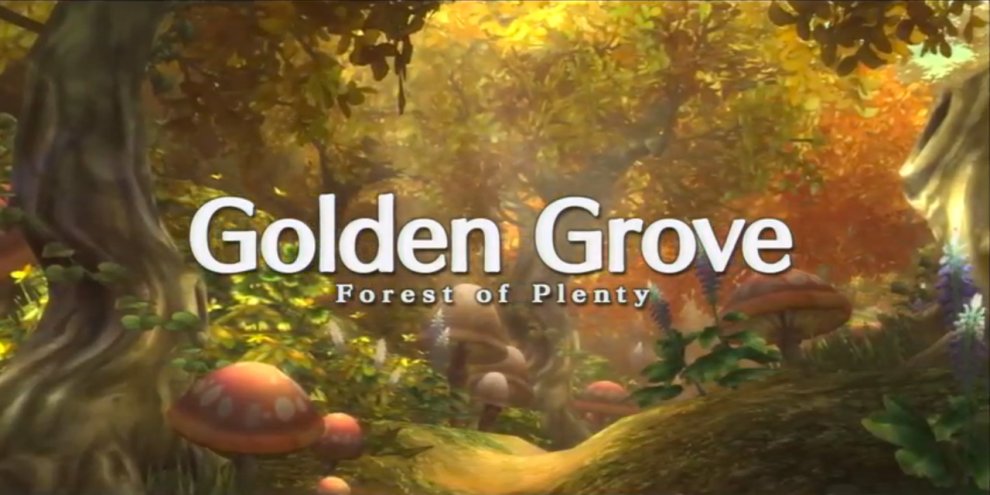 Items: Sandwich, Beast Fangs, Hoarfrost Harpoon
Pages: 36 (Quicken Growth), 290-293 (The Eighth Tale), 174 (Gladiataur)
Enemies: Napcap, Incy, Pom Pom, Tyke, Sore Boar, Worker Bumbler, Gladiatuaur (*)
After a short scene, use the Waystone if you like, then make your way south. There's a chest to the west at the fork, so be sure to open it for a [SANDWICH]. Follow the path east around the curve and keep heading east until you reach several mushrooms that serve as stepping stones. Drippy gives you the go ahead to just jump on them, so hop across them to the north to land at a fork. To the north and west is an accessory that boosts attack, so be sure to head over there and get the [BEAST FANGS] out of the chest. (Make note of the robot while you're here.)
Head back to the fork and continue east, following the path as it turns south. The mushrooms to your east only lead to a dead end, so head past them and you'll eventually come to a rather large four-way fork. First off, take the eastern path and follow it to a dead-end to get another [SANDWICH] against a tree, then return and take the southern path for an [ICED COFFEE] at the dead-end there.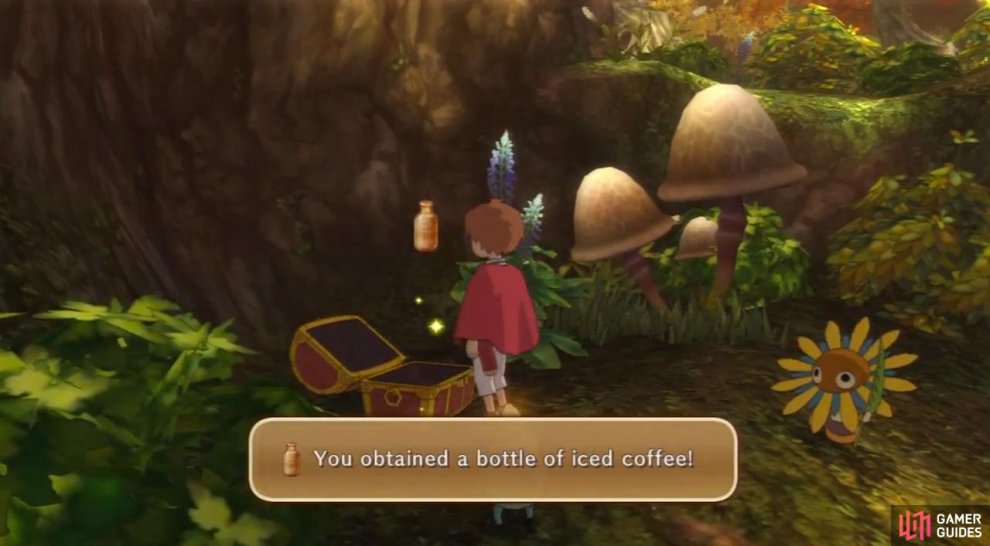 Just to the west is another fork; north leads to a dead-end, so head west first, turning north at the clearing to find a blue chest. Use your 'Spring Lock' spell on it, and you'll receive a [HOARFROST HARPOON] ! Don't have any use for it yet, but it'll be of use soon!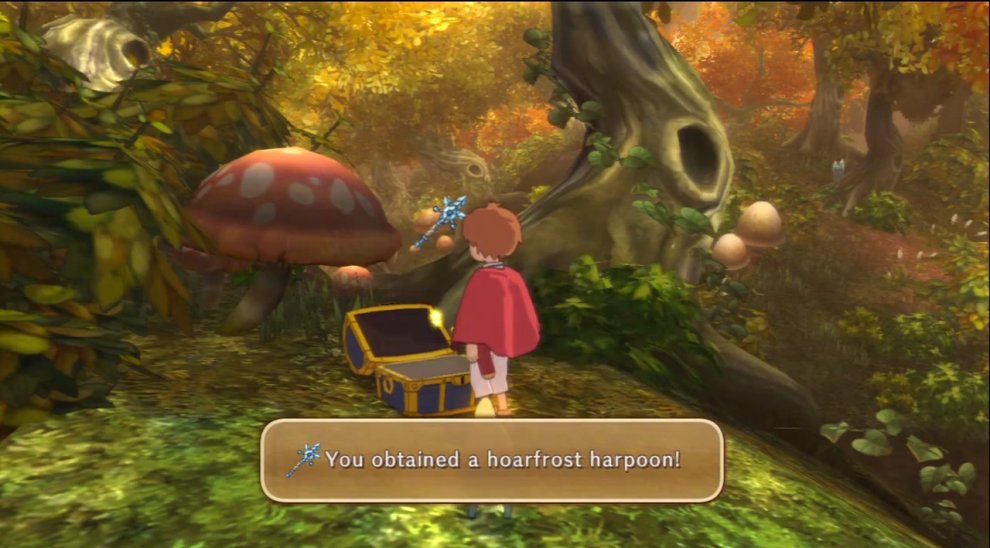 Continue further south and west to a dead-end... However, if you take a look at the tree here, you'll find a familiar egg! After a bit of an explanation about the eggs and life force, open your Spell Menu and cast 'Rejuvenate' on the withered tree to restore it to its former glory. Watch the events unfold, then you'll regain control.
Head back east and return to the last fork, where you'll see your yellow star to the east; go check it out, and the little Seed Sprite from before will reappear, so follow him as he leads you back north to the mushrooms that we passed earlier. Talk to it again in this area to receive the [QUICKEN GROWTH] spell, and the little guy will finally join your party!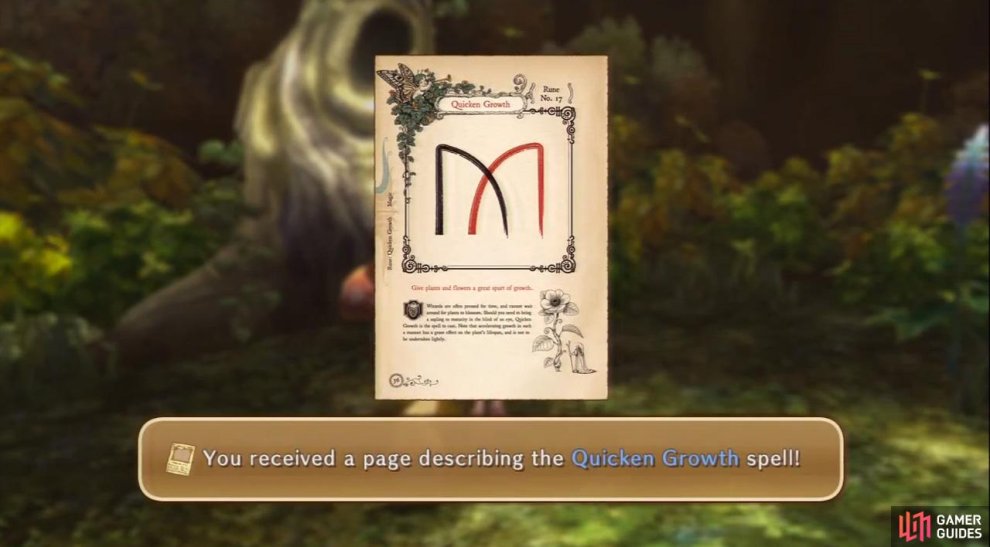 With the new Seed Sprite, you can now Evade attacks, and you'll also be given a lesson on counterattacking. Make sure to equip the newly found Hoarfrost Harpoon on the Seed Sprite. That should be it here here in the forest for now, so go ahead and make your way back to the last fork and make your way south. You'll come to some small mushrooms that you can't climb, but with that new spell, you can make them big enough to climb! Open your Spell Menu and choose 'Quicken Growth' and you'll be able to climb them.
Keep following along, and as the path turns east, you'll come to another Waystone (as well as a purple chest that can't be opened yet,) so be sure to recover and save! When you're ready, proceed east to the open area, where you'll find a fountain, but more importantly, a rather ticked off guardian!
Boss Fight: Gladiataur - Guardian of Golden Grove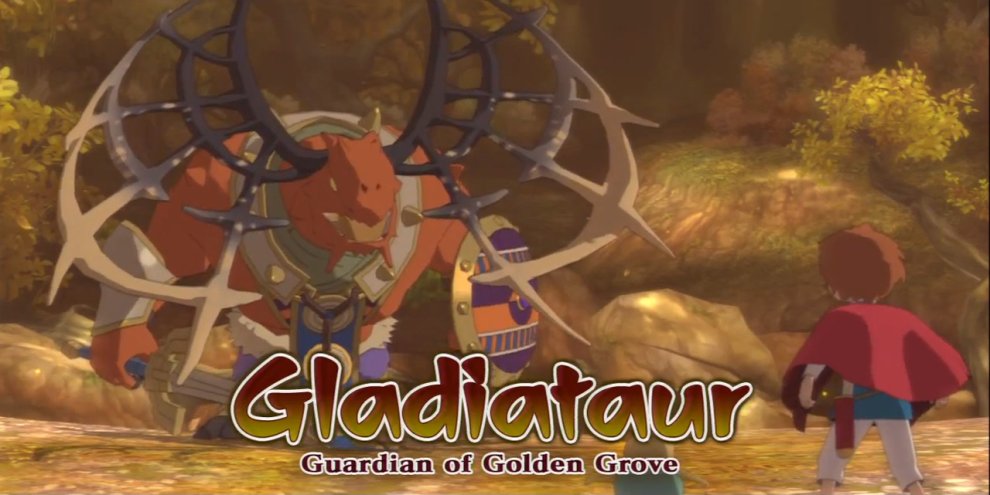 Stats: 520 HP
Weak Against: Storm
Resists: None
Attacks:
Physical Attack [Single Target, Minor Damage]

Savage Swipe [Row, Medium Damage]

Everblade [Single Target, Medium Damage, Use Defend!]

Headlong Rush [Single Target, Major Damage, Use Defend!]

Rampage [Single Target, Major Damage, Use Defend!]
Rewards: 195 Exp, 300G, Spirit of the Glade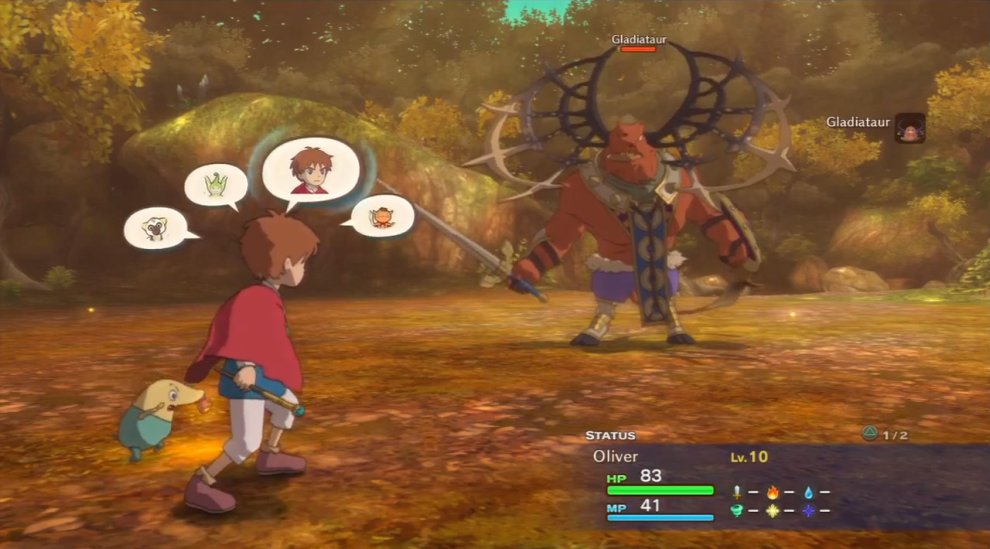 Much like the battle with the Guardian of the Woods, you're going to want to have your familiars sit this one out and let Oliver do most of the work, as this guy hits HARD. That, and it's really tricky to get physical attacks in on this guy while avoiding taking damage. For Oliver, Frostbite will be your best bet, as it does more damage per MP than your Fireball would.
Both the Gladiataur's physical attacks and his Savage Swipe are really easy to avoid; stay on the move and keep your distance. The Savage Swipe basically gets thrown at you from the end of his sword, so just stepping to the left or right will cause it to miss. Be careful, however; if it does hit, say goodbye to at least 1/3 of your HP.
His last attack with his sword is the only one that's potentially worrisome; Everblade. No matter where you are on the field, you'll still get hit by it for quite a large amount of damage, so be sure to Defend against this attack.
As the battle endures, make sure you keep your HP and MP up, ESPECIALLY your HP. Certainly don't let it fall below 50, or it might cost you. If you get low on health, swap out your Seed Sprite and use Drowsy Drops to send Gladiataur to dreamland. Be sure to swap back to Oliver at this point to heal yourself up.
After dropping about half of his HP, Gladiataur loses his mind and throws his sword and shield away. He may seem upset, but now he's really easy to manage because he no longer uses anything except physical attacks. From here, just keep casting Frostbite.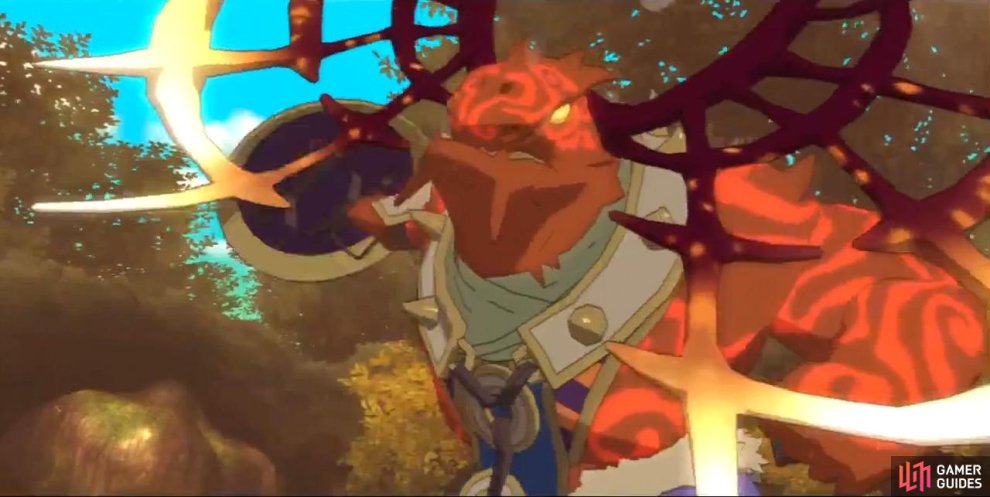 However, once you've gotten Gladiataur down to 30% of his HP, he gets REALLY ticked! He will now use his Headlong Rush attack, which is even stronger than his Everblade. He'll only use it the one time, then Drippy will grab his shield and knock him silly with it, giving you a chance to get some attacks in. Quickly switch to Thumbelemur and rush him in there to get some melee attacks in before he regains his composure. It might just be enough to finish him off. Alternatively, look for a golden Glim to perform a finishing move.
If that doesn't work, quickly switch to Oliver and fire off Frostbite spells as fast as you can before he starts using his Rampage attack; it's the same as Headlong Rush, but even stronger, it doesn't miss, and can easily take off half of your HP. If you see it coming, use the Defend command immediately.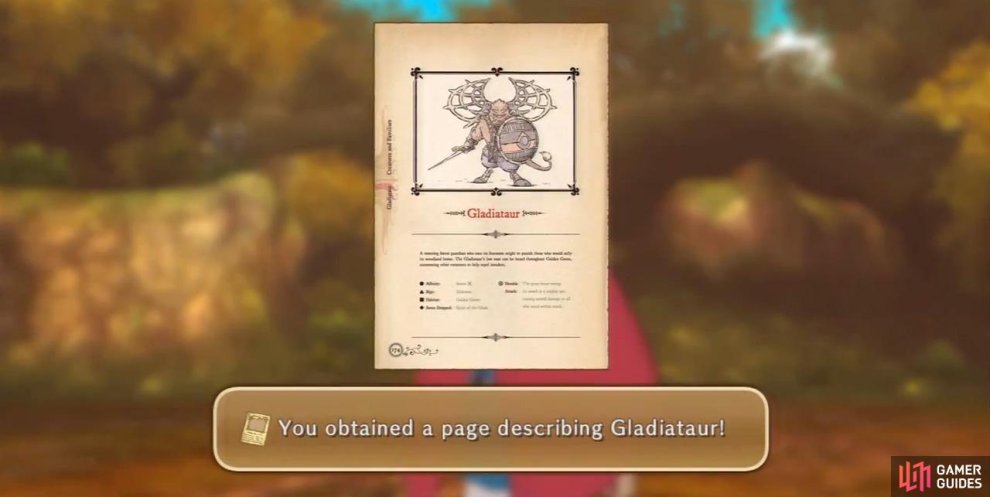 After the battle, you'll receive the [GLADIATAUR] page. Face the spring, then open your Spell Menu and cast 'Rejuvenate' to bring the spring back to life. In addition to it coming back, you'll receive the [THE EIGHTH TALE] of Wonder for your Wizard's Companion.
Once you have those, head south to be back out onto the World Map, but this time, in the Shimmering Sands!