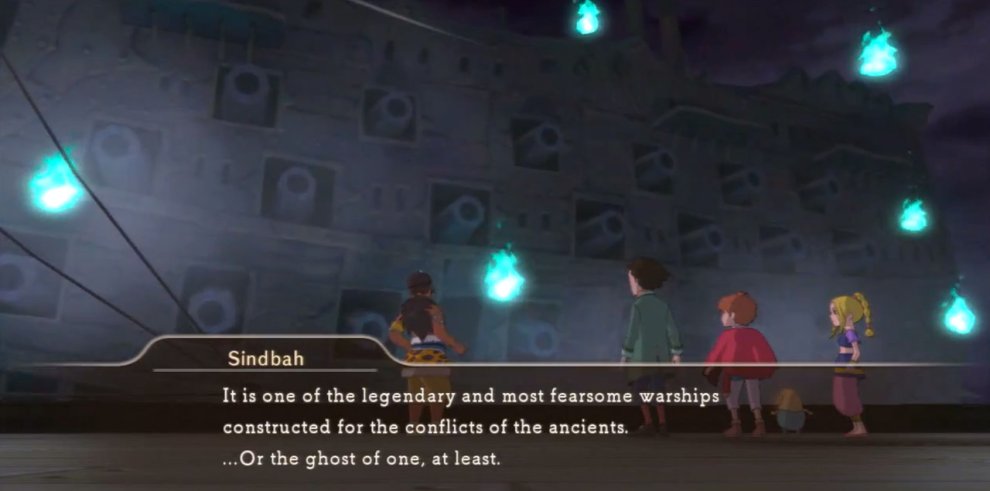 Items: Sun Stone
Enemies: Zomboatswain (290), Stranglerfish (058), Splasher (066), Impaler (262), Cap'n Zombo (291), Potty (209), Kipper (237), Tadolescent (062), Jetsam (361) (), Cap'n Crossbones (362) ()
Before doing anything, make sure that you take the time to equip your familiars with weapons that can do fire damage, such as the Burning Blades for your sword users. It'll help make one of the next boss battles much easier.
If you look at your World Map, you'll see a star constantly circling Autumnia to the northeast; this is your next destination, and you can only encounter it by ship, so go ahead and use your 'Travel' spell to visit Hamelin. From there, head back to the southern coast and board your ship, then sail northwest, following along until you run into a ghost ship, the Black Porpoise. You'll be thrown into a quick, not-too-tough boss battle, followed IMMEDIATELY by another (rather tough) boss, so be sure to be ready!
Boss Fight: Jetsam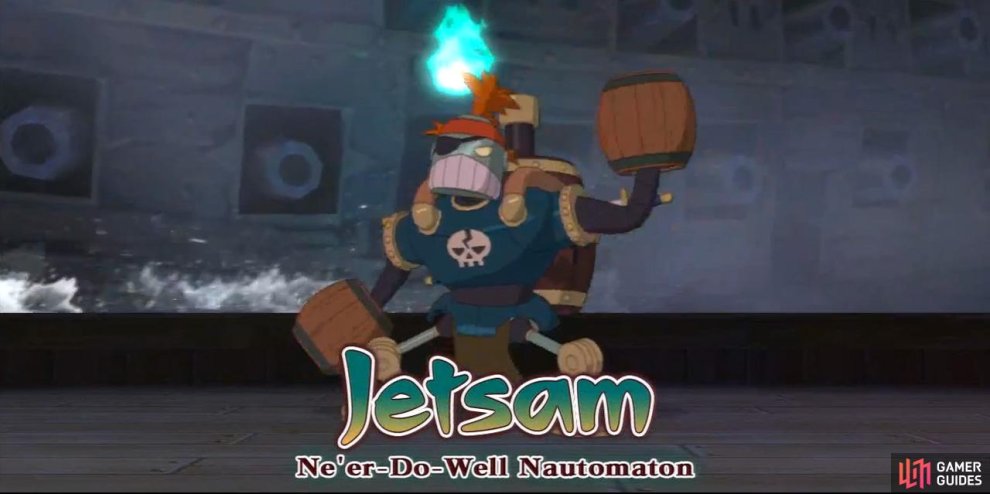 Stats: 1420 HP
Weak against: Storm
Resists: Physical
Attacks:
Physical Attack [Single Target, Minor Damage]

Barrel Blast [Single Target, Major Damage, Use Defend!]
Even though he's technically strong against physical attacks, you'll be able to rack up damage quite a bit faster than waiting and casting spells. Just continue with All-Out Attacks and do your best to cancel him so he doesn't get a hit in edge-wise. However, if you're more comfortable with spells, or are taking too much damage just rushing in, then switch to Esther's Drongo/Strongo (or whatever it's morphed into) and use its Thunderspark / Thunderbolt to deal some decent magic damage.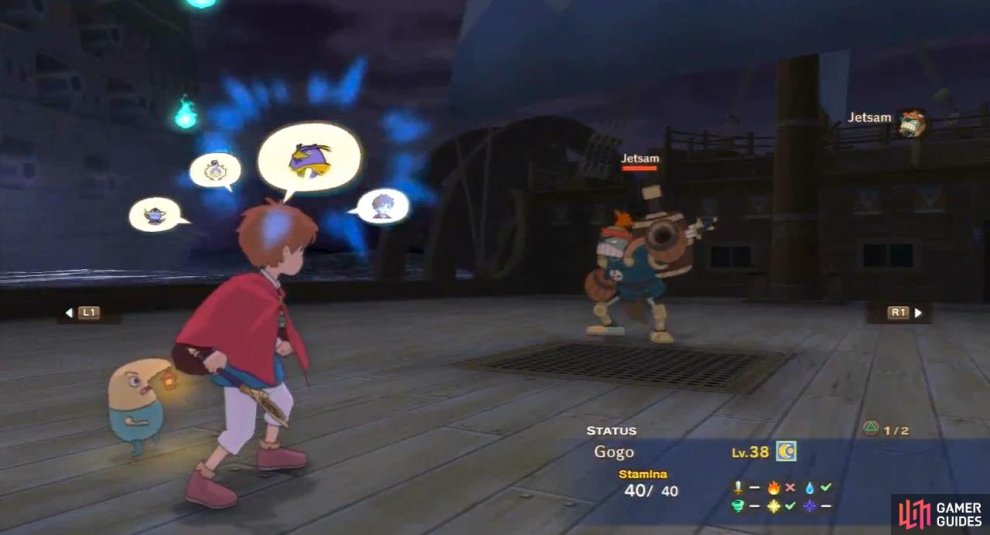 He does have one attack though: Barrel Blast. It's extremely easy to avoid, but make sure you don't slip up and let it accidentally hit you; it'll take away 150+ HP.
Compared to the next boss, this guy is a pushover, so try not to waste too much MP on him; physical attacks SHOULD be enough to deal him in.
Boss Fight: Cap'n Crossbones - Scourge of the Seven Seas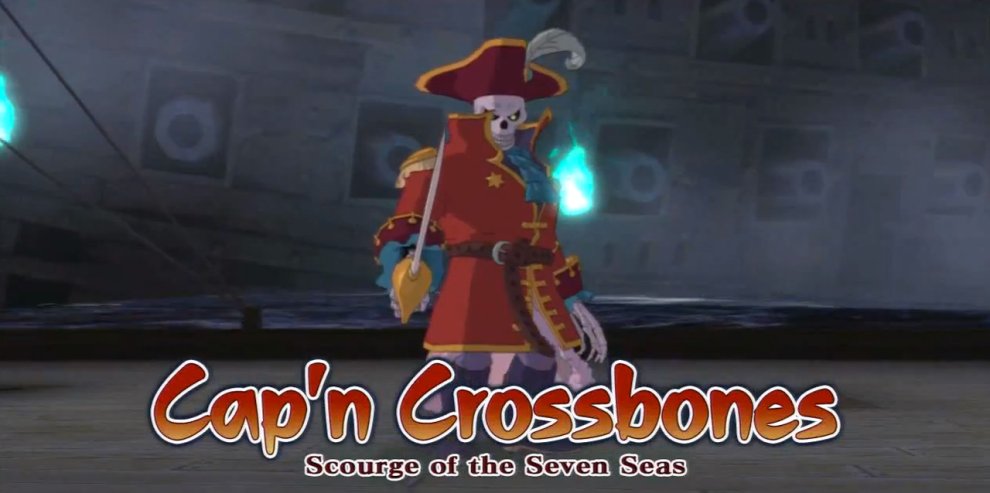 Stats: 2890 HP
Weak against: Fire & Light
Resists: Physical, Dark
Steal: Night Blade
Attacks:
Physical Attack [Single Target, Minor to Medium Damage if chained]

Hammock Hack [Single Target, Minor Damage, Inflicts Sleep]

Swashbuckler [Range, Medium Damage, Use All-Out Defense!]

Plunder [Single Target, Medium Damage that restores his HP]
Rewards: 2,380 EXP, 2530 G
Before getting too far into the battle, try to make it quick and steal the Night Blade.
Like the last battle, he's strong against physical attacks, but they'll still do more damage quicker than standing by and using magic. Rush in with your familiar while using All-Out Attack, blasting him with normal attacks before it gets too risky with low HP; at that point, switch back to Oliver and let Esther heal you while you fire a quick Arrow of Light or two his way. If she doesn't heal, then take a moment to use some provisions before jumping back into the fray.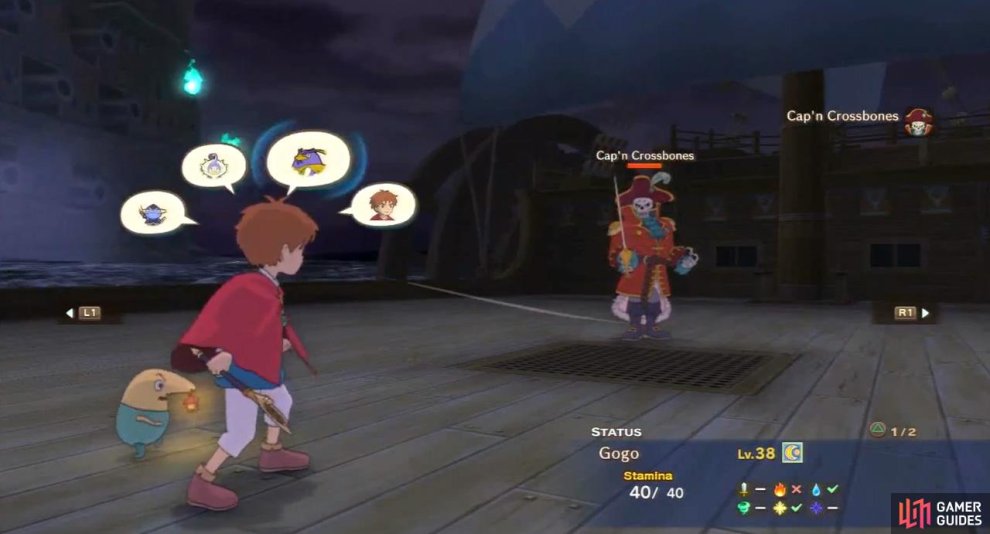 His normal attacks don't do too much damage, but sometimes, he'll get three or four in rather quickly, hurting quite a bit before you have a chance to do anything about it, so keep an eye on your HP. Another attack of his is Hammock Hack; it's fairly weak, but it will inflict Sleep from time to time. Use a quick Sleep-Be-Gone if it happens to hit. Swashbuckler, however, is decently powerful, and will hit most (if not all of your party members) for 60+ damage, so use All- Out Defense to minimize the damage.
He loves to use his Plunder attack, which will not only damage you fairly decently, but it will also take that damage and turn it into restorative HP for himself, making the battle quite a bit longer. Drippy suggests exactly what I have above; if you see him attempt to do it again, try to attack as quickly as you can and hope it gets cancelled. And if you're lucky, you'll knock a gold glim out of him and get a Burning Heart attack off with Oliver.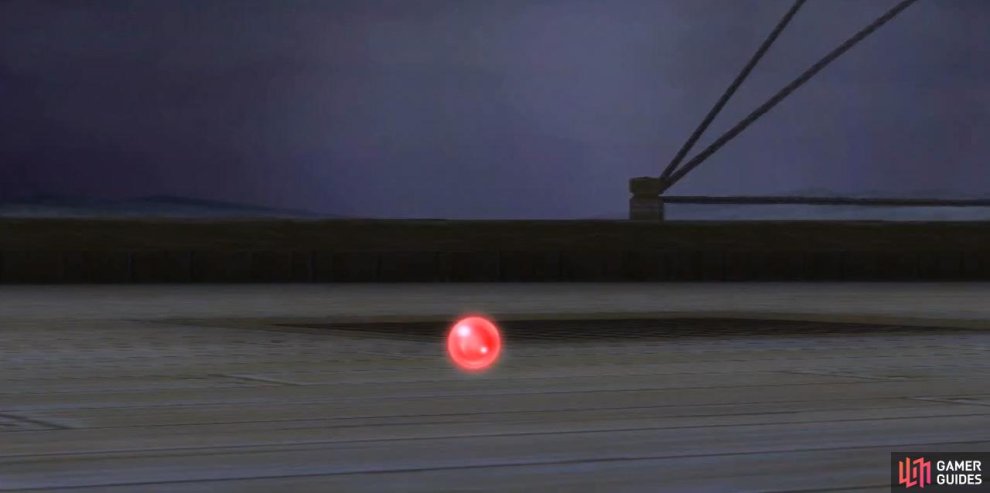 After both battles, you'll receive the [SUN STONE] . Only one more stone to go!