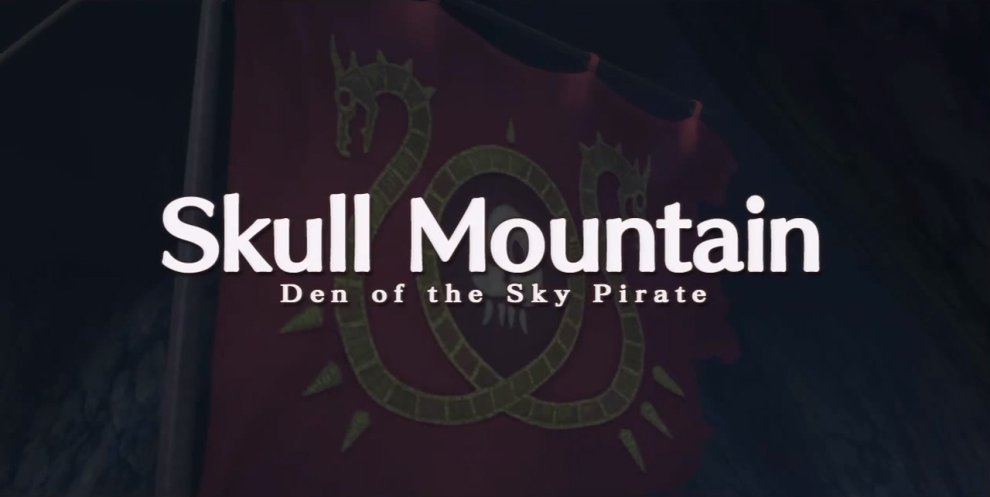 Items: Cappucino, Star Drop, 500 G, Jumbo Sundrop, Dragon Horn, Thunderstorm Gem, Map of the Stones
*Items: Drill Screw
Pages: (Quake), 39 (Seek Fortune)
Forumlas: 015, 020, 025, 030, 035, 040, 070, 079, 087, 090, 103, 111, 124, 043
Enemies: Spitooligan (134), Bighorn (002), Major Byrde (078), Soldier Bumbler (175), Cutpurrse (006), Gobfather (010), Red Dragon (356) (), Denny's Nightmare (358) ()
When you're done exploring the world and running errands for nearly every NPC in the game, set sail for the beach on the northwest side of the Summerlands continent. You might want to collect a few hidden treasures, but other than those, the path to the pirates' den is straightforward; simply head north.
There are some forests on the cliffs directly right/south of the beach. Search the southern soil of the westernmost cliff nearby some trees to find a **[CAPPUCCINO].**
You'll come across a forage point as you follow the trail to the (north)east it contains a **[DRILL SCREW].**
To the far east of the trail are two very large boulders; check them to find a **[STARDROP].**
Cross the nearby river to reach the northern section of the area. Search the rocks to the northwest close to a waterfall to find **[500 G].**
Once you've picked up all of the treasures, proceed the rest of the way up the hill to enter Skull Mountain itself.
Watch the scene after you're inside, then use the Waystone to recover and save. There's a boss battle coming up, so if you can, equip whatever weapons you have on your physical attackers that have the Water or Storm attribute, as it'll help immensely. When you're ready, board the airship for a few scenes, then take on the boss!
Boss Fight: Red Dragon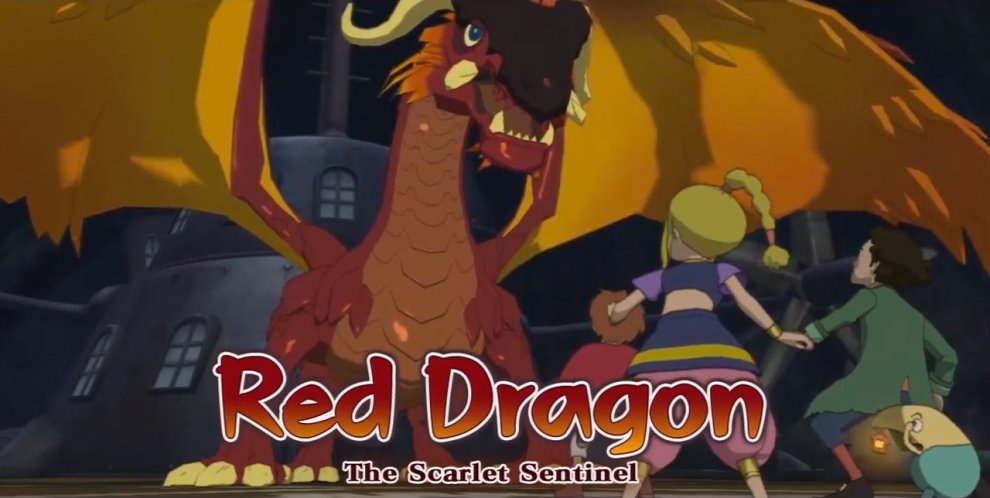 Stats: 4350 HP
Weak Against: Water, Storm
Resists: Fire
Steal: Dragon Tusk
Attacks:
Dragon Scales [Self, Boosts Magic Defense]

Dragonbreath [Range, Minor Damage, Leaves Trails of Fire Behind]

Firestream [Line, Medium to Major Damage, Use Defend!]
Rewards: 1470 EXP, 2050 G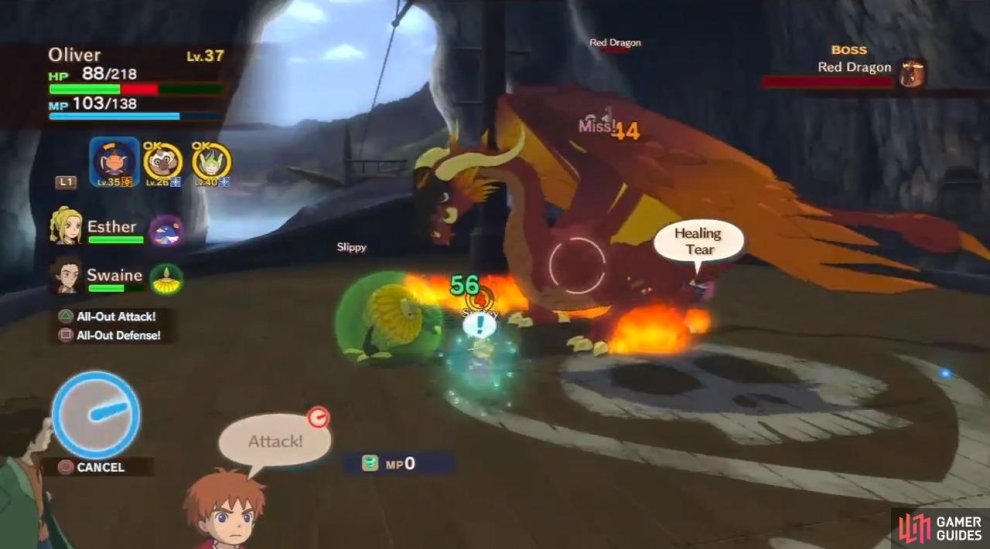 Before the battle gets too far underway, quickly switch to Swaine and steal that Dragon Tusk! It's a pretty decent weapon, and if you try it at the beginning and fail, then you can always reload your save for a better shot.
Once you have it, then switch to your most powerful physical attackers and sick them on the Red Dragon. It'll cast Dragon Scales right away, which will raise its magic defense quite a bit, making anything but normal attacks practically useless.
Its Dragonbreath attack isn't very threatening, but it does leave behind trails of fire on the field, damaging all who happen to step into them, so try to avoid them if at all possible. As for Firestream, he'll take a few seconds to charge up before letting it loose, so switch to the character he's aiming at and Defend with them if possible to avoid some major damage.
After a while, Drippy will hop in and tell you that you need to poison it, so keep an eye on the icon near its name in the upper right corner of the screen, and when that magic defense boost wears off, QUICKLY switch to Swaine and have him blast the beast with his Rotshot to inflict poison. With that, you'll also have a chance to do some major damage, so use the All-Out Attack! command and continue firing Rotshot with Swaine to deal the hurt. Repeat this every time his guard drops, and he'll be down in no time.
After the battle, you'll learn of your next destination, but you can only make it there via a dragon. The only problem is the one that can do it needs to be healed first. Always something, huh?
Talk to the pirate on the lower right deck, and he'll give you quite a few new formulas: 015, 020, 025, 030, 035, 040, 070, 079, 087, 090, 103, 111, and 124. After grabbing those, go to the eastern part of the cave and check out Tengri. Use your 'Native Tongue' spell to determine what's wrong with the ailing dragon. After talking to Tengri, go back and talk to Kublai to tell him your plan, and you'll receive a [JUMBO SUNDROP], as well as formula 043 to make them yourself!
When you're ready, stop at the Waystone to recover and save, then cast 'Gateway' and head back over to Motorville!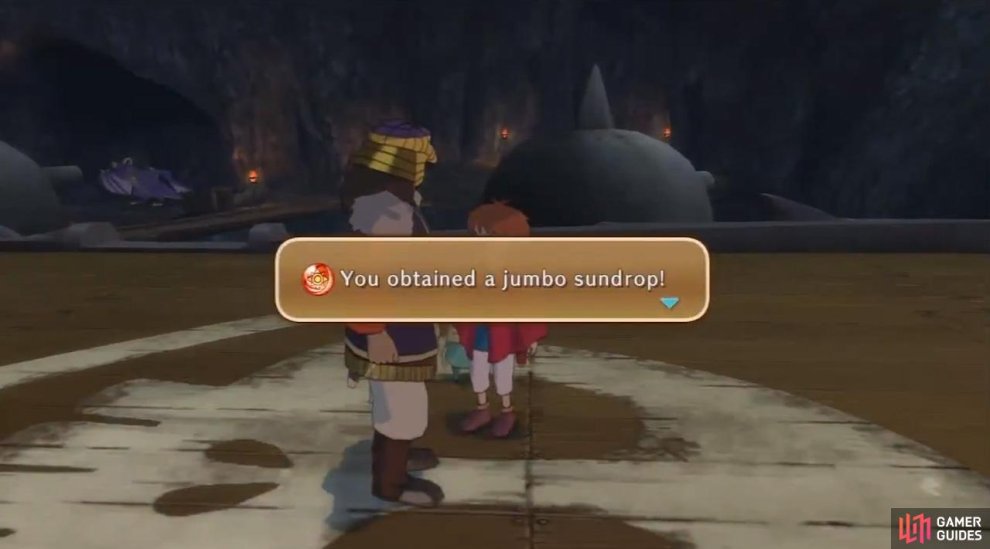 To Motorville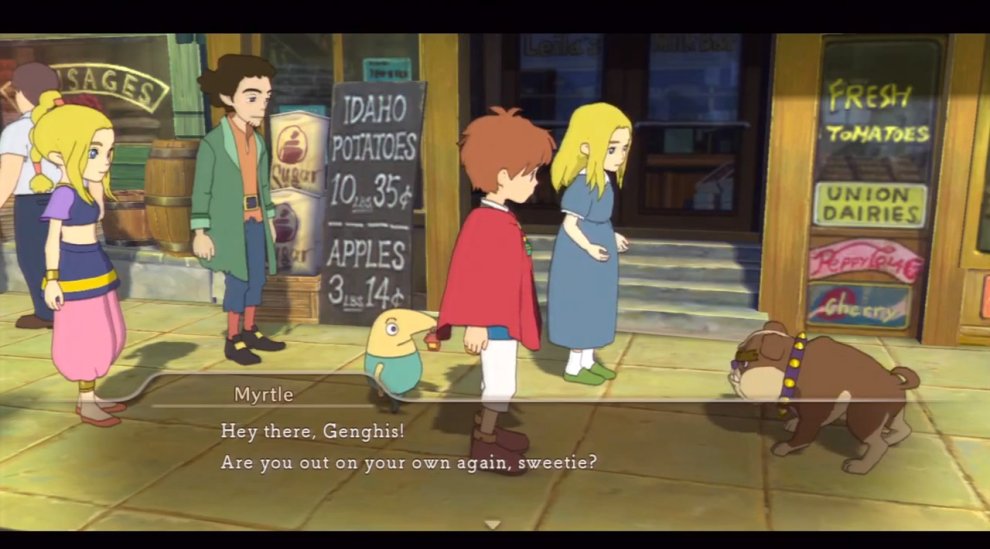 After you finally regain control, head just to your left and talk to Myrtle for a bit. A dog will come in, trying to get your attention; 'Nature's Tongue' is your friend again here, so use it to finally understand the whole situation, then make your way to the southeast end of town to the house next to Myrtle's. Talk to the dog, Genghis, once again, and watch the scenes unfold. Yikes, another boss fight!!!
Boss Fight: Denny's Nightmare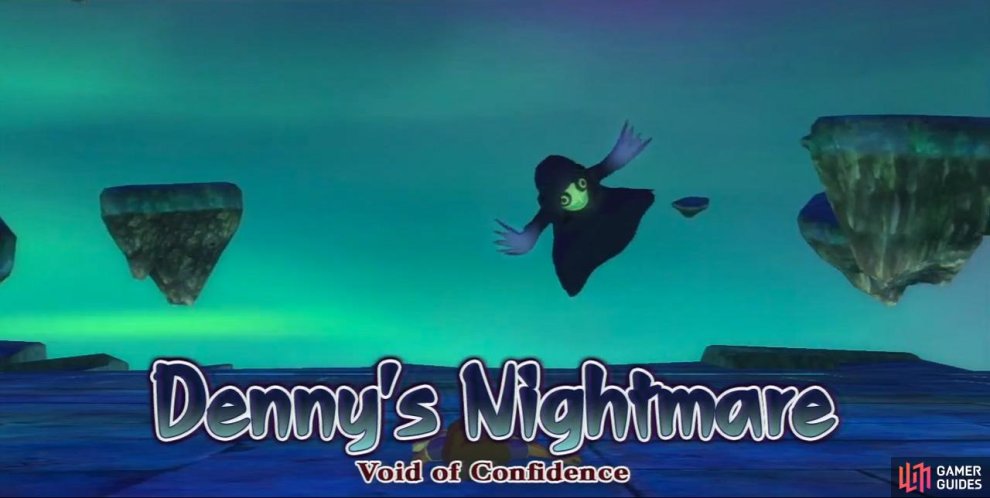 Stats: 3850 HP
Weak Against: Light
Resists: Dark
Attacks:
Physical Attack [Single Target, Minor Damage]

Restless Sleep [All Allies, Inflicts Sleep - Try to Cancel!]

Oil Spill [All Allies, Major Damage, Use Defend and All-Out Defense!]
Rewards: 1565 EXP, 2200 G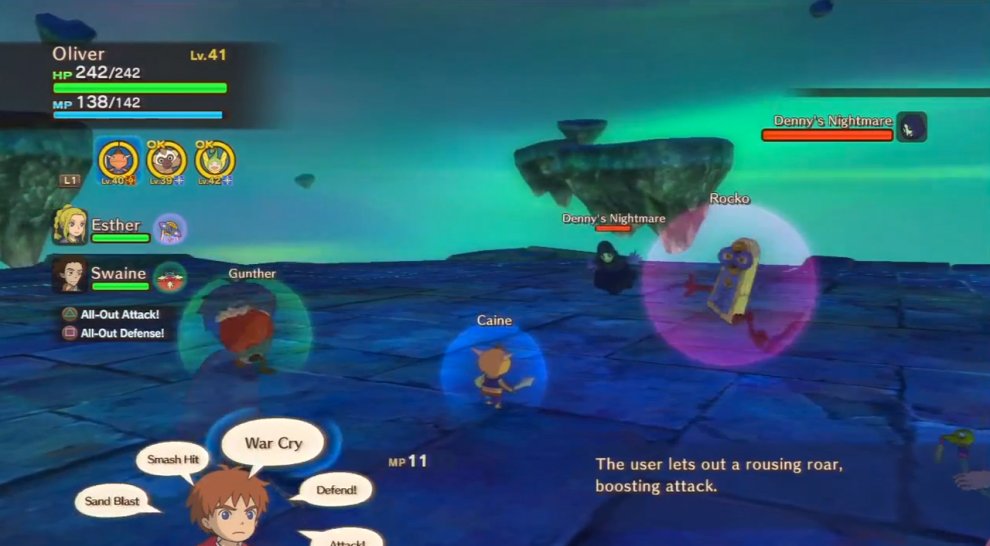 Being an undead-looking demon, the Nightmare is naturally weak to Light, so you would think spamming Arrow of Light would be a good idea. Granted, it does work nicely, but because of its high MP cost and only being able to do it occasionally, you'll be better off switching to one of your more powerful attackers to do the majority of your damage. That, and you may have an easier time cancelling some of his attacks if you're constantly barraging him.
His Restless Sleep attack is largely an annoyance; not that it does any damage, but sleeping characters are defenseless characters. Once the attack is done, quickly use Sleep-Be-Gones on those who are affected. Oil Spill, on the other hand, is quite a nasty attack, and needs to be Defended at all costs.
It'll hit EVERYONE in your party for anywhere between 80 and 100 HP each, so as soon as you see it coming, quickly switch to an All-Out Defense! and choose to Defend whomever you're controlling until it's over, then quickly heal afterward. Other than avoiding Oil Spill, be sure to keep Esther's MP at a decent level so she can continuously heal everyone while you blast into the Nightmare.
With that Nightmare out of the way, we now need to find some confidence for poor Denny. Sadly, there's none here in Motorville, so use 'Gateway' and head back to the other world.
Back to Skull Mountain
Luckily, you need not go far to get some confidence. Talk to Kublai, and you'll be able to get a drop from him. He'll also give you the spells [QUAKE] and [SEEK FORTUNE] . With Seek Fortune, you'll now be able to see hidden treasure on the World Map! About time! Cast 'Gateway' once again and return to Motorville.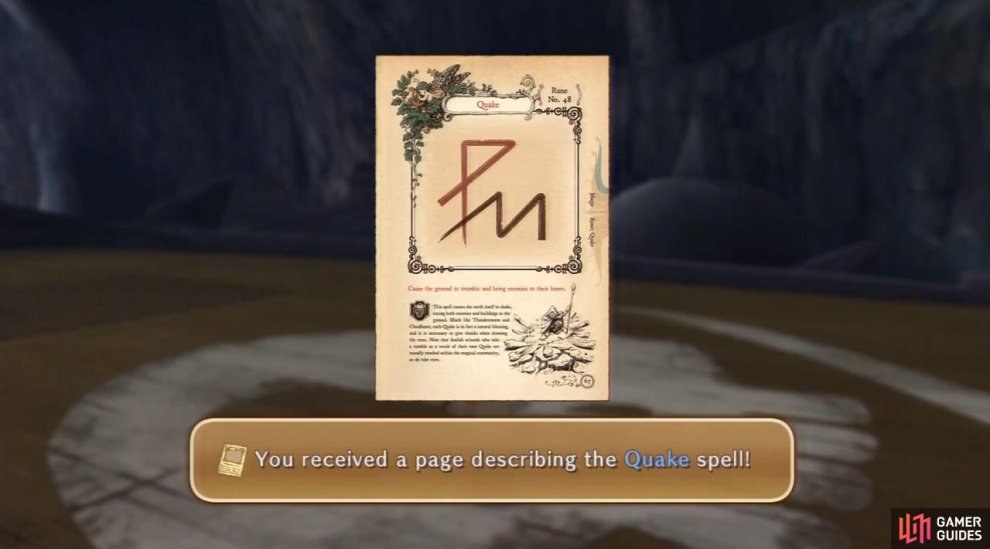 To Motorville Again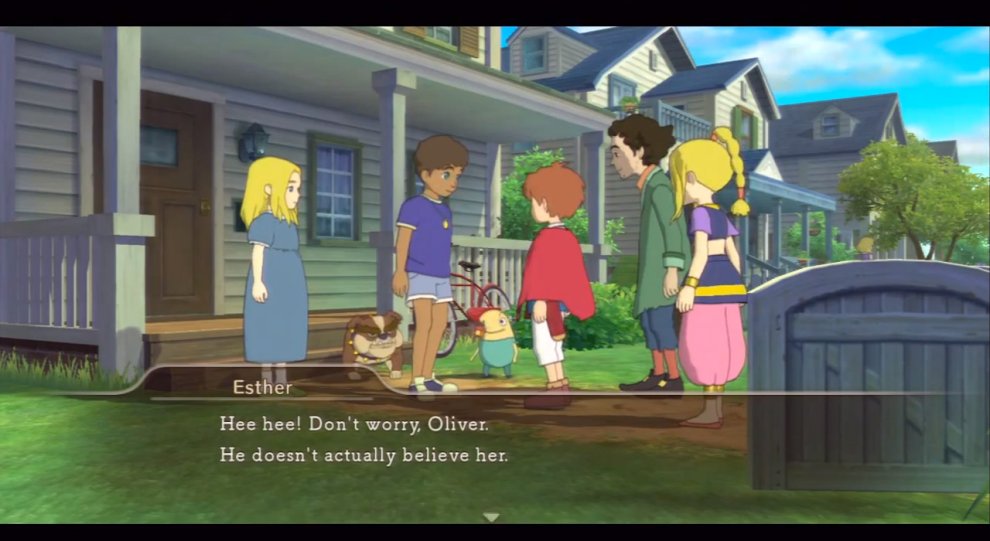 Run on over to Denny and give him a hunk of confidence, then follow Myrtle back to Leila's store to run into Pea, who brings warnings to Oliver. In any case, you're finished here, so head back to Skull Mountain once again.
Back to Skull Mountain Again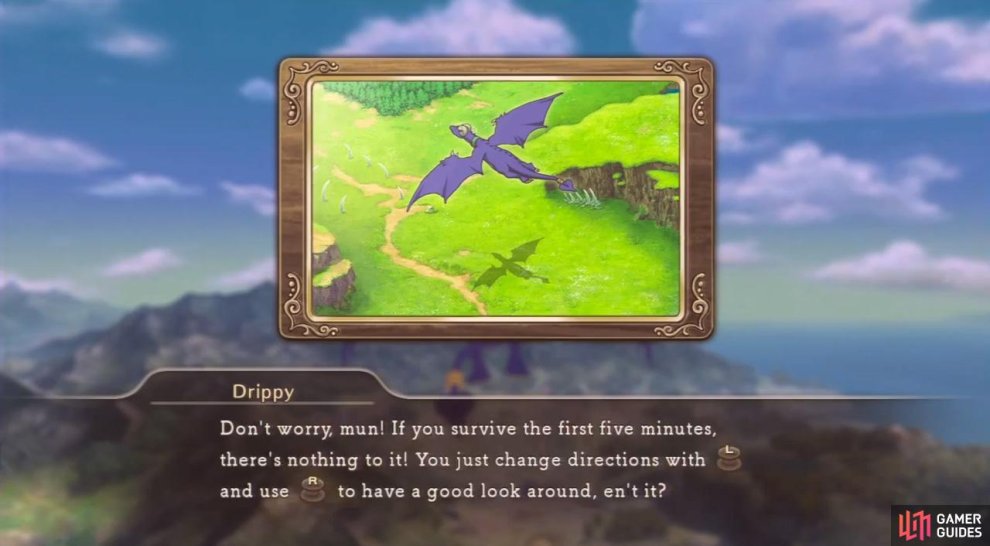 Head back to the airship and talk to Kublai. Watch the scenes here as you'll finally be able to ride the large purple dragon as you please! You'll automatically hop onto Tengri and head off onto the World Map.
Note: You'll automatically earn the 'Fly the Friendlier Skies' trophy once you are able to fly with Tengri.
1031
Pay attention to Drippy's tutorial on how to fly, then you'll receive the [DRAGON HORN] that will let you summon Tengri anywhere on the world map!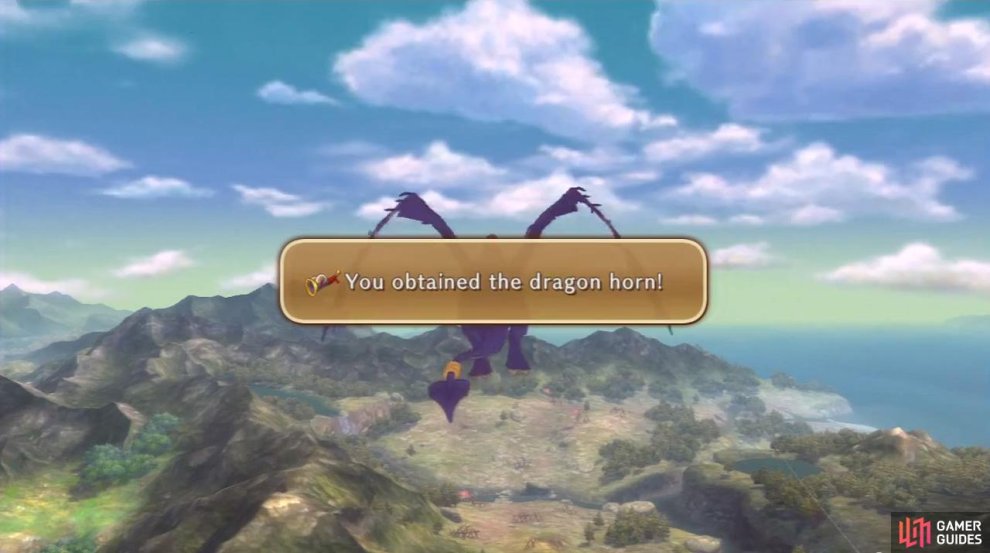 Now, it's off to Solitary Isle, which is on the southeastern corner of your map; take a look! On this small island, read the text on the stone and search behind it for a [THUNDERSTORM GEM] . Summon Tengri afterwards with the directional 'Up' button and return to Kublai.
After the scene, cast the 'Insight' spell to reveal the three locations of the stones. You'll be given the [MAP OF THE STONES] for free by Kublai. Now that you can explore the world map almost entirely, its smart to collect several hidden treasure and complete new errands.