S-Rank Targets
| **Time** | **Deaths** | **Spotted** |
| --- | --- | --- |
| 1 minute 10 seconds | 0 | 0 |
Step 1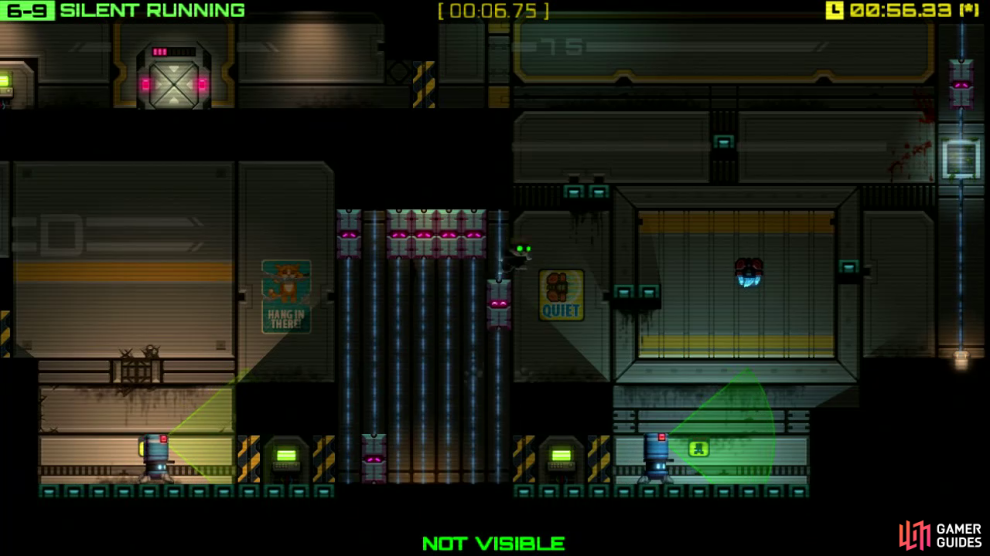 Wait for the Robot below you to move near the left wall before leaping down and then hopping straight up to the platform near the vertical sliders. Run straight across the sliders, but step on the far-right one to send it back up to the top with the others.
Speedrunner's Note: You can use the vertical velocity from standing on this slider to slingshot jump your way to the top of the room saving time manually scaling the sound tiles.
Step 2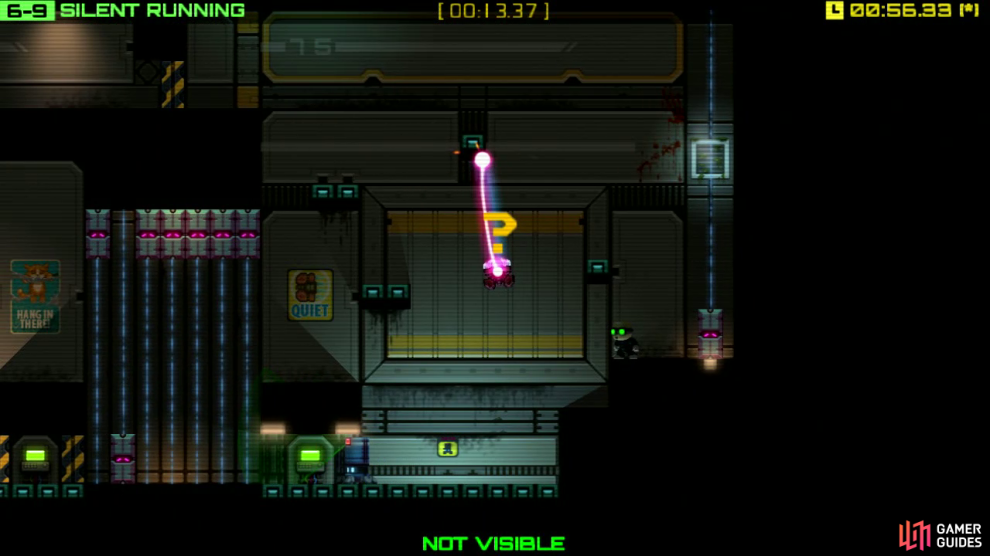 Male your way to the top-centre single sound tile and then jump right over the far-right sound tile to the corner of the room (near the switch). Step into the sensor beam then immediately back out to bring the slider down onto the switch. If you're wanting the hidden [Helix] , then now's the time to add it to your collection.
3295
Step 3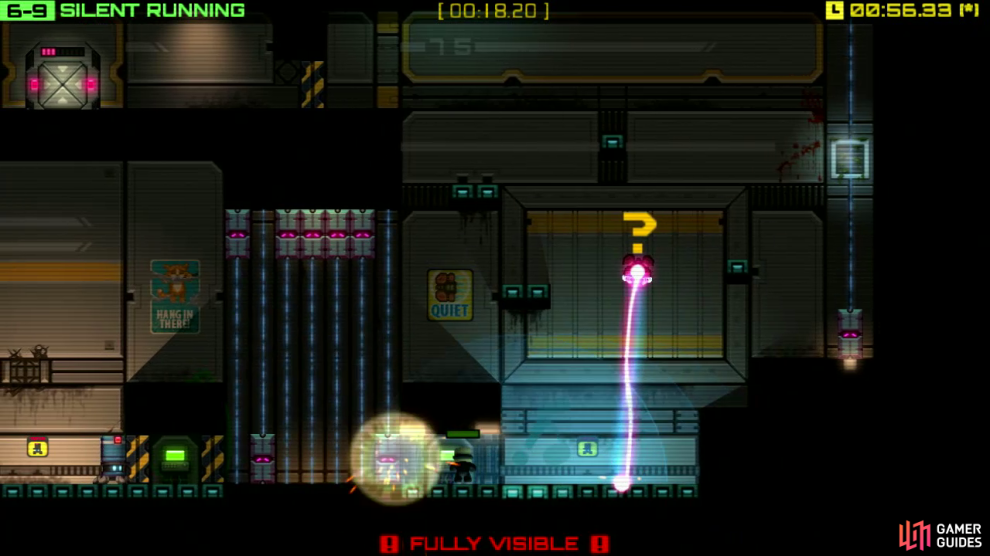 Wait for the walking Robot to step into the slider sensor before making a dash for the terminal (the Slider will demolish the Robot, making it much easier to hack the terminal). Once again reset the slider by quickly stepping in and out of its sensor beam before climbing up the sound tiles to the top of the room.
Step 4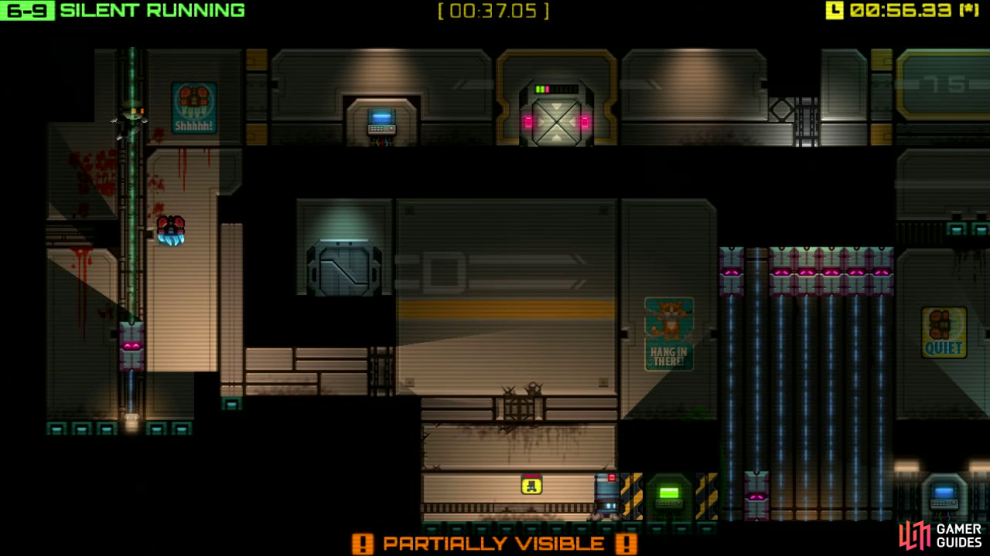 Hack the panel up here, then carefully drop down the step on the left and get ready to perform a deft little jumping trick. You need to quickly leap to the hard-to-see small square block located opposite the Red Drone and then leap back over to the step again. If you do this quick enough (not easy) you won't bring the Slider back up again.
Step 5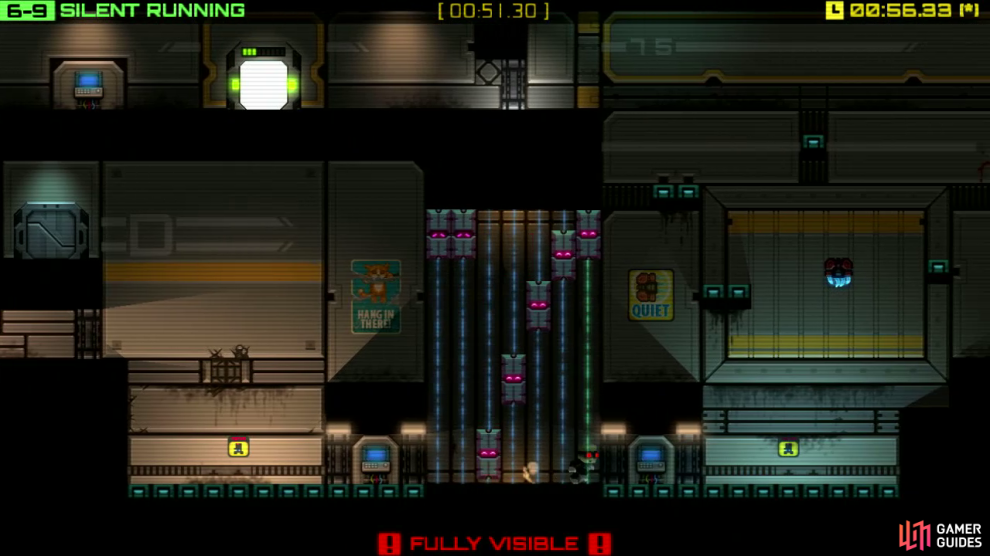 Drop down to the lower floor and run right, only approaching the terminal once the Robot has been squished by the vertical Slider. Activate the panel and then run to the next terminal before climbing the sound tiles to the open exit.
Video Guide (With Audio Commentary)
1200