S-Rank Targets
| **Time** | **Deaths** | **Spotted** |
| --- | --- | --- |
| 1 minute 40 seconds | 0 | 0 |
Step 1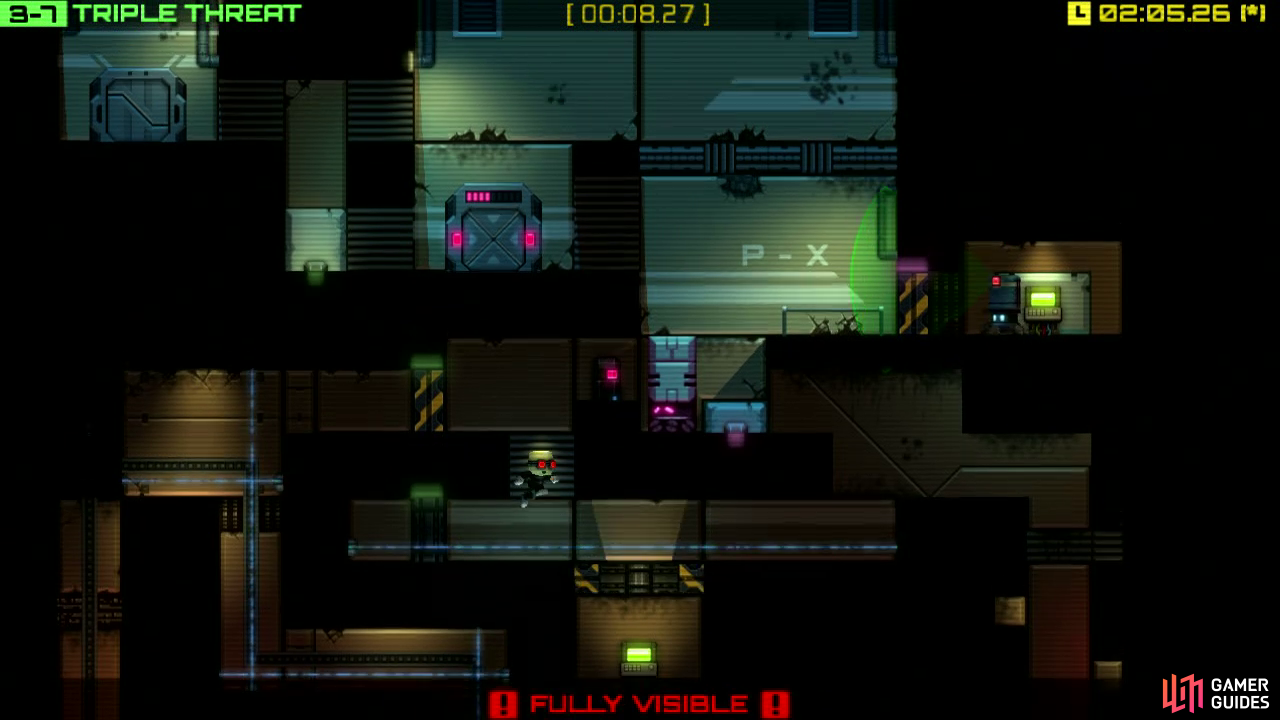 Begin by dropping down then jumping up to the stationary robot and pushing it off to the right. Now quickly drop down to the area below, run left, past the sensor beam, jump up and make your way to the switch above you.
Step 2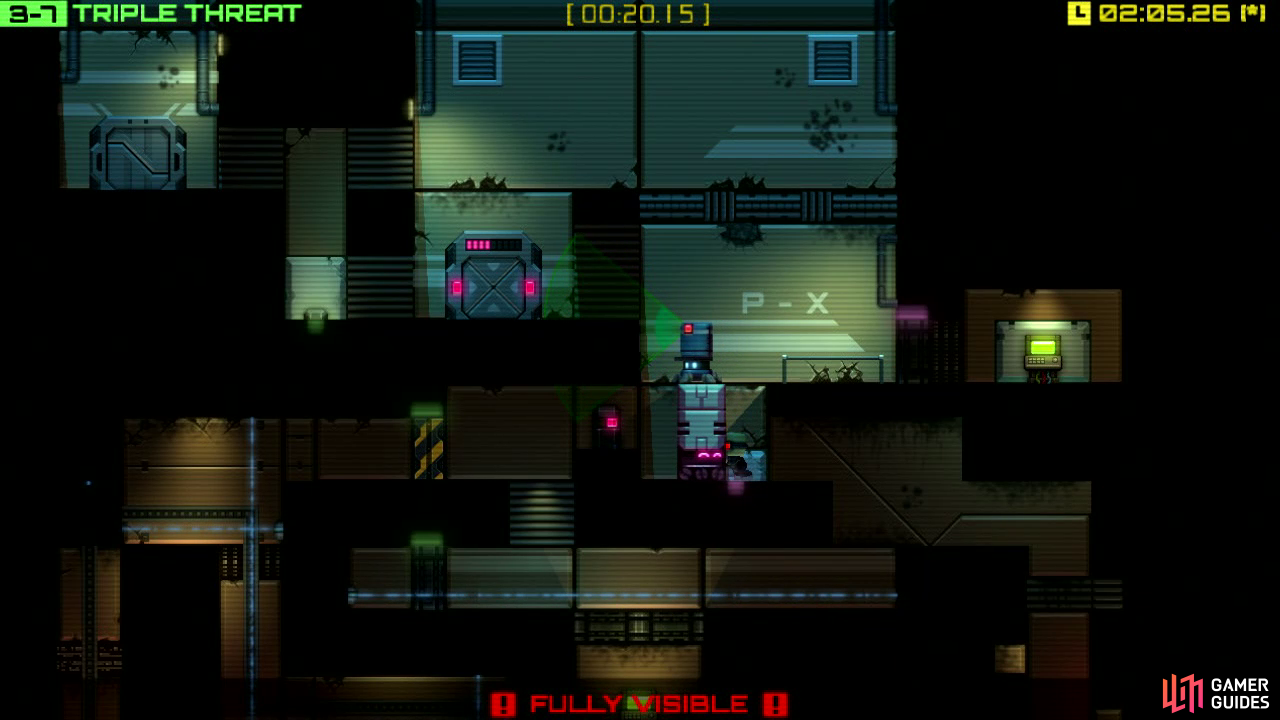 Push the robot as far right as it can go, then go back the way you came so you're standing on the other side of the robot (the way you came in originally). Once the robot is on top of the block-like robot, push it to the far left, then go back to the switch and press it, raising the robot up.
Step 3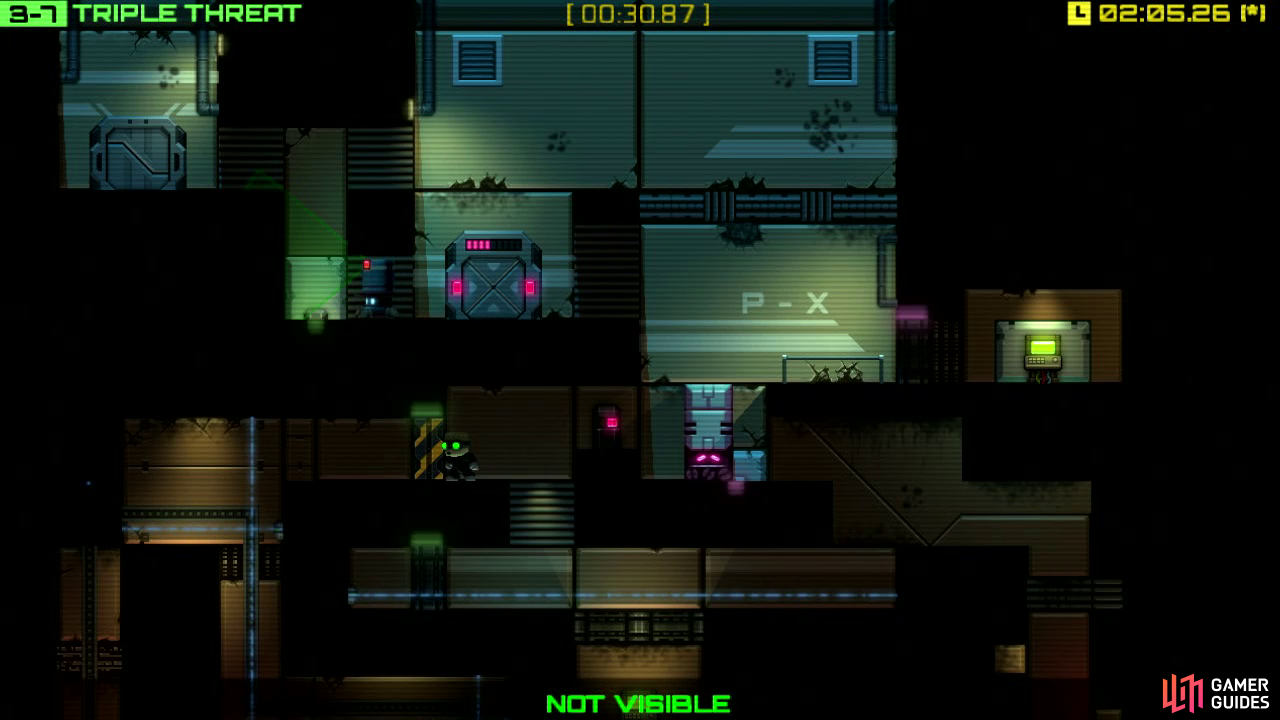 Once the robot walks off, press the switch again to drop the wheeled robot and the push it right so it's just on the floor switch here. Jump left to the barrier and pass through when the robot above stands on the floor switch.
Step 4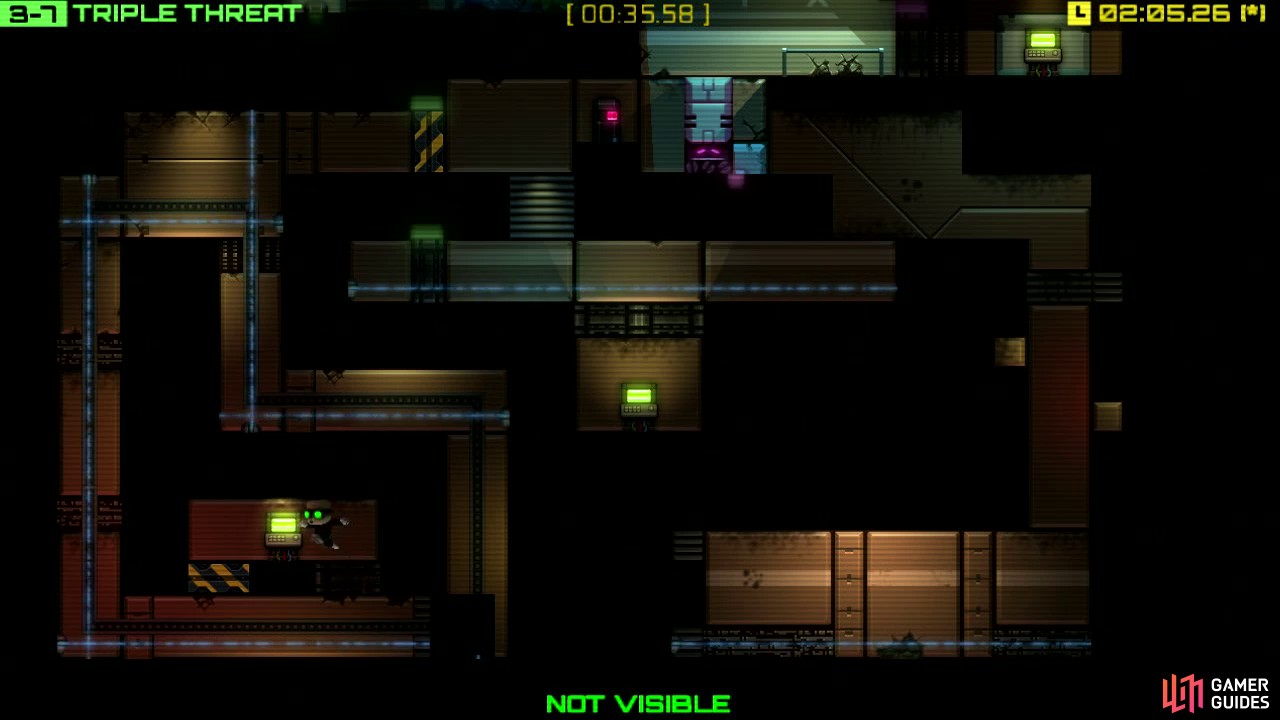 Before dropping into the next section, be wary of the block that comes after you as you touch the sensor beams. You need it to follow you to get back out, but it can crush you if you're too slow and careless. With that in mind, drop down and run right, drop down again and then leap up to the terminal and activate it as per usual.
Step 5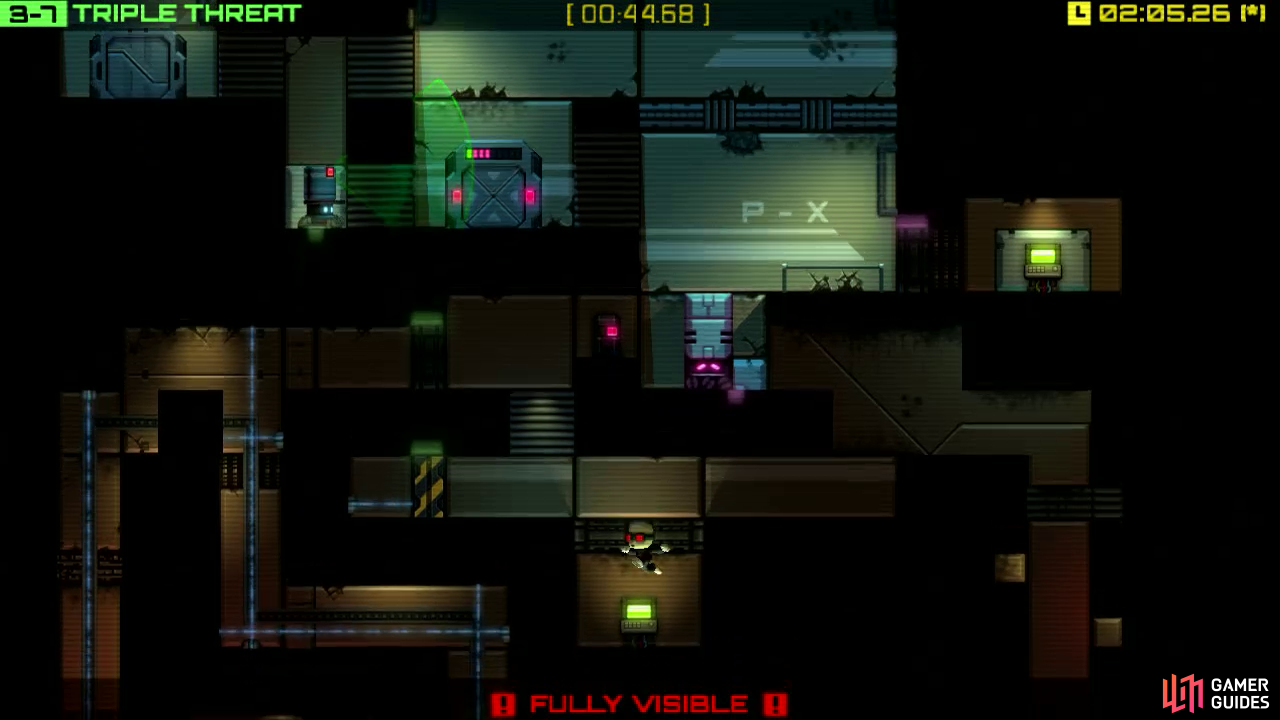 Now you'll want to drop back down and jump up the left shaft so the cube catches you and then jump up to the upper platform (before the square crushes you). Finally jump right, run past the barrier when it re-opens and very quickly and smoothly drop down the gap and to the terminal in the small area below you (if you mess up you'll be killed).
Step 6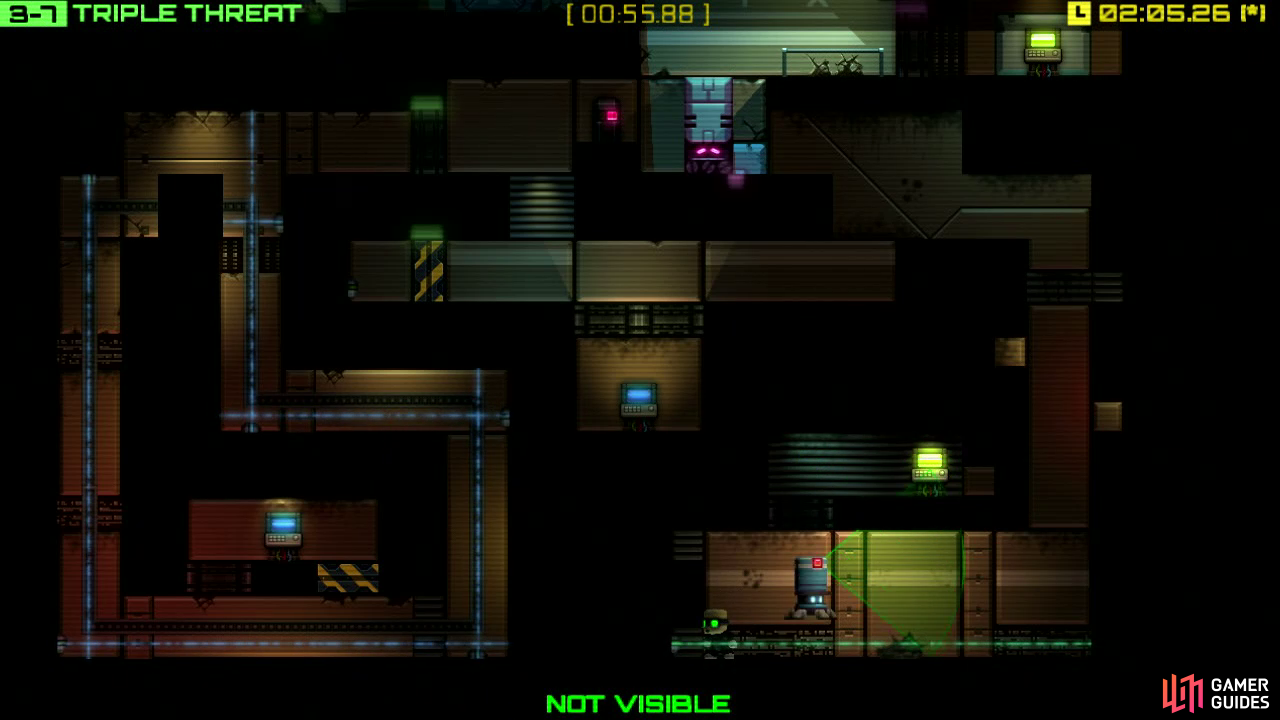 Do you need the [Helix] for this level still? If so, then now's the time to follow our advice on grabbing it below, otherwise, jump up and right then fall down to the bottom corner of the room. Run left and jump up to the top-left ledge and wait for the walking robot to hit the left wall and begin walking right. Now's the time to drop down into the sensor; bringing the robot down with you.
3208
Step 7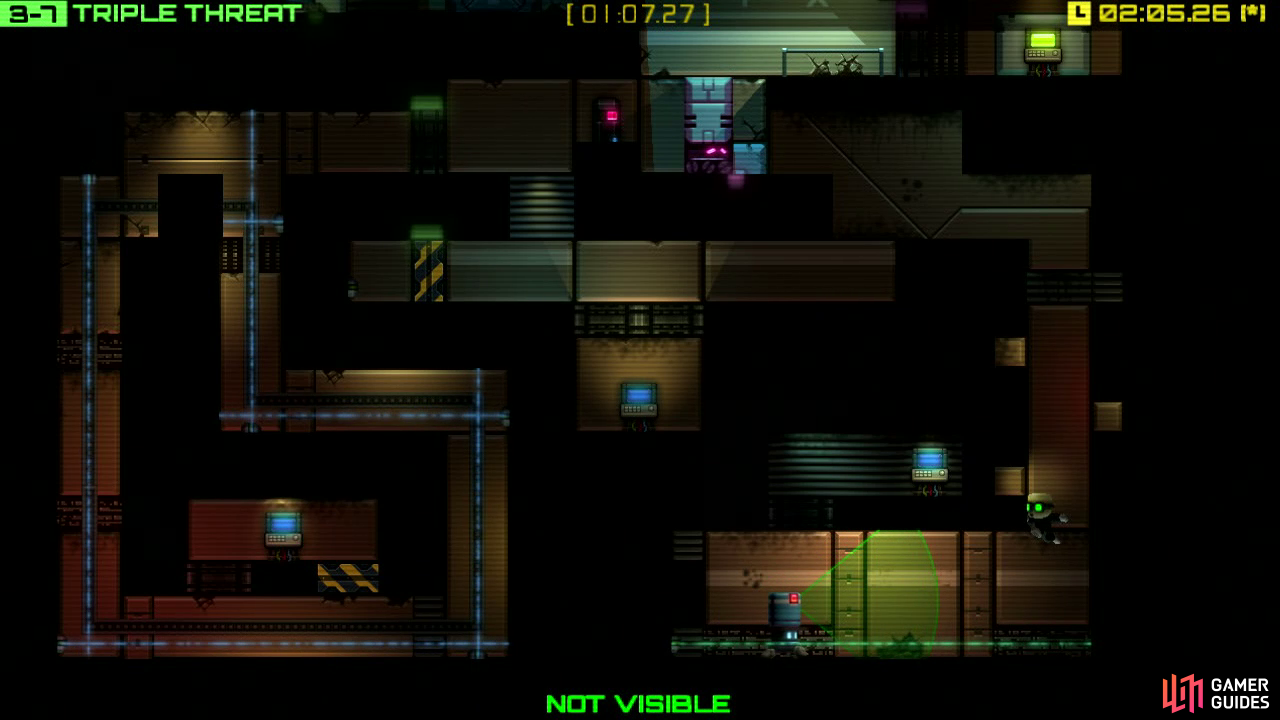 Jump up to the terminal, work your magic and then wait for the robot to walk past you towards the left wall. Drop down, dash right, ledge climb all the way to the upper floor, go into the room with the terminal, access it then make a dash for the exit (ensuring the robot doesn't spot you).
Video Guide (With Audio Commentary)
1168